DefExpo 2022: DRDO Light Tank Showcased, Planned Features Revealed
India's Defence Research and Development Organisation (DRDO) unveiled a model of its Light Tank being developed for the Indian Army. The model was showcased at DefExpo 2022 held in Gandhinagar from October 18 – 22. Larsen & Toubro is the lead system integrator for the project.

A write up on the DRDO Light Tank was accessible near the display which stated:
"The project scope includes integration of locally produced, customised Chassis and Automotive System (CAS) with proven and matured Turret and Weapon System (TWS). This light tank is being developed to fulfil the sector specific operational requirements especially in HAA, Marginal terrain, Island territories etc. Light Tank is equipped with cutting edge technologies viz. Artificial Intelligence, Drone integration, Active protection system, High degree of situational awareness, amphibious operation to name a few."
The Indian Army had published an RfI to procure 350 light tanks in a phased manner in April 2021. The Army is pushing for light tanks under Project Zorawar to be primarily deployed in high altitude areas along the northern borders. 

The DRDO Light Tank will weigh about 25 tons and have a crew of three. The tank is planned to sport a 105mm rifled bore gun. This will be capable of firing FSAPDS rounds with 500mm of penetration, HEAT, HESH and ATGMs among others. The planned gun elevation is between -10° and +42° controlled by an electrically powered gun control system. An autoloader will be provided for the main gun.
Secondary armament includes a 7.62mm coaxial gun and a 12.7mm RCWS. Surveillance drones will be integrated with the tank. A diesel engine would be provided which DRDO claims would provide up to 32hp/ton at sea level. The amphibious tank can ford depths of 1.5m. The tank can attain a maximum speed of over 65kmph and will use rubber tracks.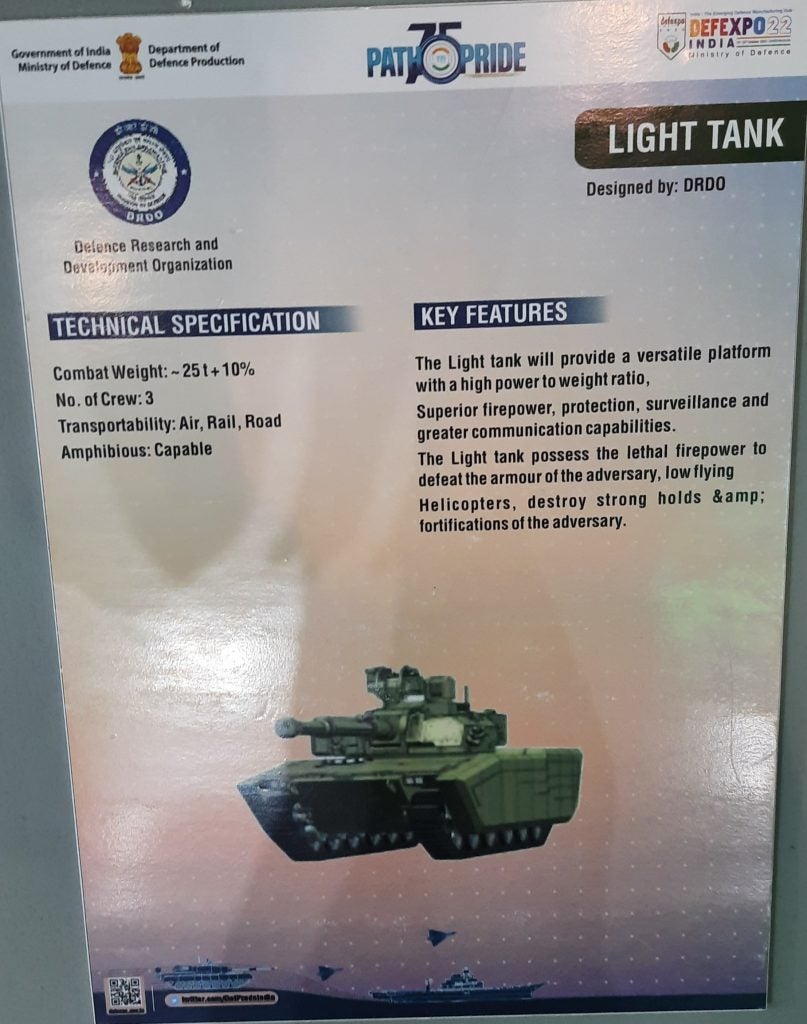 The tank would feature all round STANAG Level 2 protection with add-on armour taking it to STANAG Level 4 in the front. Active Protection System, laser warning systems and NBC protection systems would also be integrated along with smoke grenade launchers. The tank will be designed to exert low ground pressure and would be air transportable.

The project is expected to compete with light tank offers by Israel and Russia. The first prototype of the tank is expected to be ready by 2023-24.

Cover Image: A DRDO render of the Light Tank (via Adithya)