Germany Planning to Purchase Israeli Arrow 3 Air Defense System
On 12 September, Israeli Prime Minister Yair Lapid visited Berlin where he and German Chancellor Olaf Scholz held a press conference during which Lapid revealed that Germany and Israel were in the middle of negotiations regarding the German purchase of the Israeli Arrow 3 air defense system. These reports were also confirmed in a telephone interview with retired German Lieutenant General Karl Müllner who indicated that while nothing had been signed yet, the decision to acquire the Arrow 3 has already been made. Nevertheless, both Lapid and Scholz were vague about the actual state of negotiations as well as the size of the purchase being considered with Scholz simply calling the Arrow 3 a "high-performance offer".
The Arrow 3 is an Israeli air defense system developed with US financial aid. Its primary purpose is to intercept ballistic missiles, including those carrying nuclear warheads, at altitudes of over 100km using an exoatmospheric method and a two-stage interceptor. While details on the system remain scarce, it likely costs between $2 million and $3 million per unit. The system is designed so that it can be mounted on both sea and land platforms. Israeli officials have also stated that the Arrow 3 can be used as an anti-satellite weapon.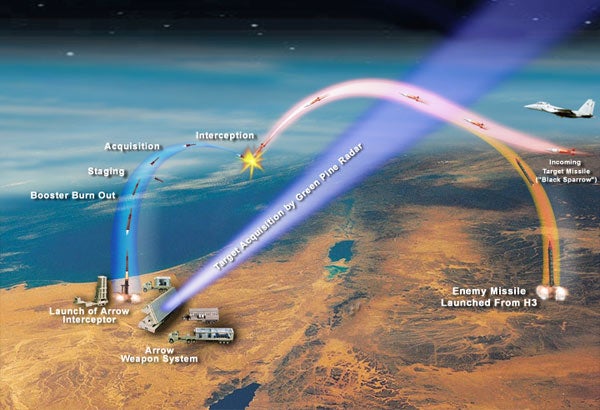 The purchase of the Arrow 3 would serve as a major part of a pan-European air defense network which Chancellor Scholz envisioned in a speech on 29 Augusth. The main objective of this effort would be to provide a countermeasure against Russian missile forces. Scholz indicated that Germany's new air defense projects would offer a way for neighbors to get involved but with many of these countries perusing independent air defense programs and acquisitions, it is uncertain how this would work in practice.
The 12 September meeting between Scholz and Lapid also saw Lapid give his German equivalent what he described as "sensitive and relevant intelligence information" on the Iranian nuclear program. The issue of Iran was another major point of discussion during the meeting.