Observing Russia's Airpower in Crimea
It has been an eventful month for the Crimean peninsula. On 9 August 2022, several very large explosions rocked the Russian naval air station at Novofedorivka also known as Saki. It is unclear what set-off the massive explosions but ammunition being the cause is one plausible scenario. Ukraine has denied responsibility for the events at the airbase but it is possible that they were the result of a targeted attack.
Saki was taken over by the Russian armed forces in 2014 during the Russian invasion of Crimea and has since been hosting Su-30SM and Su-24 fighter aircraft. Satellite imagery from Maxar and Planet Labs from the day after the explosions show large-scale destruction at the airbase with 4 Su-24 fighters and 3 Su-30 fighters having been completely destroyed.
It's fairly likely that the destruction of fighters has taken a big toll at Russian air operations in the black sea and the front in southern Ukraine, it's widely believed that this event took out more than half of the Russian black sea naval aviation fleet out of action.
With this information in mind, using recent satellite imagery it's worth taking a look at other bases to see how this incident has affected operations at other air bases.
Primorsko-Akhtarsk
The air base at Primorsko-Akhtarsk is located east of the Sea of Azov, This airbase had been seen hosting Su-34 and Su-25 attack aircraft preceding the invasion and their presence has been regularly noted at the base. Satellite imagery from the 9 August showed 5 Su-34s and 12 Su-25s along with one Il-76 and one An-12 present at the base. Fighter aircraft from this airbase are likely used for operations in south eastern Ukraine, flying across the Sea of Azov.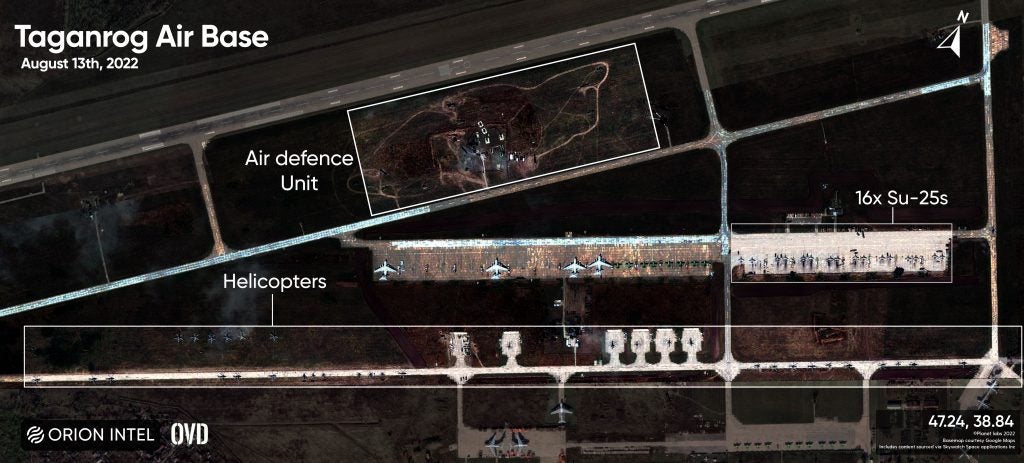 Taganrog
The airbase at Taganrog is located around 40kms from the border with Ukraine and is one of the closest air bases for the theater near Donetsk. The air base traditionally holds a large number of Il-76 transport aircraft but since early July seems to be also housing a large number of helicopters and Su-25 attack aircraft. Satellite imagery from 13 August shows 16 Su-25s and 4 Il-76s present at the base along with a large number of helicopters and an air defense system.

Millerovo
Millerovo is a Russian air base located around 17 km from the border in Eastern Ukraine. It is an Airbase that I've covered several times in previous pieces here at Overt Defense. Satellite imagery from 14 August shows Su-25 attack aircraft and Su-30 fighters present at the airbase. Millerovo has been regularly hosting a large number of helicopters since mid May, As seen from imagery, This has continued and 28 helicopters were present at the base on 14 August, strongly suggesting that Russia is continuing to use this base for heliborne operations.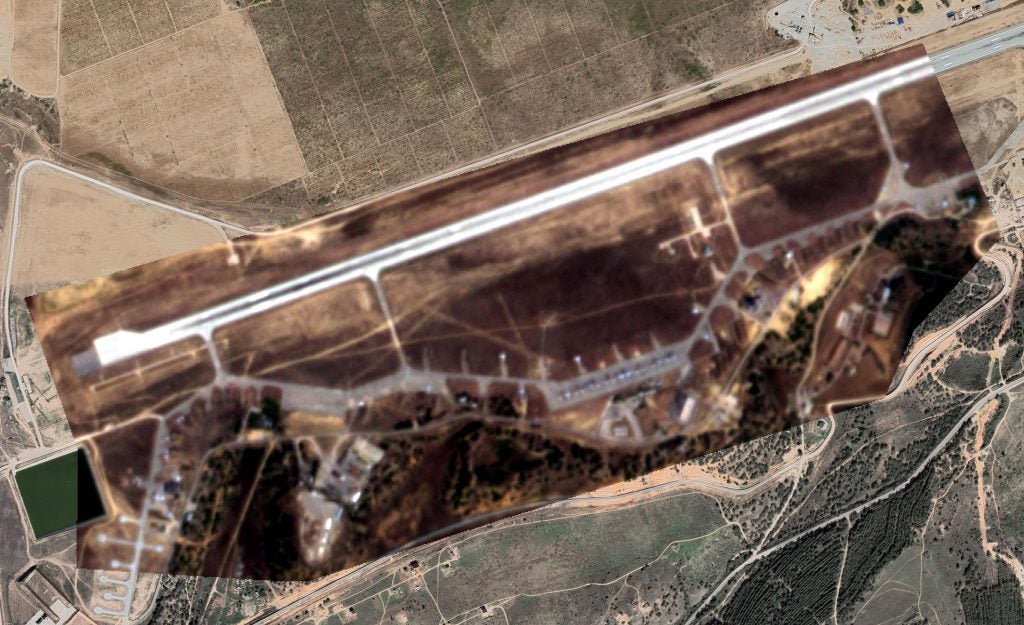 Belbek
The air base at Belbek is the Closest air base to Sevastopol and also serves as the international airport for the city. It mainly hosts a large number of Su-27 fighters along with helicopters. With the saky air base now out of action, it is likely that this airbase will be more significant for Russia. Satellite imagery from 17 August shows normal aircraft activity at the base.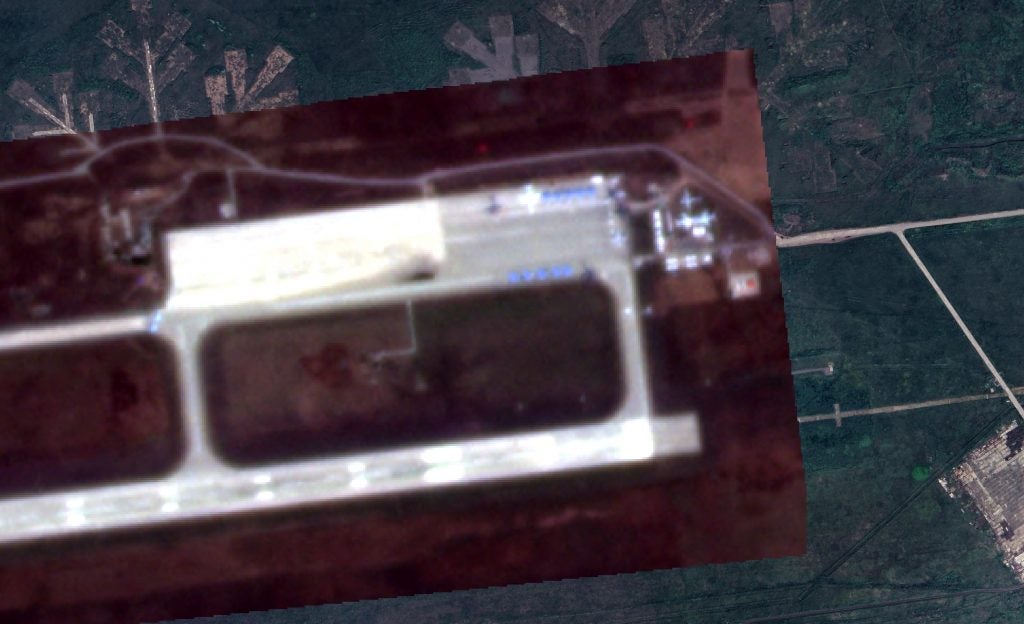 Yeysk
Yeysk is a naval air station located near the north eastern part of the Sea of Azov. The base usually holds maritime patrol aircraft like the Il-38 but low resolution satellite imagery shows that the base started hosting what possibly look like Flanker series aircraft, Imagery from 10 August shows 10 aircraft present at the base. This base combined with Taganrog are likely a huge part of Russia's air operations in southeastern Ukraine.

Dzhankoi
Dzhankoi is the northernmost air base on the Crimean peninsula and hosts a large variety of helicopters. On 16 August, an ammunition dump exploded near Dzhankoi with damage being reported to a nearby electricity and railway substation. Recent satellite imagery for the base showed the number of helicopters as being more or less consistent and it is likely that operations at the base are going on as per routine.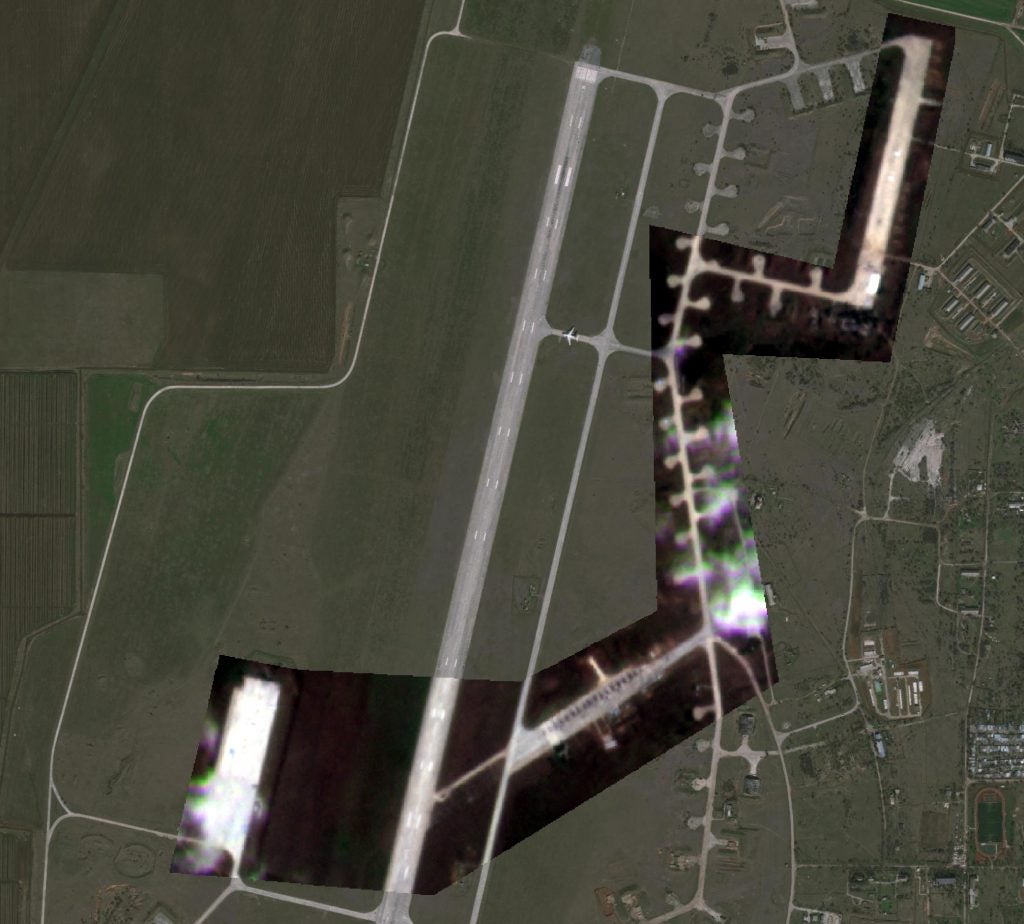 Hvardiis'ke
The airbase at Hvardiis'ke (Gvardeyskoye) is the central most air base located on the Crimean peninsula. The airbase is usually seen hosting Su-27 and Su-24 fighters. Russian media reported fires from the airbase on 16 August. Satellite Imagery from 22 August showed no abnormal activity at the airbase.
Concluding, these recent events in Crimea have not only caused damage to valuable infrastructure near the Black Sea but potentially have larger future consequences for Russian military aviation as a whole. Events at Saki suggest Ukraine is able to inflict considerable losses and Russia could continue losing aircraft at great cost and much faster than they can replace them. Coming months will likely be crucial in telling what actions lie ahead for Ukraine in Crimea and how Russia copes with these losses. This is certainly an area to pay close attention to in the near future.
My previous editorial where I covered more Russian airbases around Ukraine can be found here.
A big thanks to Brady Africk and Adithya for helping me with this piece!