DARPA Selects Teams for Low-Earth Orbit Communication Satellite Program
Last week, the US Defense Advanced Projects Research Agency (DARPA) announced it had selected 11 teams for its Space-BACN program. Space-BACN aims to develop a new network of communications satellites operating in low Earth orbit which can communicate with the different government and commercial satellite networks already in orbit which are unable to communicate with each other. DARPA summarized the program objectives as "100 Cubed: 100 Gbps to support most optical standards, 100W or less to minimize power consumption, and under $100K to make it affordable" and is focusing on three technical areas to achieve these goals: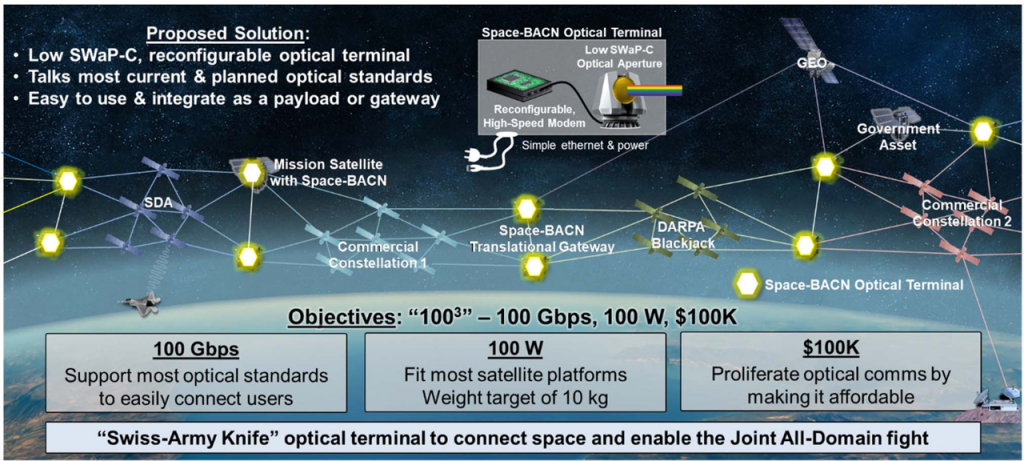 "a low-cost, optical aperture capable of coupling into single mode fiber"
"a reconfigurable modem that can support multiple optical waveforms up to 100 Gbps"
"a novel cross-constellation command and control approach to automate interactions between government and commercial satellites"
CAC, Inc., MBRYONICS and Mynaric were the teams selected to work in the first technical area. II-VI Aerospace and Defense, Arizona State University and Intel Federal LLC were chosen for the second area. Finally, the third technical area will have the most teams working on it with SpaceX, Telesat, SpaceLink, Viasat and Amazon subsidiary Kuiper Government Solutions (KGS) LLC all working in the area.
The selected teams are a diverse group including academia and both large and small companies. For many, this will be their first Department of Defense contract. According to the DARPA Space-BACN program manager Greg Kuperman, this is a result of specific decisions made by DARPA to help bring in new players:
"We intentionally made making a proposal to our Space-BACN solicitations as easy as possible, because we wanted to tap into both established defense companies and the large pool of innovative small tech companies, many of which don't have the time or resources to figure out complicated government contracting processes. […] We used other transactions and were very pleased with diversity of organizations that responded and quality of proposals. After a successful Phase 0 where we got to see the teams sprint to put together an initial architecture design for Space-BACN, I'm excited to get to work in Phase 1 building the actual system."
The official DARPA announcement is available here.