Sri Lanka Defers Hambantota Visit By Chinese Vessel After India Raises Concerns
Sri Lanka has requested China defer a planned visit by tracking ship Yuan Wang 5 at Hambantota port. This follows security concerns raised by India about the nature of the visit and the dual use nature of the vessel. Following the Sri Lankan request, a Chinese foreign ministry spokesperson termed the security concerns as "senseless" and that cooperation with Sri Lanka does not target any third country.
Yuan Wang 5 is a third-generation space-tracking ship of China's Yuan Wang series of research/survey vessels. The 222m long, 11,000 ton ship was built in 2007. The vessel had in late July completed a maritime monitoring mission for the launch of the Wentian laboratory cabin module of the Tiangong space station. Yuan Wang 5 will conduct satellite control and research tracking in the north western part of the Indian Ocean region through August and September.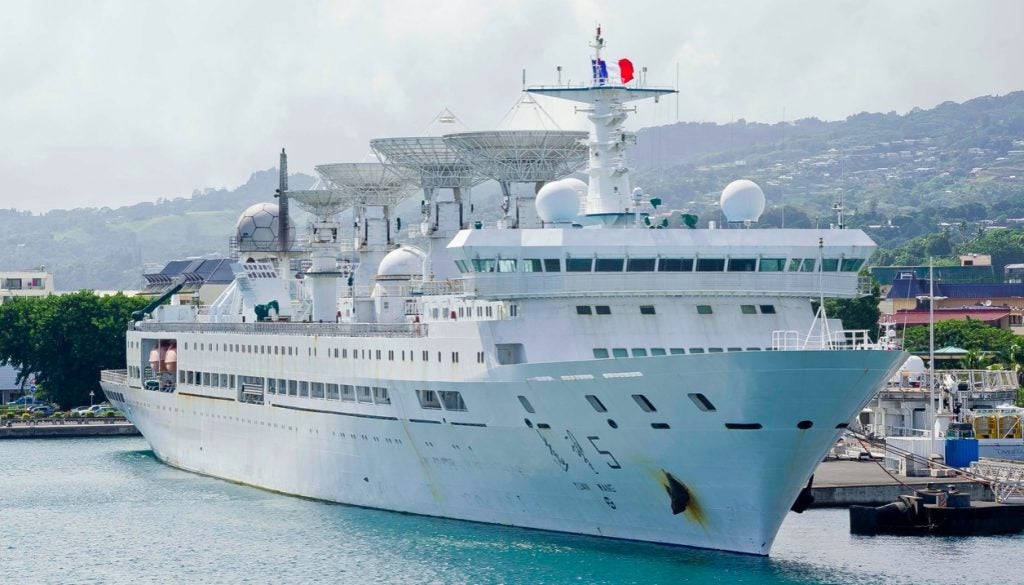 Sri Lanka's Ministry of Foreign Affairs, the Ministry of Defence and the Sri Lanka Ports Authority had granted permission on 12 July to anchor the vessel at Hambantota from August 11 to 17. This was only a day before then President Gotabaya Rajapaksa fled Sri Lanka following protests over the nation's economic crisis. This information was revealed weeks later by media, with India as well as domestic elements pressuring authorities to review the matter.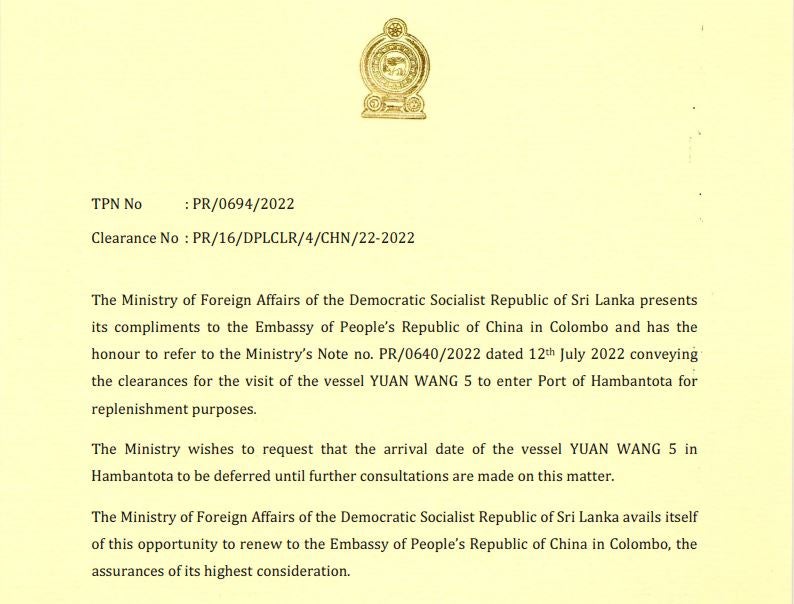 Sri Lanka had been trying to reach an amicable solution regarding the visit and refueling of the ship. The island nation requires support of both India and China in trying to overcome the economic crisis. India's Ministry of External Affairs spokesperson Arindam Bagchi had earlier stated:
"The Government carefully monitors any developments having a bearing on India's security and economic interests, and takes all necessary measures to safeguard them. I think that should be a clear message."
This led to Sri Lanka trying to assuage the concerns of India, which has provided economic aid worth over $3 billion in 2022. India and Sri Lanka had also stepped up security cooperation during the economic crisis with multiple Indian Navy ships visits and activities. Sri Lanka has also sought multi-billion dollar aid from China to tide over the crisis. The row over the visit of Yuan Wang 5 has put Sri Lankan diplomacy to the test.
UPDATE: On August 8, Sri Lanka's Ministry of Foreign Affairs confirmed the request to defer the visit of Yuan Wang 5. As of August 11, the vessel is positioned 600 nautical miles from Sri Lanka:
Header image: Yuan Wang 5 file photo via Belt & Road Initiative Sri Lanka