Taiwanese President: Chinese Live-Fire Ballistic Missile Drills "Irresponsible"
Taiwanese President Tsai Ing-wen condemned a series of live-fire ballistic missile drills conducted by the People's Liberation Army on Thursday as "irresponsible", saying that the "deliberate" acts presented an "unprecedented" danger to civilian air and maritime traffic in the area.

In a recorded speech released late on Thursday, Tsai stressed that Taiwan would not seek to escalate tensions, but would defend the nation's sovereignty and safety. In the four-minute speech, she said the Taiwanese military was now on increased readiness and closely watching Chinese movements around Taiwan, while the government worked to ensure smooth operations at Taiwanese seaports and airports.

Addressing the international community, Tsai said that as a responsible member of the international community, Taiwan would continue to work towards securing the peace in the waters around Taiwan. While she said that the country would continue being calm and rational and not further drive tensions, Tsai noted that Taiwan would not back down if pushed, calling for support from overseas to pressure Beijing to cease its "irrational" actions alongside thanking G7 nations for their support.

The speech follows confirmation by Taiwan's defense ministry that the Chinese military fired 11 DF-family ballistic missiles into waters off of Taiwan's northern, southern and eastern coasts between 1:56 PM and 4:00 PM Thursday local time. The ministry said that it had closely monitored the drills using military air surveillance and defense systems, condemning them as irrational acts that damaged regional stability.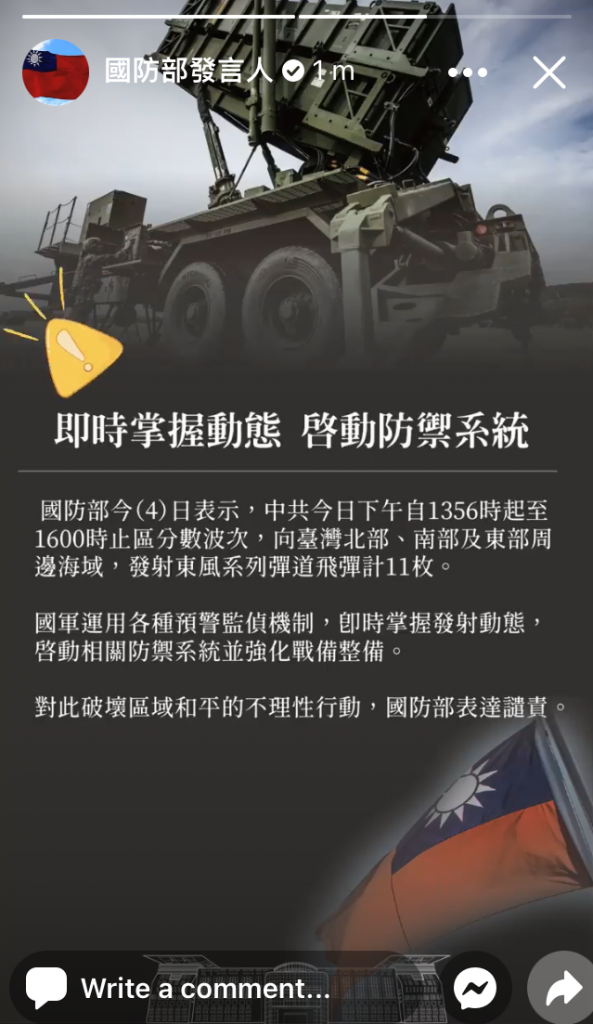 Chinese state media claimed the same day that 15 missiles were launched to test precision strike and area denial capabilities, with all missiles landing within the designated areas. Beijing is quoted as saying that the closure areas used for the drills have been reopened, although it is unclear as to whether the reopenings are for the specific areas used for the missile drills, or for all of the areas mentioned in their announcement of drills around Taiwan's coasts following United States Speaker of the House Nancy Pelosi's visit to Taipei.

US National Security Council coordinator for strategic communications John Kirby told MSNBC that China "are the ones who are escalating this" and that: "we've been watching this very very closely… It's concerning. It's not just concerning to us, but it's concerning, of course, to the people of Taiwan. It's concerning to to our allies in the region, especially Japan."
In a press release, Japan's Ministry of Defense said that nine missiles were launched between 3 PM and 4 PM Japan time. The Ministry released a map of the estimated flight paths of the missiles from their launch locations, with several launches flying over Taiwan.

According to Tokyo, five of the missiles landed in Japan's exclusive economic zone, the first time Chinese missile tests have done so, with Defense Minister Kishi Nobuo condemning the drills for endangering Japan's safety. According to the Minister, Tokyo has filed an official diplomatic protest with Beijing over the drills.