Romania Moves Forward With Purchase Of Ex-Norwegian F-16s
The Romanian parliament has passed a draft bill for the purchase of 32 ex-Royal Norwegian Air Force F-16 MLUs, with the June 16 approval allowing Bucharest to move closer to signing a contract with Oslo for their procurement. The 32 aircraft are planned to form two Romanian F-16 squadrons once acquired.

In a press release, the Romanian Ministry of National Defense said that the F-16s will be delivered in an operational state should the sale go forwards, with support staff to be trained ahead of time to ensure a quick achievement of initial operating capability with the F-16s. The F-16s are expected to serve for at least 10 years after delivery, bridging the gap towards a planned acquisition of F-35 Lightning IIs.

Romania had indicated interest in procuring the ex-Norwegian F-16s in December 2021, ahead of their retirement from Norwegian service at the end of that year. As previously reported, the Romanian Ministry of National Defense estimates the cost of the package at 454 million euros without value added tax, of which 354 million euros would be spent on purchasing the F-16s from Norway. The remaining 100 million euros will be spent on logistical support and acquiring specific equipment needed for modernization of the aircraft from the United States. The Ministry has since stated that the final budget of the program will be determined following government-to-government negotiations with both Norway and the United States.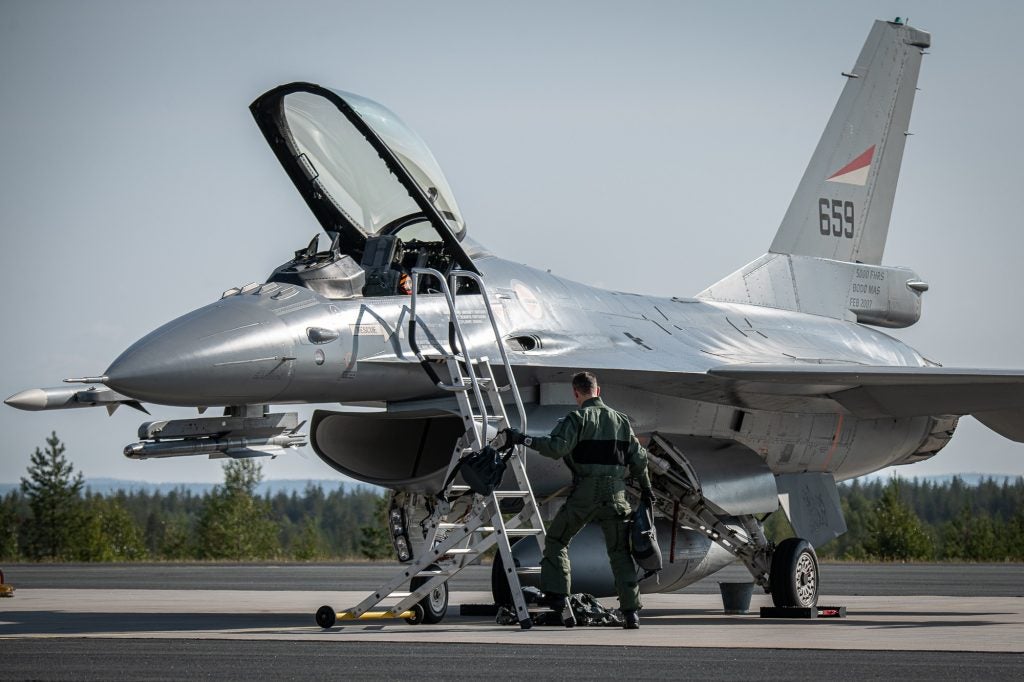 Romanian F-16 maintainer Aerostar S.A will be tasked with upgrading the ex-Norwegian aircraft to M.6.X standard once they are delivered. Upgrades implemented with the M.6.X standard include the LN-260 Global Positioning System (GPS); Multifunctional Information Distribution System Joint Tactical Radio Systems (MIDS JTRS); AN/APX-126 advanced Identification Friend or Foe (IFF); ARC-210 radios; KIV-78 cryptographic appliques; other secure communications, navigation, and encryption devices; and Joint Mission Planning System (JMPS) software.

The Romanian Air Force's current ex-Portugese Air Force F-16s will also be upgraded to M.6.X standard as well. In addition to maintaining the Air Force's ability to meet NATO requirements and obligations, the upgrade work is expected to help maintain Aerostar's F-16 operational support capabilities.

The ex-Norwegian F-16s are planned to replace Romania's fleet of MiG-21 LanceRs, which are now scheduled to be retired in May 2023. Operations of the upgraded Soviet-era fighters were briefly halted following a fatal March 2 crash that also resulted in the death of seven other Romanian Air Force personnel, after their Puma helicopter crashed in bad weather during search and rescue operations for the crashed aircraft. While the LanceRs have since returned to service following fleet-wide safety inspections, their return was described as a short-term solution while replacements were sought.