Turkey Begins Production On The First Hisar Class OPV
ASFAT, affiliated with the Turkish Ministry of Defense, has announced that production activities on TCG Akhisar, the first vessel whose design activities were completed within the scope of the Offshore Patrol Vessel (ADKG) project, have begun. A statement from ASFAT said "as of today, the critical design phase of the Offshore Patrol Vessels, which will be built with great amount of domestic and advanced technology for the needs of our Naval Forces Command, has been completed and production has started."
Within the framework of the project, which began on August 15, 2021, ASFAT General Directorate of Shipyards and Istanbul Shipyard, which have already signed contracts for two vessels, aim to manufacture ten Offshore Patrol Vessels for the Turkish Naval Forces Command. The first of ten vessels to be built, TCG Akhisar, is scheduled to be delivered to the Naval Forces Command in May 2023, with the second vessel following in 2024.
The Hisar class OPV platform is designed to perform fundamental tasks such as intelligence, surveillance and reconnaissance, search and rescue, anti-terrorism, control of maritime jurisdiction regions, maritime security, smuggling and piracy prevention, and humanitarian aid in natural disasters. Secondary missions for the ship include naval air operations, electronic and acoustic warfare, bombardment of shore targets, defense against asymmetrical threats, maritime transport protection, and support and training within the scope of amphibious operations.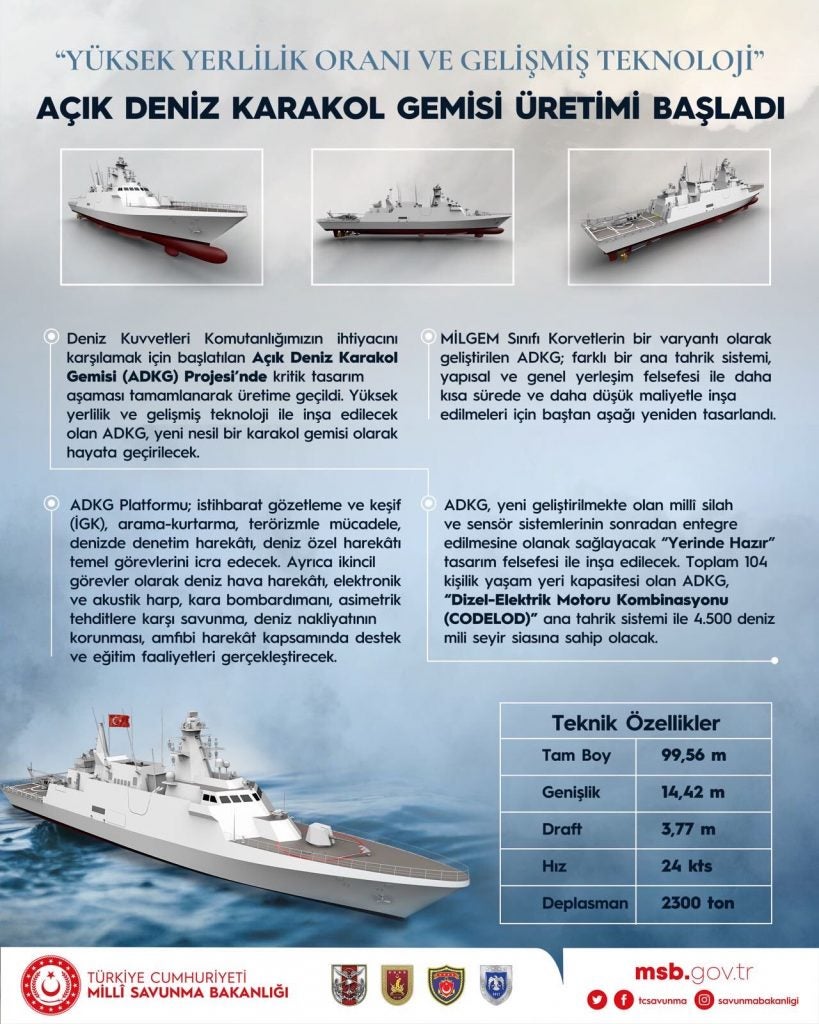 These OPVs, which are based on the MİLGEM Ada Class Corvette design, will have a full load displacement of 2,300 tons, a length of 100 meters, a width of 14.42 meters, and a draft of 3.77 meters, according to information released by the Turkish Ministry of Defense. The vessels will have a top speed of 24 knots and a range of 4,500 nautical miles, powered by a diesel-electric engine combination (CODELOD) main propulsion system. The vessel, which has a crew capacity of 104 people, also allows 14 additional personnel to be assigned to the ship. The vessels will also have a helipad for the use of helicopters and unmanned aerial vehicles, and will be capable of performing uninterrupted tasks at sea for 21 days.
The Hisar Class OPV will have a simpler weapon and sensor load than the MİLGEM Ada Class Corvette. The vessel, which has two 12.7mm machine guns and a 76mm main gun, will be able to be outfitted with HİSAR and CİRİT ATMACA missiles and similar domestic weapon systems in a short period of time thanks to the "Ready-in-Site System Capability", when deemed necessary.