Updates: War In Ukraine (31 March)
Reports suggest that Russia is repositioning troops from their northern axis to the south with elements of 20th Combined Arms Army and 1st Guards Tank Army are redeploying to support Russian operations on Izyum. Ukrainian forces continue to hold the center of Mariupol with Russian forces encountering significant resistance.
Russian local offensives in the Luhansk and Donetsk Oblasts have reportedly been held while Ukraine continues to make gains in the suburbs of Kyiv and a counterattack in Zaporizhia Oblast is said to be underway.
Süddeutsche Zeitung reports that the German Federal government is preparing new arms deliveries to Ukraine with further anti-tank weapons, mortars and autocannons, 3,000 sets of night vision devices, thousands of body armour and helmets.
A US defense official has told press that their are signs that Russian forces have begun to pull out of the area of the Chernobyl Nuclear Power Plant in Pripyat. A humanitarian corridor to Mariupol has reportedly been established, with help from the International Red Cross, in place of a proposed French-led effort. The UN Refugee Agency confirmed yesterday that 4 million people have fled Ukraine.
Check out our earlier updates on Ukraine here.
This feed timestamps using local Eastern European Time (EET).
---
Updates
2:25AM (EET) – Yesterday the UK hosted the second International Defence Donor Conference for Ukraine. The first was held on 25 February, but today's meeting saw more than 35 countries attend. The UK Ministry of Defence said that the conference discussed Ukraine's most pressing military aid needs.
UK Defence Minister Ben Wallace said following the meeting that "As the tactics on the ground change, we need to change what we supply and try to meet Ukraine's demands," he explained that this included "long-range artillery, ammunition predominantly," as well as "equipment to defend its [Ukraine] coastline", more air defense weaponry and armoured vehicles. Wallace clarified that the vehicles are "not tanks necessarily, but certainly protected vehicles," he concluded by saying that "all this will be forthcoming as a result of this conference."
These suggestions indicate that the UK and the partner nations which attended the conference are looking to provide armored vehicles, anti-air weapon systems, long range artillery systems and ammunition and weapons for coastal defense – potentially anti-ship missiles.
---
2:06AM (EET) – The UK Ministry of Defence reports that Russia's latest troop redeployment includes up to 2,000 troops being pulled from Georgia. The MoD believes this move is indicative of unexpected losses Russia has suffered.
---
1:50AM (EET) – OSINT analysts Oryx have updated their verified list of Russian losses. Oryx have now identified 2147 individual Russian assets lost.
---
1:15AM (EET) – Ukraine's state Nuclear power company, Energoatom, have posted on their Telegram page that "according to the staff of the Chernobyl nuclear power plant, there are now no outsiders [Russians] on site."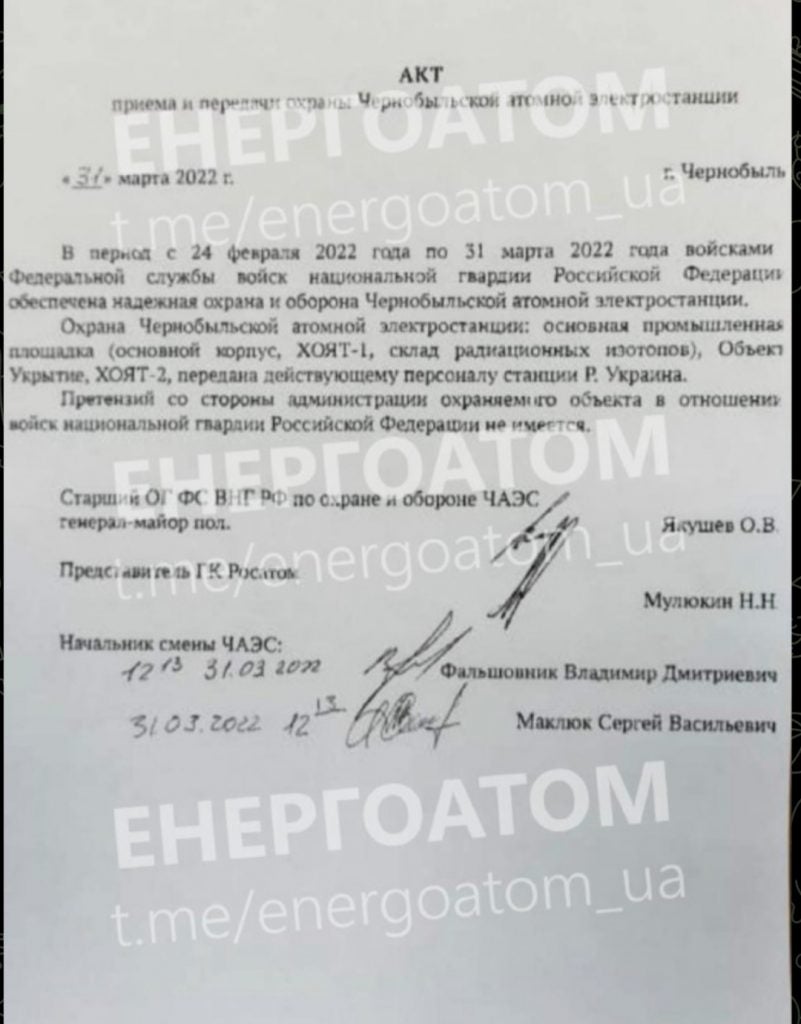 Russian forces at the former nuclear power plant are claimed to have drawn up and signed an "Act of acceptance and transfer of protection of the Chernobyl nuclear power plant." The document, which was shared on Energoatom's Telegram page has not yet been verified, nor has their been further official Ukrainian comment on the withdrawal of Russian troops from Chernobyl and the surrounding areas.
---
11:39PM (EET) – The planned ceasefire and humanitarian corridor out of the besieged port city of Mariupol did not materialise according to Ukraine's Deputy Prime Minister Iryna Vereshchuk, she said there had been "no ceasefire" and that "the enemy continues to destroy, with air strikes, the remnants of infrastructure left in Mariupol, trying to destroy all living things."
Russian news agency TASS reports that the Russian MoD has said they will open the corridors tomorrow. TASS quotes the head of the National Defense Control Center of the Russian Federation, Colonel-General Mikhail Mizintsev as saying:
"At the personal request of the President of France and the Federal Chancellor of Germany to the President of the Russian Federation Vladimir Putin, from 10:00 Moscow time on April 1, the Russian Armed Forces are reopening a humanitarian corridor from Mariupol to Zaporozhye (with an intermediate point in Berdyansk). For the successful implementation of this humanitarian operation, it is proposed to be carried out with the direct participation of representatives of the UN High Commissioner for Refugees and the International Committee of the Red Cross (ICRC),"
---
7:35PM (EET) – The chief of Sweden's air force has denied claims made by a Swedish broadcaster that two Russian strike aircraft that intruded into Swedish airspace in early March had done so with nuclear weapons loaded. Read the full story from Albert Lee here.
---
5:05PM (EET) – President Zelensky continues his virtual tour of the world's parliaments, addressing Belgium's Federal Parliament.
---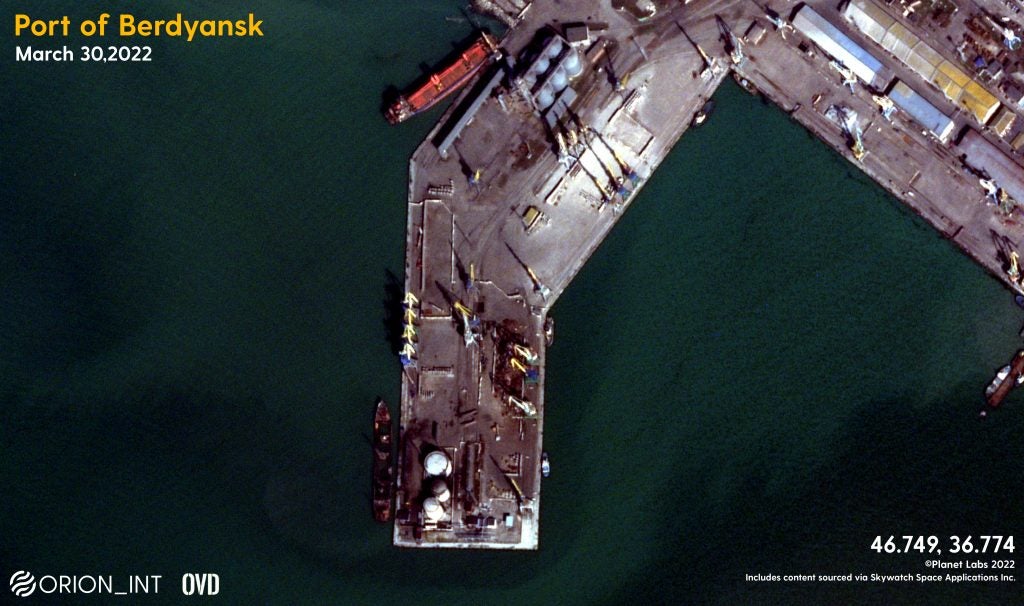 3:38PM (EET) – On 24 March Ukrainian strikes left a Russian Alligator-class landing ship on fire and partially submerged at her moorings in Berdyansk. The Russian landing ship was reportedly struck by a Tochka-U short-range ballistic missile strike, though some footage of the attack may suggest a drone was responsible for the attack. In this latest piece of satellite imagery it seems that the ship has settled further alongside the dock.
Read our report on the attack on the landing ship
---
3:10PM (EET) – The Russian Ministry has released a statement alleging that Ukraine are responsible for sea mine straying into Turkish and Romanian waters. The statement said:
"Between February 25 and March 4, the remnants of the Ukrainian navy's mine clearing forces planted about 420 sea anchor mines of the YaM-1 type in the waters of Black and Azov seas, 370 in the Black Sea and 50 in the Azov Sea. As a result of stormy conditions in the Black Sea and due to poor technical condition, about 10 Ukrainian mines have had their bottom anchor wires broken. Since then, under the influence of wind and surface flows, the Ukrainian mines have drifted freely southwards in the western part of the Black Sea."
Read our full report on sea mines entering the Black Sea
---
2:50PM (EET) – The Russian Ministry of Defense has shared their latest estimates of losses they claim to have inflicted on Ukrainian forces. Russia claims to have shot down 124 aircraft, 77 helicopters, over 1800 armored vehicles, 195 MLRS and 216 air defense systems. These claims, like those of the Ukrainian MoD, have not been independently verified.
---
1:39PM (EET) – OSINT analysts Oryx have updated their verified list of Russian losses.
---
1:20PM (EET) – The Ukrainian Ministry of Foreign Affairs has shared the latest Ukrainian figures on Russian losses. These claims have not been independently verified.
---
1:10PM (EET) – Following his address to the Australian Parliament President Zelensky has also addressed the Netherlands Parliament urging that Ukraine needs "weapons to help make our skies safe, to unblock our Ukrainian cities, where Russia is artificially starving. We need such weapons that will allow us to expel the occupiers from our land: planes, tanks, anti-aircraft weapons, shells, missiles."
---
11:56AM (EET) – Ukraine's Deputy Prime Minister Iryna Vereshchuk has announced plans on humanitarian corridors for Mariupol and Zaporizhia. Vereshchuk said "We will exert every effort to ensure that buses arrive in Mariupol today and pick up people who have not yet been able to get out of the city."
---
11:05AM (EET) – Earlier today President Zelensky addressed the Australian Parliament, he made a direct request for further sanctions against Russia and for Australian Bushmaster armored vehicles. He noted "If the world had punished Russia for what it did in 2014, there would not be any threat of invasion of Ukraine in 2022." He continued by thanking Australia for thier support and said that "the geographical distance between us is huge, but what does this distance mean for those who have a common understanding? Geography doesn't matter."
---
10:11AM (EET) – OSINT analyst Orion_int has shared some fresh imagery of Berdyansk and the stricken landing ship struck by Ukraine last week. Read our full report on the strike.
---
9:20AM (EET) – The UK's director of Government Communications Headquarters (GCHQ) Sir Jeremy Fleming made a speech earlier today at the Australian National University, the full speech transcript is now available.
---
8:28AM (EET) – The UK's Ministry of Defence expats continued fighting around Kyiv for several more weeks, noting: "Russian forces continue to hold positions to the east and west of Kyiv despite the withdrawal of a limited number of units. Heavy fighting will likely take place in the suburbs of the city in coming days."
---
7:15AM (EET) – Overnight War_Mapper shared their OSINT-based situation map.