Iran's Revolutionary Guard Successfully Launches Second Military Satellite, Named "Noor-2" Into Orbit
Iran's Revolutionary Guards announced that it has successfully launched its second military satellite, called "Noor-2", into space, during an important phase of the Iranian nuclear talks that are drawing to a close in Vienna. Tasnim news agency, which is affiliated with the Iranian Revolutionary Guards, reported that the military satellite produced with domestic means was launched into space with a three-stage "Ghased" satellite carrier rocket from the Shahrud Desert, approximately 330 kilometers northeast of Tehran, and successfully placed in orbit at a distance of 500 kilometers from the earth.
According to IRNA, the official news agency of the Islamic Republic of Iran, Major General Hossein Salami, at a ceremony during the successful launch of the Noor-2 satellite, said: "This is not an incident but an achievement which was gained after conquering whom wanted to keep Iran in the ground and not let it grow."
Iranian Minister of Information and Communications Technology Eisa Zarepour made statements on the matter on his social media account, congratulating the launch of the Noor-2 satellite and stating that the first signals from the satellite were successfully received by ground stations. The reconnaissance satellite, which will circumnavigate the globe every 90 minutes, will fly over Iran 16 times a day, according to Zarepour, and will continue its mission for at least three years.
The Noor-2 satellite is the second Iranian military satellite to be launched into low-Earth orbit (LEO). Prior to that, the Noor-1 satellite was launched on April 23, 2020, by a multistage rocket named "Qassed" from a base in the desert, in central Iran, and placed into an orbit 425 kilometers (264 miles) above the Earth's surface.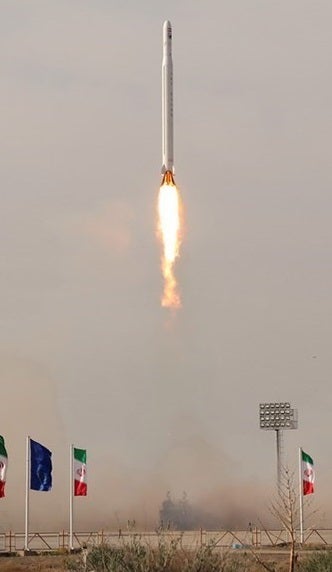 Although Iran's Revolutionary Guards claim that the Noor-2 satellite, which means "light" in Persian, will be used for a variety of military and civilian missions in Iran, including reconnaissance and natural disaster response, Israel remains concerned about Iran's strategic intelligence capabilities being reinforced.
Apart from Israel's strategic intelligence concerns, the United States and some Western countries consider Iran's space operations to be a "security threat." While the United States, France, Germany, and the United Kingdom are closely monitoring Iran's space program, they have asserted that it is linked to the country's ballistic missile program, and that these actions are in violation of UNSC Resolution 2231, which was adopted on July 20, 2015.
Iran, which is accused of violating United Nations resolutions by launching the Noor-2 satellite, claims that these actions are carried out in order to advance space studies and technology.