Germany: Still No Defensive Arms For Ukraine, But "High Price" For Russian Aggression
German Foreign Minister Annalena Baerbock stressed the importance of diplomacy in resolving tensions between Ukraine and Russia, warning on Monday that Russia would pay for renewed military aggression against Ukraine, even if Germany would not supply arms for Ukraine to defend itself.

During a joint press conference with Ukrainian Foreign Minister Dmytro Kuleba in Kyiv, Baerbock said that "each further aggressive act will have a high price for Russia, economically, strategically, politically", adding that diplomacy was "the only way". However, she did not go into detail about what steps would be taken in the event of a new Russian incursion into Ukraine.

She also stated that Germany's stance on refusing to supply Ukraine with arms to defend itself remained unchanged, saying that "our restrictive position on weapons supply is well-known and is rooted in history". Instead, she said, Germany supported Ukrainian security in many other ways, including providing treatment and rehabilitation in Berlin for injured Ukrainian soldiers.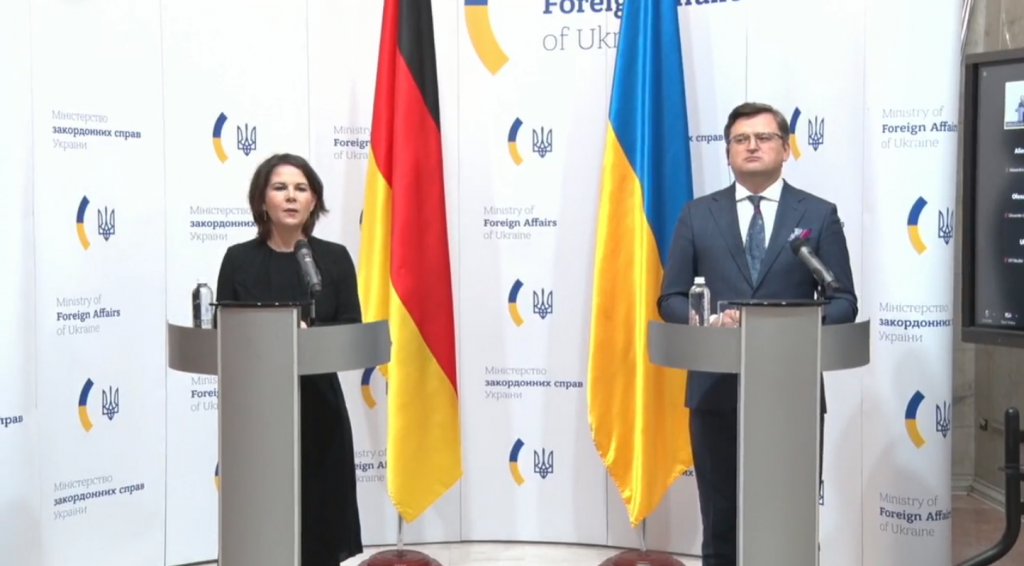 Kuleba thanked Germany for its support and friendship, in particular Baerbock's Green Party for its opposition to the Nord Stream 2 gas pipeline. Kuleba also stated that Ukraine and Germany were united on working to restart the Normandy Format negotiations with France and Russia to end the War in Donbass, saying that it was important that "neither Berlin nor Paris makes any decisions about Ukraine without Ukraine, and does not play any game behind our backs in relations with Russia".

Unlike its coalition partner, the Social Democratic Party, the Green Party co-led by Baerbock opposes Nord Stream 2, with Baerbock sharing Kyiv's concerns that bypassing existing gas pipelines that run through Ukraine undermines Ukrainian security and compromises European energy independence. The issue of the pipeline's influence on European energy security has been further highlighted by the ongoing European energy crisis, caused by a plunge in Russian gas exports. Last week, the head of the International Energy Agency, Fatih Birol, directly accused Russia of responsibility for the crisis, noting that the reduced gas flows coincided with the increase of tensions between Russia and Ukraine.

Prior to Baerbock's visit, Andrij Melnyk, Ukraine's ambassador to Germany, had decried the new German government's unchanged stance on military aid, describing it to the German Press Agency as "very frustrating and bitter". He said that the people of Ukraine were "deeply disappointed" by Berlin's decision, adding that "the moment of truth has now arrived to show who our true friends are".