German Court Finds Ex-Syrian Colonel Guilty of Crimes Against Humanity
The world's first criminal case over Syrian state-led torture resulted in a guilty verdict on Thursday, with a court in Koblenz sentencing a former Syrian military intelligence colonel to life imprisonment for overseeing the murder of at least 27 prisoners and the torture of 4,000 others.

Koblenz' Higher Regional Court also found 58 year-old Anwar Raslan guilty of 25 cases of dangerous bodily harm, two cases of rape and sexual coercion, two cases of sexual abuse, 14 cases of deprivation of liberty lasting longer than a week, and two cases of kidnapping during his time as chief interrogator at the al-Khatib military intelligence facility (better known as Branch 251) in Damascus between 2011 and 2012. The court found the crimes to have been committed as part of a widespread and systematic attack by the Syrian government against its civilian population following the start of the Syrian Revolution.

Raslan defected and fled Syria in 2012, and was subsequently granted asylum on humanitarian grounds in Germany in 2014, after initially fleeing to Jordan. He is the highest-ranking Syrian government official to date to have been convicted of crimes against humanity, with the same court having sentenced Eyad al-Gharib, who was arrested by police alongside Raslan in 2019, to four and a half years in prison for serving as an accessory to crimes against humanity last year.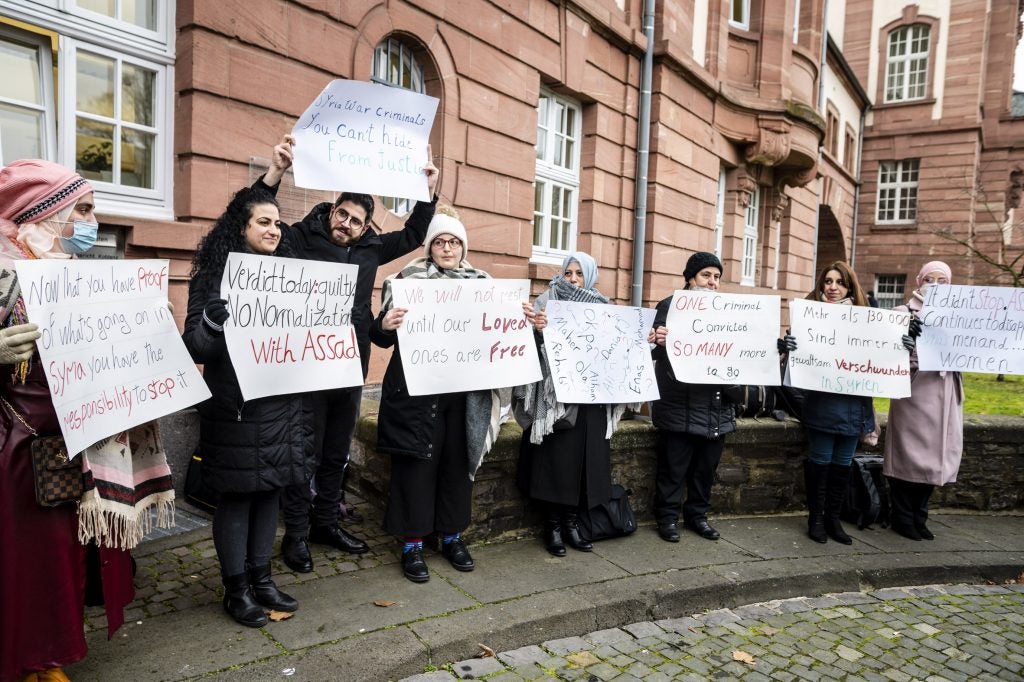 German prosecutors charged the two on the basis of universal jurisdiction, which grants German courts jurisdiction over serious crimes against international law, even if the crimes took place outside German territory and against people who were not German citizens. UN Human Rights High Commissioner, Michelle Bachelet said the trial was "a clear example of how national courts can and should fill accountability gaps for such crimes wherever they were committed, through fair and independent investigations and trials carried out in line with international human rights laws and standards".

Hussein Ghreir, a torture survivor and joint plaintiff who testified during the trial, was arrested twice and spent more than three and half years in total detained by the Syrian regime. He said:
"We waited for so long to witness this moment. This individual conviction has not only seen justice served for survivors of torture like me but it also carries a wider meaning – it provides legal confirmation of the systematic nature of the crimes being committed by the Syrian regime."
Ameenah Sawwan, Justice and Accountability Campaigner at The Syria Campaign said:
"It's important to remember that the abhorrent crimes that were highlighted during this trial continue to be committed today in Syria. Thousands continue to be arbitrarily detained, forcibly disappeared and tortured on a mass scale simply for peacefully expressing their opinions. Today's verdict must serve as a wake up call for states that are restoring ties with Bashar al-Assad: this is a regime with blood on its hands, guilty of crimes against humanity and war crimes."
Lead photograph by Paul Wagner/The Syria Campaign