CSTO Peacekeeping Mission in Kazakhstan Ends
CSTO Secretary General Stanislav Zas has announced the end of the CSTO peacekeeping mission in Kazakhstan. This comes shortly after President Tokayev's request to cease the intervention in his country. CSTO Secretary General Stanislav Zas said:
"The withdrawal of CSTO collective peacekeeping forces has already begun today, on January 13 of this year, and will continue for ten days. The CSTO peacekeeping mission in the republic is now over. This is a joint opinion of the political leadership of CSTO member states and the military command of the CSTO collective peacekeeping forces and the Kazakh Armed Forces."
Russian Ministry of Defense reports that first batch of Russian airborne troops left Kazakhstan for their bases https://t.co/M6XrayNalG

Troops of Armenia, Tajikistan, Belarus will completely withdraw tomorrow with the help of Russian transport aviation pic.twitter.com/6Gr7u3gbHP

— Liveuamap (@Liveuamap) January 13, 2022
The CSTO forces began their rapid deployment on January 6, during the outbreak of nationwide protests in Kazakhstan caused by the rise in natural gas prices. The situation escalated to the point where domestic police forces were unable to contain the protestors, who then began a riots in major cities. Buildings of public administration and offices of the ruling party in Kazakhstan, Nur Otan, were burned down. The biggest protests took place in the city of Almaty, where the protestors managed to seize weapons from the National Security Committee and captured the city's airport hoping to prevent Russian troops from deploying there.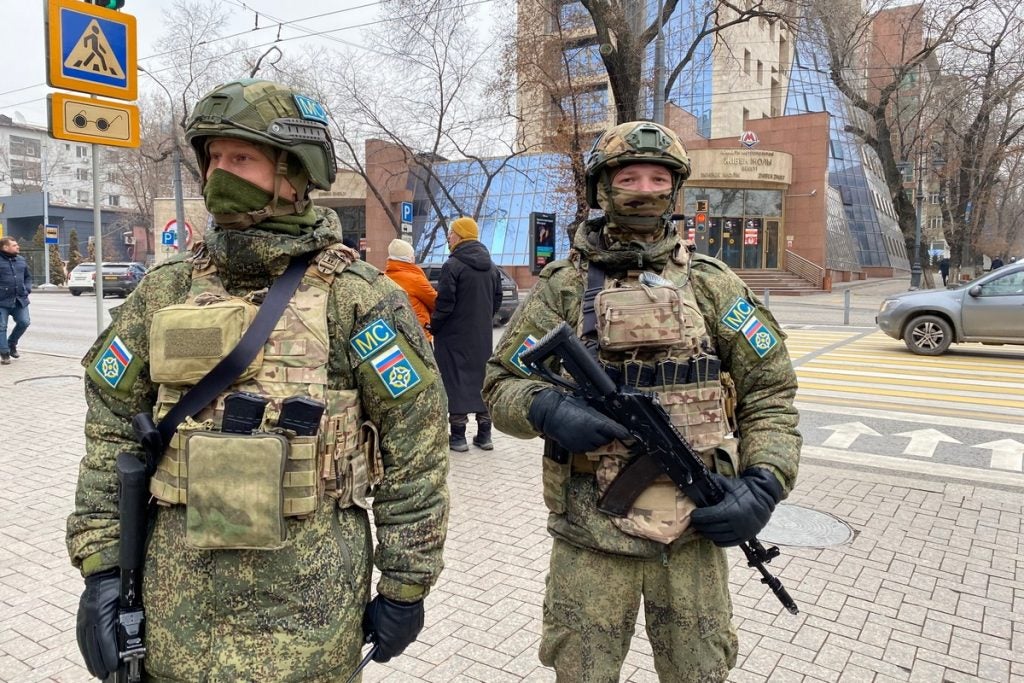 CSTO Secretary General Stanislav Zas' statement continued:
"The antiterrorist operation conducted by Kazakh law enforcement agencies has also come to an end. The militants and terrorists have been defeated. The remaining militants are trying to escape justice, to go into hiding. Therefore, Kazakh law enforcement agencies are actively clearing areas and arresting suspected participants in the unrest and the coup conspiracy."
Apparent false narratives have been shared by the Kazakh government with claims that external forces tried to destabilize the country and stage a coup.
Over 3,000 peacekeepers were sent to Kazakhstan as a part of the CSTO response force, however, some Russian units deployed earlier in order to protect installations in Baikonur and act if the situation deteriorated. Minister of Defense of the Russian Federation, Sergei Shoigu emphasized the peacekeeping experience gained in the Nagorno-Karabakh region by the Russian soldiers.
With the CSTO mission leaving shortly after their arrival questions there is still little information on civilian casualties despite the apparent brutal crackdown on the protests in Almaty. Despite this, the situation seems to have stabilized and no immediate reoccurrence of clashes has been seen. It seems unlikely that the grievances and issues that sparked the protests will be meaningfully addressed.
Cover image: CSTO peacekeepers during their mission in Kazakhstan. Provided by CSTO.