Turkey Test-Fires The Siper Long-Range Air Defense Missile
Turkey has successfully tested the long-range domestic air defense missile Siper, according to Turkish Defense Industry President İsmail Demir in a statement on social media on Saturday, November 6.
Prof. Dr. İsmail Demir, President of the Presidency of Defense Industry, announced the news, saying, "We have successfully finished another stage in the development of our long-range and multi-layered national air defense system, SİPER. We will eliminate all threats to Turkish airspace in the strongest possible way with SİPER, which we plan to add in the inventory in 2023."
On the video shared by the Presidency of Defence Industries about the test, Demir said:
"We continue the journey of our air defense systems. Step by step, we have put our systems at various levels into operation in this journey, and we are currently walking towards our targets in our journey to further levels. We have carried out another one of the tests of our SİPER journey. Our tests continue at increasing ranges and altitudes. Hopefully, products will continue to be released at various distances in the meantime. On the day we reach our targets for SİPER, I hope we will see that 5-6 types of air defense systems are operational in our country. I would like to thank all our friends who contributed.  To the teams of ROKETSAN, SA-GE and the ASELSAN team… I would like to express my gratitude to our friends from our (armed) forces who have contributed to us here, and I hope they will achieve many more successes."
The Siper Project, which will provide strategic facilities with area air defense at long range and in distributed architecture against enemy attacks, is carried out by a business partnership between Aselsan, Roketsan and Tübitak SAGE.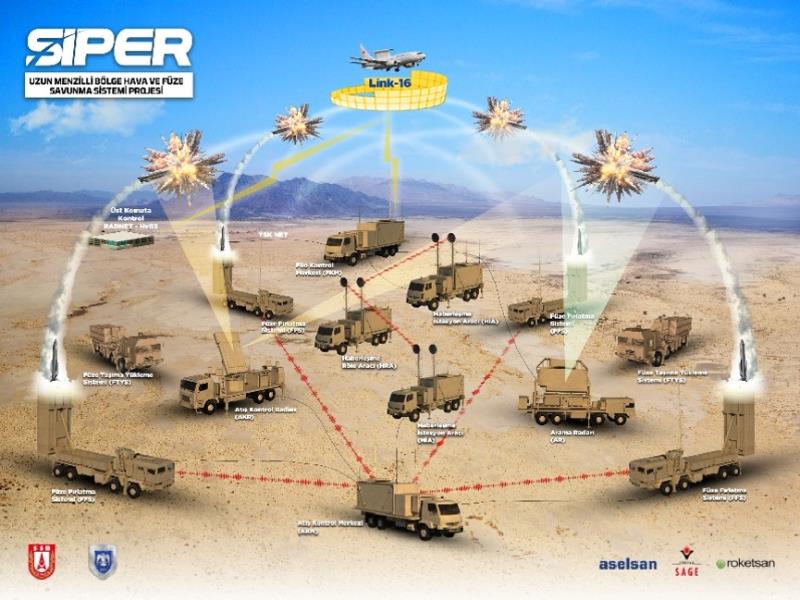 In the description shared by Aselsan, the battery structure of the SİPER air defense system shows the Fleet Control Center (FKM), which is linked to the Air Force Radar Network – RADNET. The data is transferred to FKM by the Fire Control Center (AKM) using the Communication Station Vehicle (HIA). For transmission, a Communication Relay Tool (HRA) is used. There is also a Missile Transport Loading System (FTYS) vehicle in the depiction, which includes four missile launchers, each with six cells. Data transfer from the Peace Eagle Airborne Early Warning and Control Aircraft (HEK) via Link-16 is also depicted.
With an effective range of up to 100 kilometers and an altitude of more than 20 kilometers, the SİPER Missile is currently Turkey's longest-range domestic air defense missile system. The missile, is based on the HİSAR-RF and has a double pulse solid-propellant rocket engine and an RF head, like other HİSAR missiles.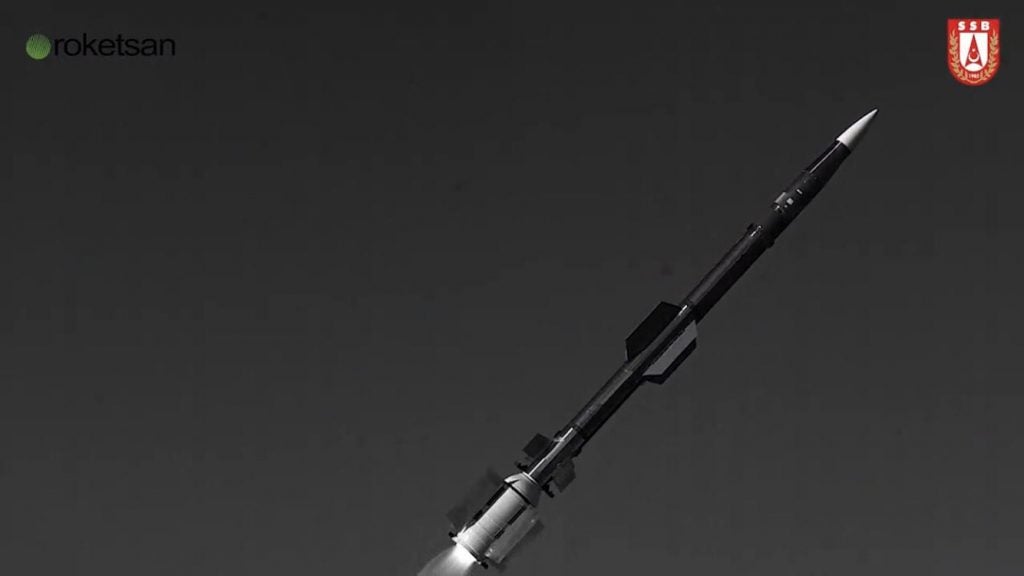 Aside from its achievements in developing domestic air defense systems, Turkey is also interested in the SAMP-T defense system developed by the Italian-French partnership. At the recent G-20 Summit President Erdoğan stated, "In the next period, we will take positive steps on the subject of SAMP/T and especially in the defense industry, as the France, Italy, and Turkey trio, and together with these positive steps, we will increase the current trade volume between us to a much higher degree."