A Taliban Delegation Visits Turkey To Meet With Turkish Officials
Taliban officials arrived in Ankara on Thursday, October 14 at the invitation of Turkish Foreign Minister Mevlüt Çavuşoğlu, seeking international support, just after meeting with US and EU representatives in Doha, Qatar's capital.
A delegation of seven individuals led by Muttaqi, Deputy Minister of Foreign Affairs, flew from Qatar to Istanbul and then to Ankara on a scheduled flight and met with Turkish officials led by Mevlüt Çavuşoğlu at the Ministry of Foreign Affairs. This visit was the first high-level contact between the Taliban and Turkey.
The delegation, led by Muttaqi, Deputy Minister of Foreign Affairs, visited Ankara to discuss issues such as the operation of Kabul Airport, humanitarian aid to Afghanistan, immigration issues, and bilateral trade. The delegation also included the Minister of Information and Culture Molla Hayrullah Hayrhva, Head of Intelligence Mullah Abdulhak Vask, Deputy Minister of Interior Mevlevi Nur Celal Celali, Political Office Member Mevlevi Şahabeddin Dilaver, United Nations Permanent Representative Muhammed Suheyl Şahin, Senior Taliban Executive Haji Muhammed İbrahim and Foreign Ministry Spokesperson Abdulkahhar Belhi.
Foreign Minister Çavuşoğlu made statements on the matter following his meetings with the Taliban delegation.
"We informed them again today about our security standards for airport operations, particularly for the start of regular flights, not just ours but the expectations of the entire international civil aviation community. They (Taliban delegation) also inquired about humanitarian aid, the economy, and the continuation of investments there. In other words, they conveyed their requests for us to continue assisting them, as our other institutions have done previously."
In order to keep Afghanistan's economy from collapsing, Çavuşoğlu stated that humanitarian aid must be delivered within the framework of "engagement," and that they are working on a comprehensive aid package. Çavuşoğlu emphasized the importance of issues such as girls' education and women's participation in business, and they once again emphasized the importance of inviting people from all ethnic groups, those outside the Taliban, to the administration.
According to Çavuşoğlu, there are many Afghan immigrants in different countries; the Taliban will support citizens who wish to return to their homelands, and they share their concerns about a new wave of immigration. "We have expressed our expectations for the reopening of our Consulate General in Mazar-i Sharif and Herat," Çavuşoğlu said, adding that the Taliban delegation will meet with representatives from the Turkish Cooperation and Coordination Agency, the Turkish Red Crescent, the Disaster and Emergency Management Presidency, and the Directorate of Religious Affairs.
Emirhan Muttaqi, the Taliban administration's Deputy Foreign Minister, also spoke to Anadolu Agency (AA) after his visit to Ankara. "With the capabilities it has," Muttaqi said, "Turkey can play a good role in funding and implementing some projects, as well as renovating and restoring Afghanistan. They can benefit from all areas," he stated.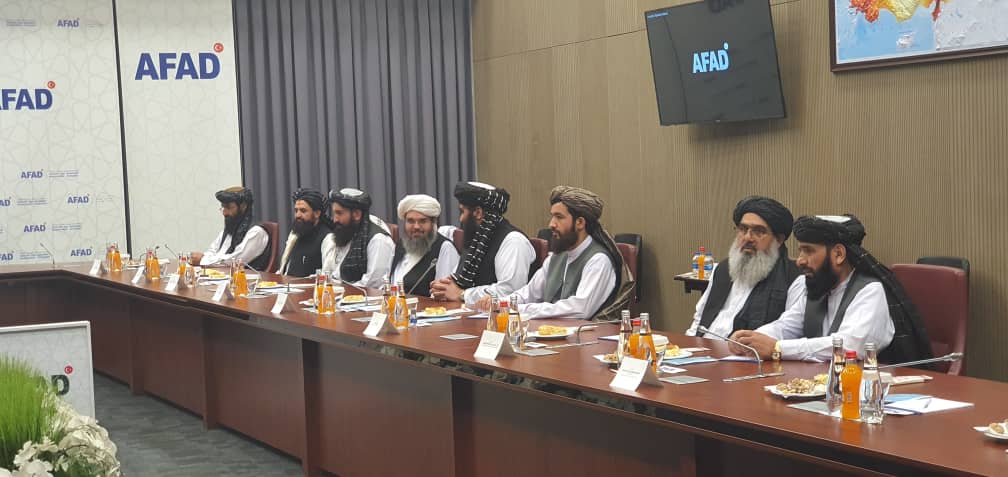 The Taliban administration's non-recognition, according to Muttaqi, also strengthens ISIS. "The fact that the new state in Afghanistan is not officially recognized is beneficial to ISIS (DAESH). On the one hand, the countries of the world say, 'Control the Afghan people, so that they do not emigrate'. On the other hand, they do not officially recognize the government and give morale to ISIS. This is in the interest of neither Afghanistan nor the world." Muttaqi also said that they want to hold the next meetings with Turkish officials in Kabul.