USAF B-52s Deployed to Guam Exercise with Japan, Indonesia
In late August, several U.S Air Force B-52 Stratofortress bombers arrived at Andersen Air Force Base, Guam, to undertake a bomber task force (BTF) mission in the Indo-Pacific region. Since arriving in theatre, they have conducted several missions with a range of allies, partners and other U.S forces in the region. Including a first of its kind exercise with Indonesia.
The B-52's arrived at Andersen Air Force Base, Guam, on 26 August from Barksdale Air Force Base, Louisiana. Days later, on the 31 August, they conducted an exercise with the Japan Air Self-Defence Force (JASDF). During the exercise, the B-52s were met with and escorted by several F-15Js somewhere over the "Indo-Pacific" region according to a Pacific Air Forces (PACAF) release. 
The next day, 1 September, the B-52s were once again in the air, this time further South over the Sulawesi Sea. There, they integrated with four Indonesian Air Force (TNI-AU) F-16s of the 3rd Squadron, based at Iswahyudi Air Force Base, East Java. Notably, this is the first time that the Indonesian Air Force has been included in a bomber task force mission.  
A Pacific Air Forces (PACAF) Spokesperson told Overt Defense that the integration, which involved two B-52s and four Indonesian F-16s provided "opportunities to work and train with our allies and partners" and "strengthen [our] capabilities by familiarizing aircrews with air bases and operations in different parts of the globe".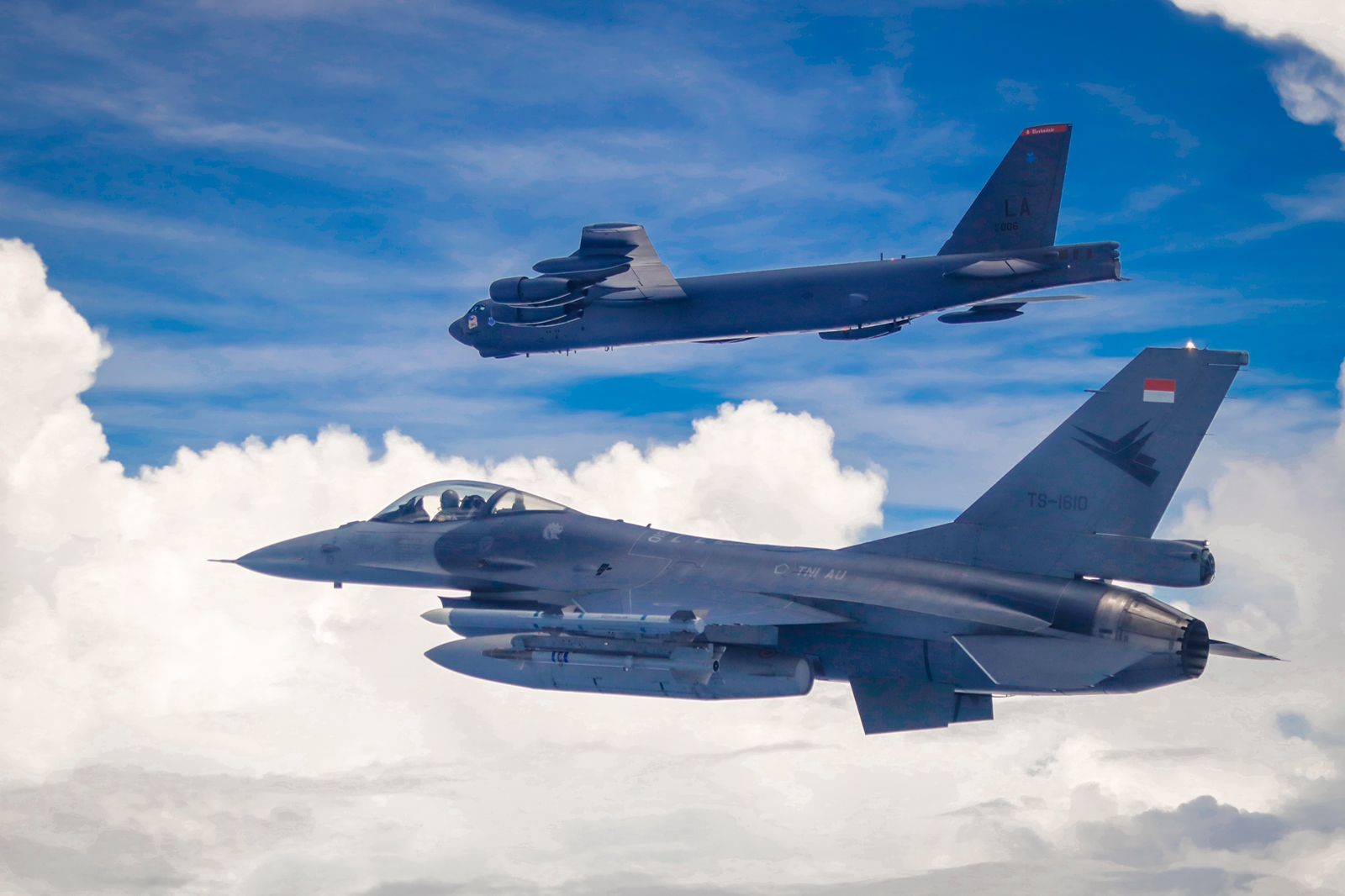 The integration of Indonesian aircraft with U.S strategic bombers is just the latest in a string of exercises and engagements between the U.S and Indonesian armed forces this year. In June, U.S Air Force F-16s trained with Indonesian aircraft during Cope West 2021', while U.S Marine and Army personnel exercised on the ground with their counterparts. The increasing number and scope of bilateral exercises is indicative of the deepening security partnership between the two countries.