First Pakistani Babur-class MILGEM Corvette Launched at Istanbul Shipyard
Istanbul Naval Shipyard (INSY) launched the first of four MILGEM corvettes planned for the Pakistan Navy on 15 August. The lead ship of its class, named PNS Babur, is on track to be delivered in 2023 according to a press release by the Pakistan Navy's Director General of Public Relations. 
The PNS Babur is the first of four MILGEM corvettes Pakistan procured for a reported $1.5 billion back in 2012. The contract signed between Military Factory and Shipyard Management and the Pakistani National Defense ministry includes a full technology transfer and entails that Turkey's INSY and Pakistan's Karachi Shipyard and Engineering Works (KSEW) will each build two of the ships. The contract is slated for completion by 2025.
Turkish Minister of Defense at the time, Nurettin Canikli, dubbed the purchase as "Turkey's largest single-agreement defense export".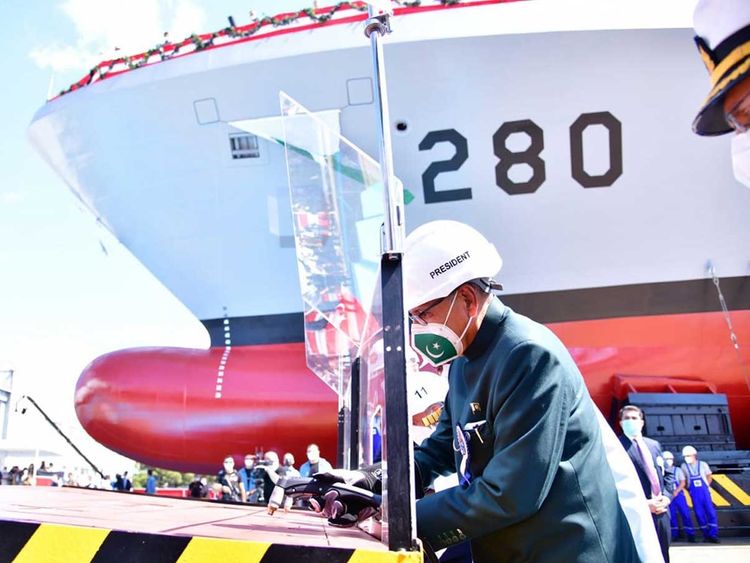 The Babur-class, a Pakistani specification variant of the Ada-class of corvettes currently in service with the Turkish navy, are likely part of the Pakistan Navy "major surface vessels" category of ships which it intends to build a 20-ship-strong fleet of. Per Pakistan's specifications, qualifying platforms will have to be equipped for anti-ship, anti-submarine, and anti-air warfare and be fit for deployment in a variety of mission types.
Two triple-cell anti-ship cruise missile (ASCM) launchers will provide the Babur-class with its anti-ship capabilities. The missiles to be used are yet to be specified, but a strong candidate is the Harbah long-range ASCM, capable of also targeting land-based targets, and possess a range of 450-750 kilometers.
MBDA's Albatros-NG variant of the Common Anti-Air Modular Missile-Extended Range (CAMM-ER) surface-to-air missile system is the anti-air system that will be fitted on the Babur class. Published illustrations of the corvette indicate it will be equipped with 12-cell vertical launch systems to deliver the 40-kilometer range missiles.
The Babur-class is one of many procurements that are part of a wider modernization effort the Pakistan Navy is currently leading. It has commissioned new frigates from China, Off-shore patrol vessels from the Netherlands, as well as contracting Turkish companies to upgrade its existing submarine fleet.