The Fourth Avante-2200 Class Corvette Of The Royal Saudi Navy Is Launched
The fourth of five Avante 2200 corvettes being built for the Royal Saudi Navy, dubbed Jazan, was launched on 24 July, by the Spanish Navantia shipyard company. The Commander of the Royal Saudi Navy, Vice Admiral Fahad Bin Abdullah Al-Ghofaily, the Chief of Staff of the Spanish Navy (AJEMA), Admiral Antonio Martorell Lacave, Navantia President Ricardo Domínguez, and Saudi Arabian Military Industries (SAMI) Vice President Wael Alsarhan all attended the ceremony at the San Fernando Shipyard.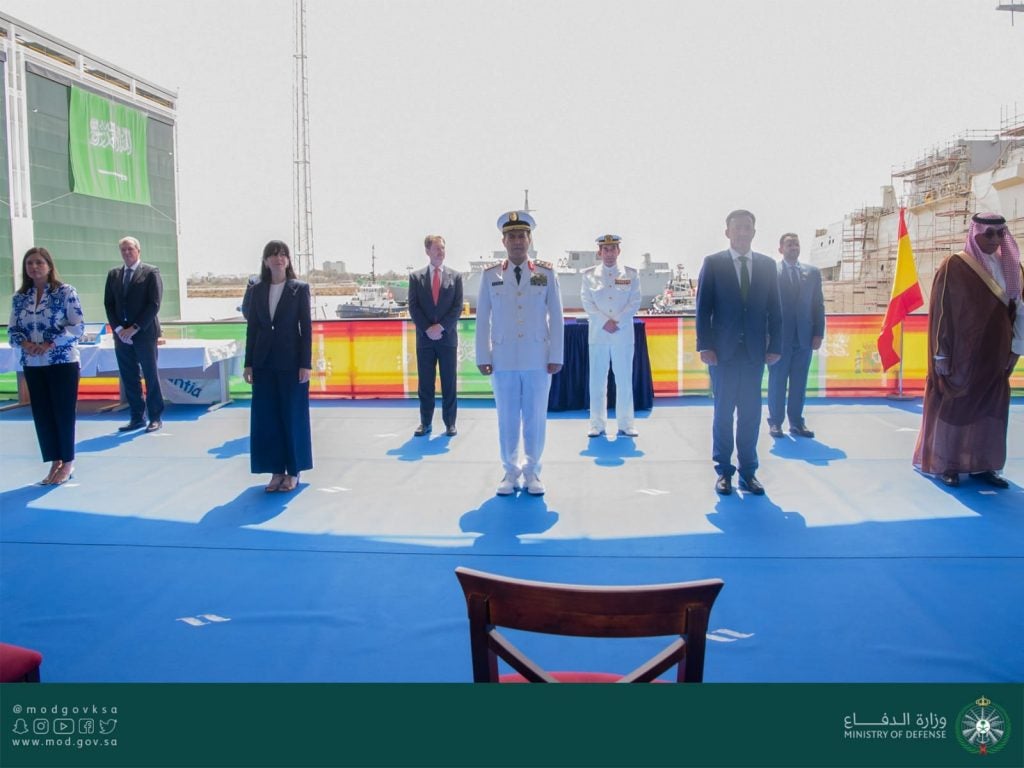 Vice Admiral Fahad Bin Abdullah Al-Ghofaily in his speech said; "The Sarawat project will contribute to raising the level of readiness of the RSNF, enhancing maritime security in the region and protecting the Kingdom's vital strategic interests." The Commander of the Royal Saudi Navy also stressed the importance of the ALSARAWAT (Avante 2200) project during the program, stating that it is one of the most important acquisitions and that it is in line with the Kingdom's strategic 2030 vision.
The first (Al-Jubail) of the five-ship Avante 2200 agreement built by Navantia for Saudi Arabia under a contract that began in July 2018 was launched in July 2020, followed by the second (Diriya) in November. The third corvette (Hail) was launched in March of this year, and the fourth corvette (Jazan) was launched during the event. The five corvettes, which were initially planned to be delivered by 2023, will now be delivered one year later. In addition to the corvette's construction, the program includes life cycle support for a period of five years after the first ship is delivered, with the option of an additional five years.
The contract covers integrated logistical support, operational and maintenance training, the supply of training and training centers for the ships' Combat System and Platform Control System, life cycle support, and various ship maintenance services at the Jeddah Naval Base.
With four diesel engines in CODAD regulation, the Avante 2200 class corvette has a maximum range of 4,500 nautical miles and a top speed of 25 knots. Each diesel engine has a power output of 4,440 kW. On board, there are also four 570 Kw diesel generators. A 3D air and surface surveillance radar, body mounted sonar, and variable depth sonar are all part of the sensor package.
The weapon system includes one 76mm naval gun, one 30mm CIWS, four 12.5mm machine guns, 2×3 torpedo tubes, 2×4 anti-ship missiles and 32 ESSM surface-to-air missiles (8-cell Mk 41). The Sarawat project's "Jazan" and all other vessels will be equipped with the first "100%" Saudi-made combat management system dubbed "HAZEM" which was developed by national staff. HAZEM integrates the Integrated Communication System, Fire Control System, and Integrated Platform Management System. It was built as part of SAMI Navantia's mandate under the Avante 2200 project.