Hisar-A+ Enters Turkish Army Inventory and The Hisar-O+ Enters Mass Production
Prof. Dr. İsmail Demir, Chairman of the Presidency of Defense Industries, tweeted two updates about the Hisar-A+ and Hisar-O+ air defense systems. According to İsmail Demir, the complete Hisar-A+ system was delivered to the Turkish Armed Forces (TSK), and the Hisar-O+ system destroyed a high-speed target at a long range and high altitude during recent testing and has now entered mass production.
HİSAR's are air defense missiles that are used to protect military bases, ports, facilities, and units against aerial threats such as fixed and rotary wing aircraft, cruise missiles, air-to-ground missiles, and UAVs.
As a Presidency of Defense Industry project, HİSAR Air Defense Systems were created locally and nationally in collaboration with Aselsan and Roketsan. Hisar-A has been in development since 2011 to suit the Land Forces Command's low-altitude air defense requirements. Shortly before going into mass production, the project evolved into HİSAR-A+. The differences between HİSAR-A and HİSAR-A+, however, have not been publicly announced.
In May of this year, the system successfully passed the shooting tests and was expected to enter the inventory of the TSK (Turkish Armed Forces) shortly afterwards. According to the information provided on Roketsan's official website, the system is capable of stopping targets autonomously without the need for any human element. A single armored tracked vehicle houses radar, electro-optical sensors, command control, fire control elements, communication elements, and the missiles themselves.
Technical Specifications (as stated by the manufacturer, Rokestsan):
Combat Aircraft Tracking Range : > 25 km
Target Interception Range: 15 km
Ready-to-Fire Missile: 4
Maximum Speed: 65km/h
Steep Slope Climbing: 60%
Side Slope Movement: 30%
Although there is no definitive information on how many Hisar-A+ units were provided to The TSK's inventory, it is known that three Hisar systems were present during a recent visit made by media members to the ASELSAN facility.
The HİSAR-O+ Medium Altitude Air Defense System has also entered mass production after passing the longest distance and altitude tests ever conducted in Turkey, hitting its target directly and destroying it. During test shooting at the Aksaray Shooting Range, the Medium Altitude Air Defense Missile System (HSAR-O) hit the target with a direct strike, according to the Ministry of National Defense's social media account.
The system can be equipped in a relatively short time, according to information supplied by ASELSAN. It can destroy targets from all directions without losing time, up to a distance of 25 kilometers, thanks to its vertical shot. Target detection, categorization, identification, tracking, command and control, and firing control are all provided by HİSAR-O using a distributed architecture. HISAR-O is organized at the battalion level, with a battalion level Fire Control Center (Battalion FCC), a battalion level Radar, three HISAR-O Batteries, a Tactical Data Link Connection System, and support vehicles.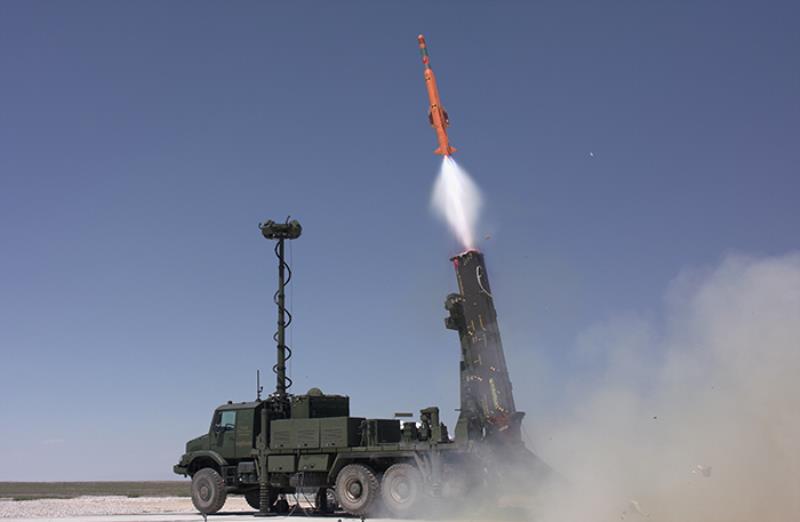 Technical Specifications (as stated by the manufacturer, Rokestsan):
System Interception Range: 25 km
Ready-to-Fire Missile: : 18 (Battery Level), 54 (Battalion Level)
Combat Aircraft Detection & Tracking Range: 40-60 km
Number of Trackable Targets: > 60 targets
Despite the lack of official clarification, it is believed that Hisar-O+ will serve not only with the land forces but also the Navy, and that Milgem corvettes will be equipped with them for their air defense capacity.