BlueBird Delivers 100 WanderB-VTOL UAVs To An Unnamed European Country
BlueBird Aero Systems, which Israel Aerospace Industries (IAI) also owns 50% of, has sold 100 WanderB type VTOL unmanned aerial vehicles (UAVs) to a European customer, according to IAI. While there is no information regarding the price of the transaction from the firm or official channels, it is said to be the largest VTOL UAV export ever.
Despite the current Covid-19 restrictions, the order was fulfilled within the agreed-upon time frame. IAI signed an agreement to buy a 50% share in BlueBird Aero Systems in September of last year. The Israeli government recently authorized the purchase.
BlueBird's Founder and CEO, Ronen Nadir said:
"BlueBird's VTOL systems provide vital intelligence and situational awareness in real-time to the end-user's infantry, armored units, artillery corps and special forces, serving as their 'eye in the sky,' effectively handling the challenged of the modern battlefield. The systems have been tested in extreme environmental conditions and comply with the end user's operational needs, providing them with significant operational advantages. Once again, our leadership in cutting edge VTOL solutions, is setting the stage for next-generation tactical UAVs."
IAI EVP and General Manager of the Military Aircraft Division and incoming Chairman of the Board at BlueBird, Moshe Levy noted that: "BlueBird is delivering a product providing a unique solution to the customer's operational challenges. I am confident BlueBird with IAI's collaboration will yield future transactions and lead to the development of more sophisticated tactical VTOL UAV systems."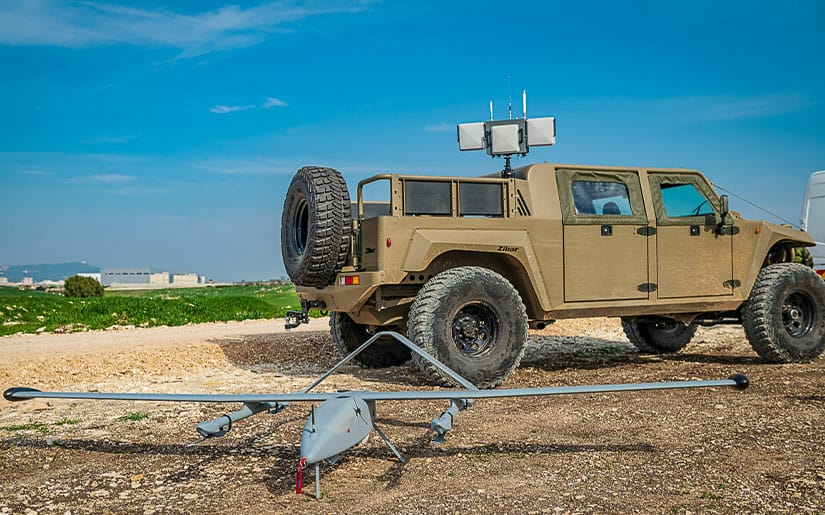 The WanderB-VTOL is an adaptable, and according to BlueBird, easy-to-use UAV system. It is designed for extended range, day and night Intelligence, Target Acquisition, Reconnaissance, and Surveillance (ISTAR) missions. High-definition video (HD) and photogrammetric tactical mapping are included in the WanderB-VTOL UAV (TMOD) capabilities.
According to the manufacturer's specs the UAV has a wingspan is 3.1 meters and a body length of 1.79 meters. The drone's maximum take-off weight is 13 kilograms, while its payload capacity is 1.35 kilograms. The drone can fly up to 22,000 feet above sea level, although its operational height from ground level is just 3,280 feet. The multi-copter element of the WanderB UAV' s design allows it to remain airborne even if one of its engines fails. It can continue to function even if communications are disrupted. It also has the capacity to endure severe winds and function in adverse weather conditions.
BlueBird Aero Systems' WanderB-VTOL UAV has significant operating flexibility. Because of its capacity to take off and land in tight spaces, it can also be employed in naval operations. BlueBird also state that its minimal acoustic, visual, thermal, and radar traces, it can conduct clandestine operations.