Northrop Grumman Delivers First AN/SLQ-32(V)7 Electronic Warfare System to the U.S. Navy
Northrop Grumman has delivered the first  AN/SLQ-32(V)7 Surface Electronic Warfare Improvement Program (SEWIP) Block 3 Engineering and Development Model (EDM) to the Navy. The company said in a press release on Friday, 11th June. The system was handed over to the Navy at Northrop Grumman's systems integration facility in Baltimore. After the transfer to the Navy, the system is headed for NAVSEA's Surface Combat Systems Center in Wallops Island, Virginia.
Mike Meaney, vice president of land and maritime sensors at Northrop Grumman, said in the press release, "providing the comprehensive hardware-defined, software-enabled system to the Navy proves out the final design and signifies the end of the engineering, manufacturing and development phase."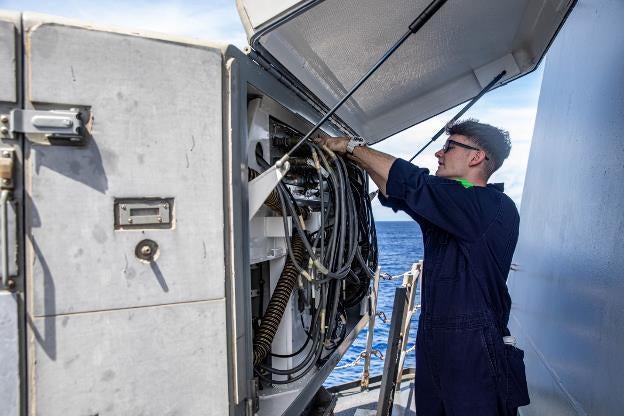 The delivery of the SEWIP Block III over to the Navy marks a major milestone for both Northrop Grumman and the U.S. Navy. Northrop Grumman won the SEWIP program contract in 2015 against a joint Lockheed Martin and Raytheon team effort. This was followed by a $91.7 million engineering, manufacturing, and development (EMD) contract from the U.S. Navy to further mature the system. In 2019 the SEWIP Block III was approved for Milestone C, after government review, which was followed by approval for Low Rate Intial Production (LRIP).
SEWIP was established in 2002, after the cancellation of advanced integrated electronic warfare system (AIEWS). Various versions of the AN/SLQ-32 system have been in service with the U.S. Navy for the past 40 years, today the latest variants make up the electronic warfare backbone of U.S. Navy and U.S. Coast Guard ships. The system works by using its passive sensors to pick up signals from an anti-ship missile's seeker. Upon detection of a threat, the system passes on the threat information to the ship's combat systems. The system integrates into the AEGIS Combat System (ACS) and Ship Self Defense System (SSDS). After establishing that a contact is hostile, the system interfaces with the ship's combat system. Soft and hard kill measures, such as the Nulka and the RIM-116, would be deployed in response.
AN/SLQ-32 systems. Image from a U.S. Navy presentation
The latest variant of the AN/SLQ-32 by Northrop Grumman improves the system further, on top of the already robust Block II system, which is capable of doing Electronic Attack (EA) and Electronic Support (ES). Furthermore the system's ability to locate and classify emitters isn't limited to only cruise missiles, as it can also do so for enemy Aircraft. As advanced seekers on anti-ship missiles proliferate, the threats to surface ships have greatly increased. Investments into advanced EW capabilities, as seen with the development of the AN/SLQ-32(V)7 system, demonstrates that the U.S Navy aims to not only keep up with but also outpace these threats.