Malaysian Coast Guard: Chinese Coast Guard Ship Entered Malaysian Waters
The Malaysian Maritime Enforcement Agency reports that it and the Royal Malaysian Navy are monitoring the presence of a Chinese Coast Guard ship in Malaysian waters off Borneo, near the Patinggi Ali shoals. The shoals, 84 nautical miles offshore from the city of Miri in northeastern Sarawak, had previously been overflown by 16 PLAAF cargo aircraft that intruded into Malaysian airspace on 1 June.

In a response to inquiries by the Borneo Post on 7 June, MMEA Miri director Captain Md Fauzi Othman confirmed that an intrusion had been reported, saying:

"Yes, I can confirm that we had received a report on the CCG encroaching into our waters on June 4. Our assets including from TLDM (Royal Malaysian Navy) have been monitoring the situation closely."

Fishermen in the area have long reported the presence of Chinese Coast Guard ships near the Malaysian-administered shoals, also known as the South Luconia Shoals. Putrajaya has acknowledged Chinese intrusions into the area around the shoals dating back to 2013, increasing deployments of naval assets to the area to shadow Chinese intruders. However, the presence of Malaysian naval forces has not deterred subsequent intrusions, leading to what has been described as a "permanent presence" by the Chinese Coast Guard around the shoals.

Unlike the Royal Malaysian Air Force's response to the 1 June airborne intrusion, the Royal Malaysian Navy has not issued a public statement on the reported naval intrusion as of writing. In the meantime, it has reported that its peninsula-based Fast Combat Boats have seen their first action since their recent induction.
The locally-made boats have now been used twice to intercept Vietnamese fishing boats illegally fishing in waters off Tioman Island, with the crews of two fishing boats detained and handed over to the MMEA. In addition to the arrest of an Indonesian smuggler off the coast of the southernmost state of Johor on 1 June, these are the first times the boats have been deployed on naval interception missions.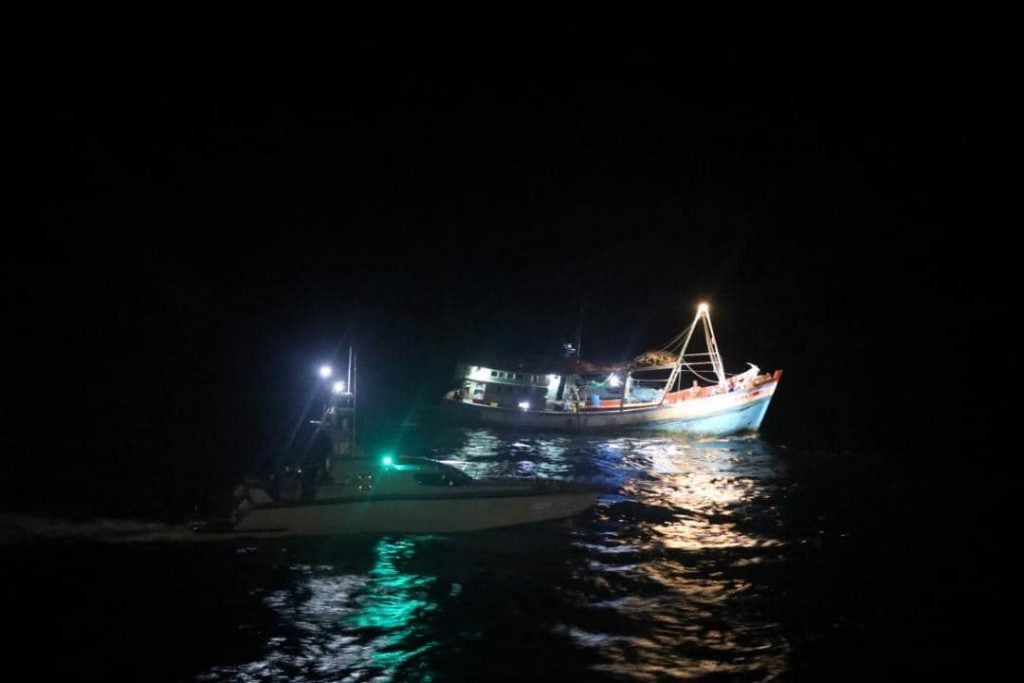 The Royal Malaysian Navy says that the successful missions with the Fast Combat Boats proves that local manufacturers are capable of making boats on par with what is available on the export market, enhancing the Navy's abilities to respond to "non-traditional" maritime threats. However, with Chinese activity in the South China Sea once again in the spotlight following the 1 June incursion, the Navy's vow to "never compromise" in the face of traditional and non-traditional maritime threats alike is set to be put to the test.