The Fourth Generation 'Yasen-M' Class Nuclear Submarine, Kazan, Joins The Russian Navy
The acceptance ceremony of the Kazan (K561), a 4th generation nuclear attack submarine of the Yasen-M project, to the Russian Navy was held today in Severodvinsk, at the SEVMASH initiative, under the leadership of Admiral Nikolai Yevmenov, the Commander-in-Chief of the Russian Navy.
The St. Andrew's blue cross flag was hoisted on the submarine's flagpole, and the Kazan nuclear missile submarine formally joined the Russian Navy. She is the second of the Yasen class boats to be commissioned and differs substantially from the first K-560 Severodvinsk.
The ceremony was also attended by Rustam Nigmatullin, First Deputy Prime Minister of the Republic of Tatarstan, Northern Fleet Commander Admiral Alexander Moiseev, Arkhangelsk Region Governor Alexander Tsybulsky, Severodvinsk Mayor Igor Skubenko, and JSC Deputy Head of Naval Shipbuilding "USC."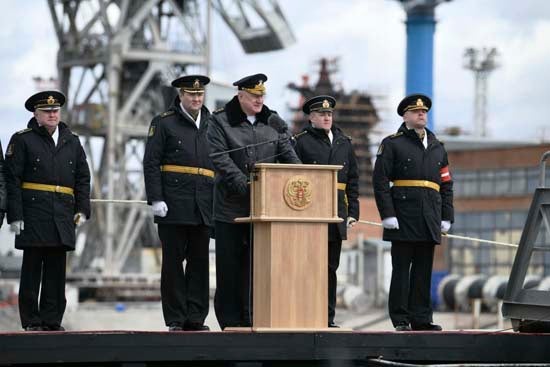 Admiral Nikolai Yevmenov, the Russian Navy's Commander-in-Chief, said at the ceremony, "I'd like to express my gratitude to everyone who dedicated their time, talent, and spirit to the building of this ship. I wish you good health and prosperity in the future."
Yevmenov expressed certainty in that Kazan's crew would handle their mission of strengthening the nation's defenses with dignity.
After the ceremony, Russian Navy Chief Admiral Nikolai Yevménov told the press that "the most advanced technology and the most modern arms" were used in the construction of Kazan. "It can be said that it is the world's most advanced submarine," the admiral said.
According to a statement made by Yevménov in March, two more nuclear-powered submarines are expected to be delivered to the Russian Navy in addition to Kazan.
The Kazan will be the first Russian submarine to be fitted with a fourth-generation nuclear reactor capable of operating for 25 to 30 years without refueling. The new reactor also allows for a substantial reduction in noise levels. The Yasen-M class is said to be both the most expensive and technically advanced in the Russian Navy.
The "Kazan Project" kicked off the 885M Yasen class submarine project on 24 July, 2009, and the submarine was launched on 31 March, 2017. The submarine completed all of its tests and has joined the Russian Navy on 7 May, 2021. The nuclear-powered submarines of the Yasen class, the 885 and 885M, will carry Kalibr-PL and Onyx cruise missiles. Finally, Tsirkon hypersonic missile tests are scheduled to be conducted with the 885-Severodvinsk submarine models.
The specifications of the Yasen Class nuclear powered submarine:
Displacement: 8,600 tons
Length: 130 meters
Width: 13 meters
Speed: 20 knots above water / 35 knots under water
Dive depth: 1,804 feet (550 meters)
Armament:
8 vertical missile launch systems
32 anti-ship missiles or
40 Kalibr cruise missiles
10 533 mm torpedoes.