British Army Deploying Australian 40mm Drone In Mali
The Australian designed and manufactured Drone40 (D40) is in Mali with the British Army's contingent on Operation Newcombe. Several hundred Drone40s are believed to have been purchased for use by the UK Task Group.
The Drone40 was trialed in October last year during Mission Rehearsal Exercise build-up training for the Mali deployment. The Light Dragoons and Royal Anglian Regiment have deployed as part of the United Nations Multidimensional Integrated Stabilization Mission (MINUSMA) in Mali. Integral to their role is to provide long range surveillance patrolling for the UN contingent, a task that would well suit the 40mm drone.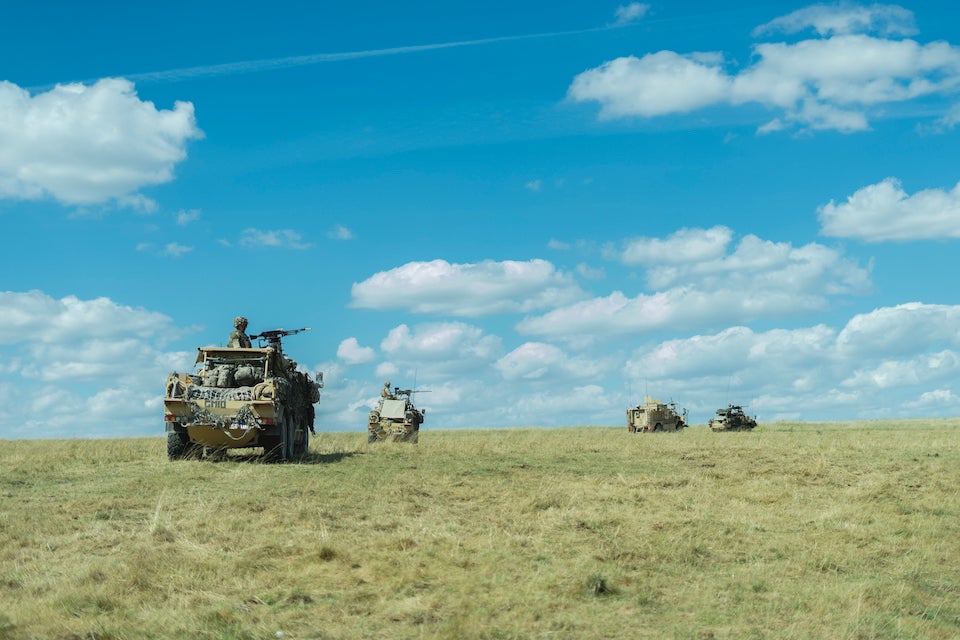 Australian firm DefendTex developed the device with the assistance of a federal Defence Innovation Contract to encourage Australian businesses to innovate in the defense field. Overt Defense reported its debut at the 2019 SOFIC or Special Operations Forces Industry Conference. The round can be loaded with a variety of payloads including counter-UAV hard and soft kill options, flashbangs and chemical smoke along with kinetic options.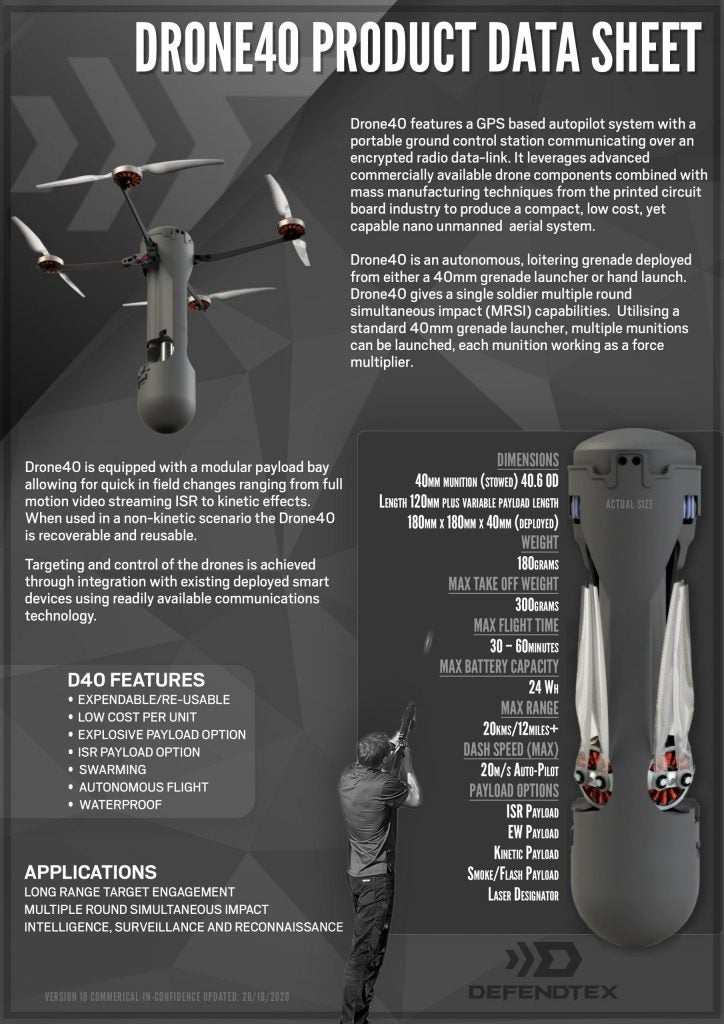 Along with the Drone40, the UK Task Group have taken a range of new equipment with them including the AeroVironment Puma AE unmanned aerial vehicle and the Spectra Group Slingshot tactical communications system which allows "tactical military and commercial VHF/UHF radios to utilise commercial L-band satellite coverage".
The original DefendTex 40mm design, developed to be launched from a standalone or under-barrel 40mm grenade launcher has now been joined by variants in a range of larger calibres including mortar delivered 60, 81 and artillery delivered 155mm options. 
In terms of how the systems are currently being used in the field Will Meddings, commanding officer 2nd Battalion, Royal Anglians, clarified on Twitter that: "although the system is in use, the version we are using is hand launched and does not include any munitions – it is purely used for surveillance and reconnaissance." Meddings also explained that the reason the system was currently being handlaunched was because of "speed of acceptance into service," noting that with a new type of ammunition for an existing weapon systems there is "plenty that needs to be trialed, tested and assured."
It was also announced this week that DefendTex had been granted an additional $3.1 million of innovation funding for the development of next-generation combat body armour and a lightweight modular shotgun system which began in 2018 (as reported at the time by Overt Defense). The shotgun, referred to as a "combat shotgun mission system" forms part of the requirement for the LAND 159 Lethality Systems Project.