Myanmar Military Seizes Control In Coup, Arrests Civilian Government Leaders
Myanmar's military today declared a nationwide state of emergency, taking control of the country's government in a coup. The military also arrested State Counsellor Aung San Suu Kyi, President U Win Myint and several other senior members of the National League for Democracy in a series of early morning raids, hours before the first sitting of Myanmar's democratically elected parliament.

In addition to the arrests, disruptions to internet access, phone lines and television were reported, with banks in Myanmar forced to suspend services due to poor internet connectivity. Monitoring organization NetBlocks reports that internet access has been partially restored, but phone connectivity disruptions are still reported by activists in Myanmar. The National News Agency of Thailand reports that the Myanmar side of the border crossing in Mae Sai has been closed, bringing cross-border trade to a halt.

In a broadcast on the military-run Myawaddy News television channel, the Myanmar military claimed that unresolved allegations of voter list fraud in November elections won by the NLD in a landslide meant that the military had to take control of the country. The Tatmadaw claims that they are acting in accordance to Myanmar's constitution, specifically Section 417, which specifies that the President may declare an emergency following coordination with the National Defence and Security Council "if there is sufficient reason for the disintegration of the Union or national solidarity or that may cause the loss of sovereignty due to acts or attempts to take over the sovereignty of the Union by insurgency, violence and wrongful forcible means".

Commander-in-Chief of the Defense Services, Senior General Min Aung Hlaing, is now the acting head of state for the year-long state of emergency, with Vice President U Myint Swe as acting President. The Myanmar Armed Forces claim that they will hold new elections after the end of the state of emergency.

The 'coup' attempt follows months of allegations made by the military about voter fraud in the elections, which have been rejected by Myanmar's election commission and foreign observers. Last Wednesday, Min said that the constitution should be repealed if it was not abided by, sparking concern of a coup. The military then said on Saturday that his remarks had been misinterpreted, saying that it would "protect and abide by the constitution and act according to law".

A verified National League for Democracy Facebook page has since uploaded a statement urging citizens not to accept the coup and to hold protests against it, describing the military actions as "actions to put the country back under a dictatorship". While the statement bears Suu Kyi's name, it does not have her signature, instead having a handwritten note by party chairman Win Htein stressing its authenticity and that it was prepared in accordance with her wishes. Senior NLD members have not been reachable following the cutting of phone lines.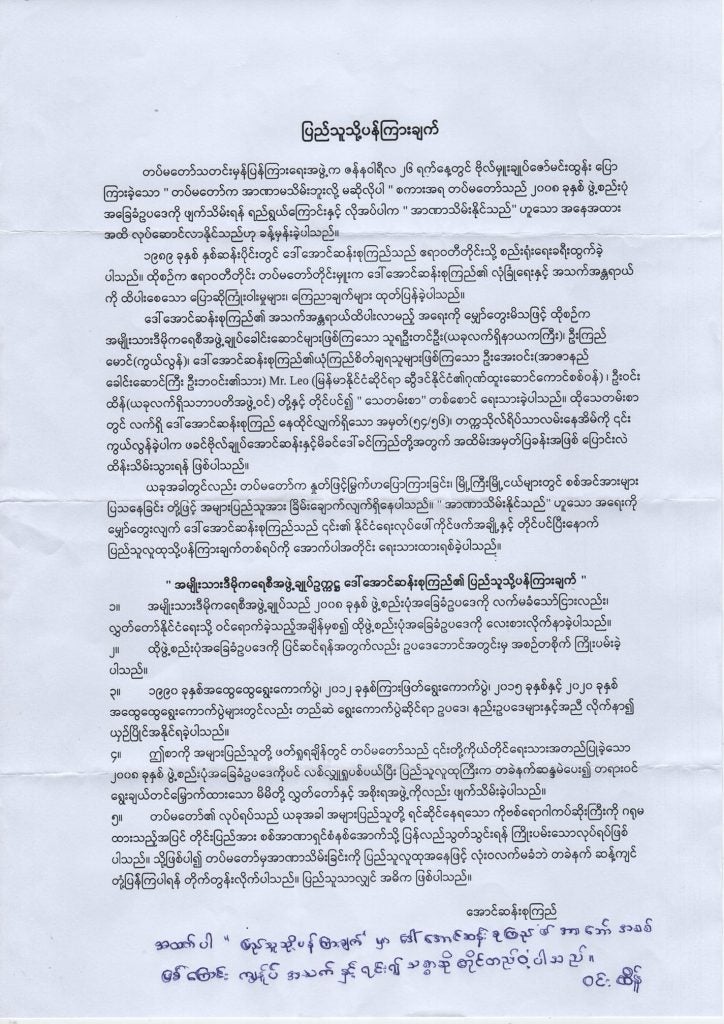 The coup has drawn international condemnation, with US Secretary of State Antony Blinken urging the military to "reverse these actions immediately". Australian Foreign Minister Marise Payne called on the Myanmar military to "respect the rule of law, to resolve disputes through lawful mechanisms and to release immediately all civilian leaders and others who have been detained unlawfully", while UN General Assembly president Volkan Bozkir called for "immediate release of detained political leaders".

The coup is a major setback for democracy in Myanmar, with the November elections having been seen as a validation of Myanmar's first freely held elections in 2015. Despite being guaranteed an unelected 25% of Myanmar's parliamentary seats and leadership of the ministries of Home Affairs, Defense, and Border Affairs, it appears that the military is no longer satisfied with the already-significant amount of power they previously wielded.