Elbit Win £100 Million Contract to Supply Target Acquisition System to British Armed Forces
Elbit Systems UK Ltd. has been awarded a £100 million ($137 million) contract by the UK Ministry of Defence to provide the British Armed Forces with their future target acquisition solution for Joint Terminal Attack Controllers and Fire Support Teams under the Dismounted Joint Fires Integrators (D-JFI) program.
The selected system is a networked, passive and active target acquisition solution that acquires, generates and communicates target information to artillery and aircraft to allow for both area and precision engagements.
The D-JFI will supersede the in-service FireStorm, which was bought from Rockwell Collins in 2007 in response to an urgent operational requirement for service in Afghanistan. At least 350 of the new systems are projected to be acquired.
The new D-JFI will interface with the radio communication systems of the British Army, Royal Air Force and Royal Marines and will integrate several of Elbit's specialist technologies, including: the TORCH-XTM Battle Management Application; the HattorixTM system for undetectable generation of high-precision targets, the CORAL Multi-Spectral electro-optical payload for enhanced target acquisition in day and night and the RattlerTM XR long range laser designator.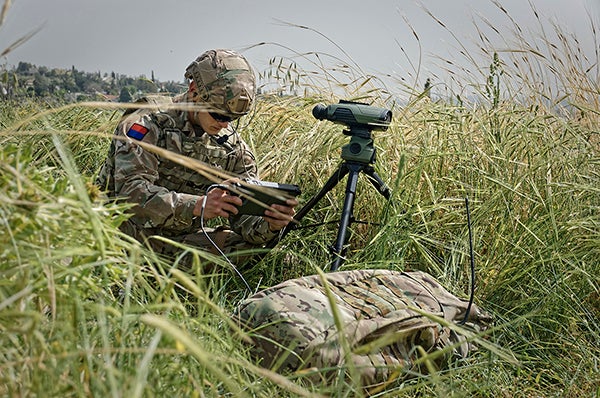 This will enable fast and secured transmission of target information across British and allied armed forces, allowing swift and accurate utilization of artillery and close air support. Martin Fausset, CEO of Elbit Systems UK, said:
"It is essential for our Armed Forces to be able to operate swiftly and accurately in hostile environments. The systems to be supplied by Elbit Systems UK represent our commitment to continuously provide the most advanced technology to those on the frontline. The D-JFI solution will provide operational advantage to the British Armed Forces in an increasingly complex battlefield."
The sentiments were echoed by Defence Procurement Minister, Jeremy Quin, who said:
"This contract with Elbit Systems UK not only delivers the very latest in battlefield technology to our frontline soldiers, but also invests in the British defence industry, sustaining more than 500 jobs across the UK."