Legendary Fighter Ace and Test Pilot Chuck Yeager Dies Aged 97
Chuck Yeager, the first man to break the sound barrier, has died at the age of 97. His passing was announced on Twitter by his wife Victoria who said that: "An incredible life well lived, America's greatest pilot, & a legacy of strength, adventure, & patriotism will be remembered forever."
Born in Myra, West Virginia on February 13, 1923, Charles "Chuck" Yeager's rise to become one of the most famous pilot's on the planet seemed unlikely. But it is a testament to his determination, skill and courage.
Yeager enlisted in the U.S. Army Air Force (USAAF) in September, 1941. Initially unable to become a pilot because of he did not meet the educational standards, he trained as a mechanic. The attack on Pearl Harbor in December changed USAAF policy and Yeager transferred to flight school.
His initial training was not auspicious when he threw up on his first ever flight in an aircraft. But Yeager's extremely acute eyesight (20/10) and reactions meant he would go on to be a fearsome fighter pilot.
Deploying to England in late 1943, he flew P-51B Mustangs with the 363rd Fighter Squadron. He achieved one kill before being shot down over France on March 5, 1944. Linking up with the French resistance, Yeager provided assistance to them in building bombs – a skill he had learnt from his father.
With the help of the resistance Yeager was able to escape to neutral Spain later that month and returned to England. Refusing to accept the rule that escaped pilots couldn't fly combat again, he appealed directly to the Supreme Allied Commander, General Dwight D. Eisenhower.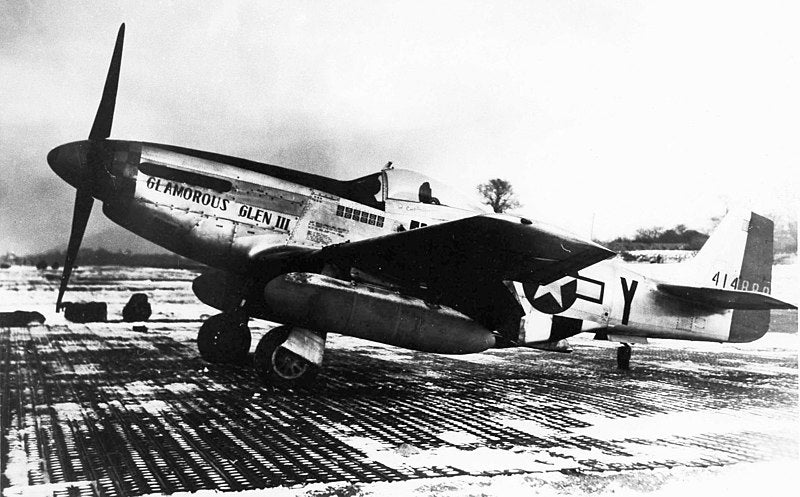 After consulting with the War Office, Eisenhower gave permission for Yeager to resume combat operations, a wise decision as it would turn out. Yeager again prove he was an excellent fighter pilot and combat leader. He finished the war with an official score of 11.5 kills, including making "ace-in-a-day" on the October 12, 1944 when he downed five enemy fighter planes in a single engagement.
Staying in the Air Force after the war, Yeager became a test pilot. In 1947, he was selected to fly Bell Aircraft's X-1 in an attempt to exceed the speed of sound. The attempt was very much a shot into the unknown, with the risks considered to be huge.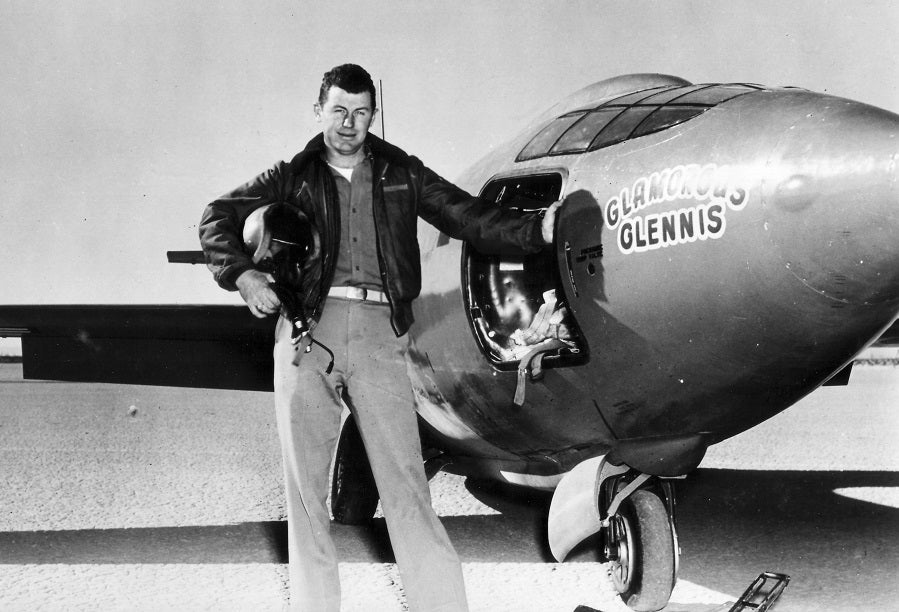 Yeager's odds weren't helped by the fact that he fell off a horse two days before the flight, breaking two ribs. Refusing to lose the opportunity at the flight Yeager strapped himself up and didn't tell anyone but his wife and fellow pilot, Jack Ridley, about the problem.
However, so painful was the injury that he wasn't able to close the canopy on the X-1 on the day of the flight. Ridley fashioned a device with a broomstick to allow Yeager to manage.
On October 14, 1947, Yeager and the X-1 were dropped from a B-29, moments later the X-1's rocket engine fired, speeding Yeager to Mach 1.05. He was the first person to ever break the speed barrier. With his typical laconic manner he later wrote in his biography: "I was thunderstruck. After all the anxiety, breaking the sound barrier turned out to be a perfectly paved speedway."
He would continue to fly experimental aircraft, taking the X-1A to Mach 2.44 on December 12, 1953. This flight almost turned to disaster after Yeager lost control, causing him to drop from 80,000 feet to 29,000 in less than a minute. However, he was able to regain control and land safely.
Yeager would return to normal duties and go on to command USAF squadrons in Germany and Spain. In 1961, he was promoted to Colonel and the following year took over as commander of the new USAF Aerospace Research Pilot School (ARPS), which saw him train 26 future astronauts.
In December, 1963 he was seriously injured after having to eject from one of the schools NF-104s on a demonstration flight, but returned to flight status just six weeks later.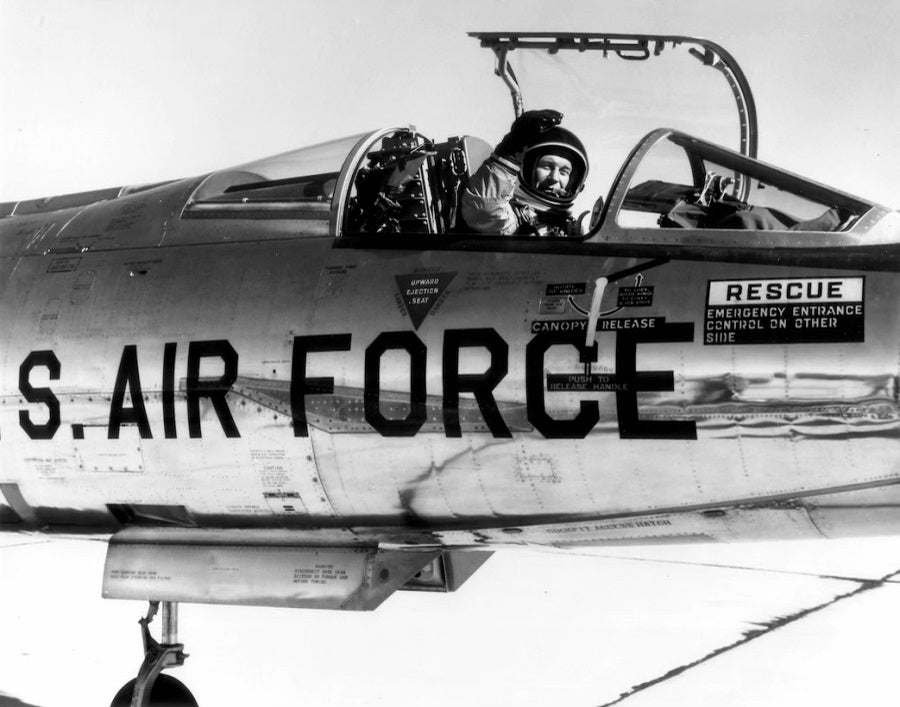 In 1966 he was posted to the Philippines as commander of the 405th Fighter Wing. Here he would fly 127 combat mission over Vietnam, mainly in B-57 bombers on close-support and interdiction missions. In 1969 he was promoted to Brigadier General and assigned as vice-commander of the Seventeenth Air Force and in 1975 retired from the Air Force.
He would continue to fly, setting several civilian records on light aircraft and broke the speed barrier for a final time in 2012 when he co-piloted an F-15D Eagle.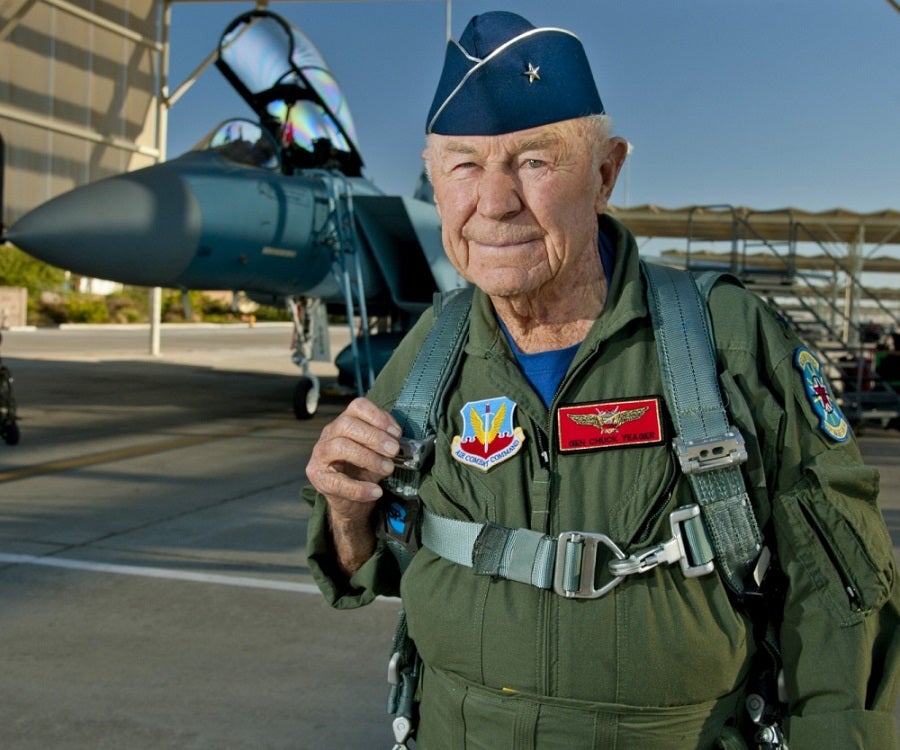 Yeager was married twice. His first marriage was to Glennis Dickhouse, with whom he had four children. Glennis died in 1990 and in 2003 he married Victoria Scott D'Angelo.
On top of his personal achievements, Yeager went on to become a well know personality. A film of his and the other pioneers of the space race, "The Right Stuff", was made in 1983 and won four Academy Awards. Yeager also went on to advise on and have his name associated with a number of computer flight simulators.