Winning the Information War: An Interview with Col. Myles Caggins – Former Spokesperson for the International Coalition Against ISIS Pt.2
We continue our in-depth interview with Col. Myles Caggins, former US spokesperson for Combined Joint Task Force-Operation Inherent Resolve and is currently the spokesperson for III Corps and Fort Hood.

You can find the first part of the interview here.
---
Overt Defense: Other forces have fought against ISIS without participating in OIR, principally Russian (as you've mentioned) and Assadist forces. How often did their actions complicate your messaging about OIR?
Col. Caggins: When I went out, I was thinking it was about ISIS and didn't understand that all of the complexities of the information environment until I was there.
Russia, Iran, Turkey, ISIS, rogue militia groups, Syrian regime, Iraqi government, Kurdistan region, security forces; everybody is there. Plus you have all you're daily life stuff – COVID, economy, weather, everything is in this space where I'm trying to get the word out about the Coalition's activities to help our partners defeat Daesh in Iraq and Syria.
Russia does manoeuvre for information effect. Couple of examples of this. After Operation Peace Spring (Turkish invasion of parts of Northern Syria) U.S. and coalition troops moved out of bases in northern Syria, Russia came into those bases. They had Russian paid journalists come in and say "Oh look! The Americans have abandoned their bases."
'They're fast at it and they pre-plan'
They did an air assault with commandoes on the Kobani air strip! We had totally moved out of that airfield but Russia puts cameras on helicopters and does an air assault into this empty airfield for information purposes.
It was to show "Haha, we are here now. And by the way, look how cool our troops are."
The images are very strong. It takes a lot of words for the Coalition [to refute]. I didn't have pictures to release at the time so Russia wins the information war that day. And that's what they continue to do.
They're fast at it and they pre-plan. They have senior leaders in the Russian military who are responsible.
The war against ISIS in Iraq and Syria has attracted some uncommon participants. For instance, the news reported international NGOs operating on the front lines, and local forces such as the SDF and Peshmerga recruited foreign volunteers to participate in their military and PR efforts. Did the presence of these groups make any impact on your press management for OIR?
[In terms of the Syrian Democratic Forces (SDF)] there were elite special operations forces (SOF) in Syria and they had a public affairs team who was working with the SDF public affairs media team. They did things, for instance, divestment of equipment – getting them cameras – training sessions with them and the SDF is really proficient at social media [especially] YouTube. And they have strong media relations with the international reporters. In fact, they have more engagement, more views, more followers than the coalition units.
My colleagues in the elite SOF units, we were like minded; this is an important story.
The SDF have done exceptional work, great sacrifice to defeat ISIS and their story should not be forgotten. But SOF, as you know, does not have a regular public facing presence. So there was an understanding or expectation that I would convey the messages that they wanted conveyed on behalf of the partners. So we got set out to work on that immediately.
Then Operation Peace Spring kicked off.
During your appointment as spokesperson for OIR, the Turkish army launched Operation Peace Spring, attacking the Syrian Democratic Forces (SDF) in northern Syria and causing substantial disruption to the war on ISIS. As you were essentially 'America's man on the spot' and had to regularly liaise with the SDF, how did you manage your relationship with the SDF?
First we were talking about what we called the security mechanism zone. We had a big public relations campaign around that; of removing the SDF [from the border area], removing fortifications, joint patrols with Turkey and joint overflights to review that area to see that the fortifications were gone. On the heels of that, Turkey came through and the reputation of the Coalition absolutely bottomed out.
The sentiment of the troops who were working with the SDF is that they were quite proud and honored to work with them. They have great respect for the SDF as a fighting force and a lot of American treasure and sweat and even some blood invested in helping the people of northeast Syria.
'Non-anonymous spokesman… I liked that description and just adopted it more or less'
There were threats from ISIS in Syria and we still had operations there. And the way I saw it, we just needed to keep talking about what we were doing, even though we had left some areas. And that's that was my guiding principle for Iraq and Syria. Keep talking about what positives happening, good actions that are happening with us and our partners.
Despite the Turkish invasion and the issues that caused for OIR you received affectionate send-offs from the SDF when you left the post as spokesperson. That suggests you certainly did a good job engaging with these groups.
I inherited the OIR spokesman Twitter account and I think I changed it up actually to the non-anonymous spokesman, which was a description started by one of my colleagues, Colonel Dave Butler, who was spokesman in Afghanistan… I liked that description and just adopted it more or less for the account. I thought the best way to tweet would be conversational and audience-centric and tweeted in multiple languages.
[So] I tweeted in Kurmanji Kurdish, which is spoken by Kurdish people in Turkey and Rojava in northeast Syria. And Mustafa Bali, the SDF spokesman, saw my tweet one time and retweeted it and said words to the effect of "Wow, look, the Coalition spokesman speaks Kurdish now! What's going on?"
This is November 2019, after Peace Spring was well underway. I sent him a message and he wrote me back. I later found out one of his assistants wrote back who speaks English; these guys I would call my buddies as much as I could today. We still communicate over WhatsApp or Instagram.
'I used Twitter to speak to people, but also to listen, find out what's being said'
And I said, "I hope to meet you. I respect and admire the work you're doing".
I used Twitter to speak to people, but also to listen, find out what's being said, what's hot in the streets, what people are sharing. Twitter is a platform that is used by a lot of influencers or media types, government officials, as well as a lot of the public, too.
But I found it a great source to find out what's going on and in that it would help me shape how to connect with audiences.
So to Mustafa Bali, I said, "Hey, want to meet with you sometime". I was already planning a media trip into northeast Syria as we brought in Bradley Fighting Vehicles, infantry, mechanized infantry from the 30th Armored Brigade Combat Team.
Kino Gabriel and Mustafa Bali met me at the base and we had a quick press conference. But it was really the beginning of a partnership that was based on mutual respect and mutual interest and evolved into friendship.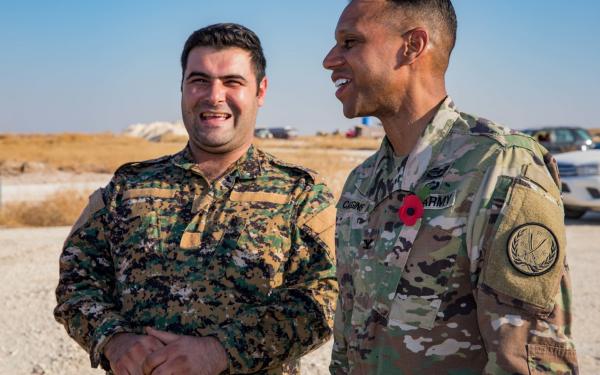 What are the important lessons you would impart from your time as CJTF-OIR spokesperson?
On the Iraq side, my partners were Major General Tahseen, then Brigadier General – now Major General – Yahya Rasool was spokesman for the Joint Operations Command, Iraq. They swapped positions a few months into the deployment. But we're both good partners, strong friends of the coalition and had worked with previous coalition spokesman.
General Tahseen spoke quite a bit of English, General Yahya understands English, but I would communicate with them mostly in Arabic, writing through linguists that were assigned.
'Cultural advisers are more than just turning English words into Arabic words. It's understanding timing, understanding sensitivities'
We had a cultural adviser… and this guy was a central man. He's been in Baghdad for over three years now. He's an Iraqi-American and the Iraqis really trust him. If we needed to share a message, exchange an idea, this guy was a great fixer.
But more importantly, as an adviser. Because I'm dealing with culture and religion, tribes, people in different provinces; all kinds of things where, as a spokesman, you can get tripped up. So cultural advisers are more than just turning English words into Arabic words. It's understanding timing, understanding sensitivities, understanding what's happening in the political environment.
They're monitoring the news and seeing things in the news that that you don't see. They're providing information on threats to the base. They're letting you know people's attitudes toward the Coalition from conversations or what's being said and heard. They're overhearing things.
Just a lot of value these cultural advisors provide the US military… they're invaluable to what you do if you're going to be in a foreign nation, you need to speak the language or have people on your team who speak the language. It's just the way to do things.
And those communications for me with the spokesman in Iraq and Syria, it was more than just saying, "Hey, we got a press release. Here is your advance copy."
This was a relationship. So we're sending emojis to each other at random times and acknowledging key dates. It's a constant relationship, not just not just tit-for-tat or what one can get out of out of it.
General Tahseen really liked shortbread cookies from England. So I went up to the Global Coalition Communication Conference and then I walked around London with one of my colleagues for about forty-five minutes on a chilly night in London looking for these cookies, these particular cookies that General Tahseen likes. Then I hand carried them back, because they're in a tin container, and brought them to him.
Your new mission is spokesperson for Fort Hood, an establishment which has suffered a great deal of tragedy and controversy this year. How do you intend to rehabilitate this institution's reputation to the American public? Can you tell us anything about reforms the leadership are planning to take?
At Fort Hood we have had some high profile incidents of missing soldiers or soldiers that died in accidents and the whole Defense Department has been grappling with suicides and sexual assaults for several years.
We got a new leadership campaign called "People First". We want for this campaign our soldiers telling their own stories. So we are going to identify who the influencers are in our units and when they post things we will share those. I'll send them to civilian media, I'll share them on social media.
It changes the paradigm of where we are wary about what our soldiers do to actually finding them. Listening to what our junior soldiers actually say is important for leaders to get a pulse for morale and find out if anything is amiss. And build trust.
Overt Defense would like to thank Col. Caggins for taking the time to speak with us.