Northrop Grumman Hopes Australia Orders Will Fill MQ-4C Production Freeze to Avoid Substantial Costs
With Northrop Grumman's MQ-4C maritime intelligence, surveillance and reconnaissance (ISR) drone scheduled to be subject to a two-year spending freeze – and even possible cancellation – the defense contractor is hoping that another prospective customer, Australia, can step in to keep the production line open.
The Triton program is facing challenges. The U.S. Department of Defense's budget request for Fiscal Year 2021 includes a two-year production pause on Triton in 2021 and 2022, posing a significant risk to the program's ability to keep costs low and deliveries on track, according to Northrop Grumman.
Doug Shaffer, vice president of the Triton program at Northrop Grumman, said that:
"This game-changing, persistent system is going to revolutionize the Navy's maritime ISR capabilities by providing an unprecedented amount of data to inform critical decision making. A two-year gap in production would have significant negative effects on the production line and the supplier base. We estimate that stopping and restarting the line alone will cost roughly $150 million and then each aircraft likely costs about $20 million more."
Australia was a key partner in the development program with the U.S. Navy for the Triton program. Currently six are on order for the Royal Australian Air Force (RAAF) and will be identical to the U.S. Navy's. This will enable Australia to establish a 'sixth orbit', adding to the U.S. Navy's planned five operational orbits around the globe to maintain surveillance in some of the most strategically important ocean locations.
Australia is currently scheduled to receive their first Triton in late 2023, and stands to receive all six by 2025. Northrop Grumman is currently scheduled to begin production of Australia's first aircraft in October 2020. As a result Northrop Grumman are hoping that the RAAF order can be used as a stopgap to keep the line open should the DoD freeze the program.
Shaffer added:
"We have had multiple discussions with the U.S. Navy and Australia about options to help fill the FY '21 and '22 production lines with Australian aircraft. An acceleration of the Australian program would result in significant savings to Australia and ensure cost savings to the U.S. Navy by helping prevent a pause in Triton production. While any decision to accelerate the Australian program is between the U.S. Navy and Australia, we are prepared to provide the necessary support to an accelerated Australian program."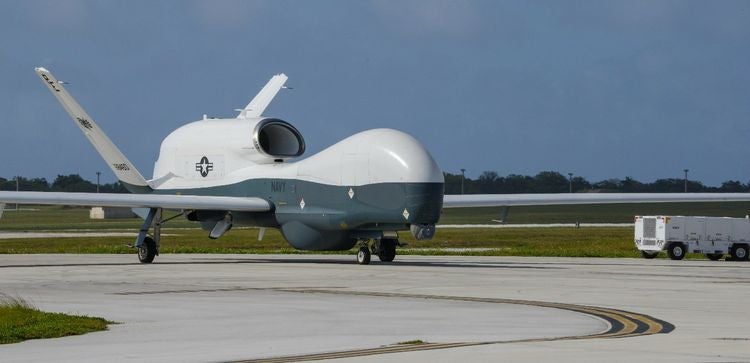 The Triton, which is built on elements of the RQ-4 Global Hawk, is especially built for maritime reconnaissance. Officially it can remain airborne for more than 30 hours at 55,000 ft (17,000 m), at speeds of up to 330 knots (380 mph; 610 km/h). Its AN/ZPY-3 Multi-Function Active Sensor (MFAS) X-band AESA radar has a 360-degree field-of-regard and is capable of surveying 2,700,000 sq mi (7,000,000 km2) of sea (as well as shoreline or land) in a 24-hour period, or 2,000 sq mi (5,200 km2) in a single sweep.
It can also take high definition radar pictures, which the advanced onboard Automatic Identification System (AIS) can classify without the intervention of aircraft operators. It is also especially designed to drop down to lower altitudes for visual inspections – something the Global Hawk cannot. As a result it is built much tougher to deal with weather, icing and bird strikes.
The Triton is also equipped with a modular electronic support measures (ESM) suite, similar to the one used on the Lockheed EP-3, which allows it to track and trace the slightest electronic signals.