Heavy Fighting as Azerbaijan Attacks Territory Disputed With Armenia
On the morning of 27 September Azerbaijan forces attacked disputed border areas with neighbouring Armenia, leading to heavy fighting and casualties. Utilising heavy armour, drone strikes and artillery the Azerbaijan military has sought to seize back parts of Nagorny Karabakh – a conflict that has been simmering since before the breakup of the Soviet Union.
According to the Azerbaijani's, their attack was a retaliation for Armenian troops firing upon civilians across the Line Of Contact (LOC) – the de facto border where both sides have faced each other since the end of the Nagorno-Karabakh War (1988–94). The area is internationally recognised as Azerbaijan territory but is controlled by ethnic Armenians as an independent state; the Republic of Artsakh.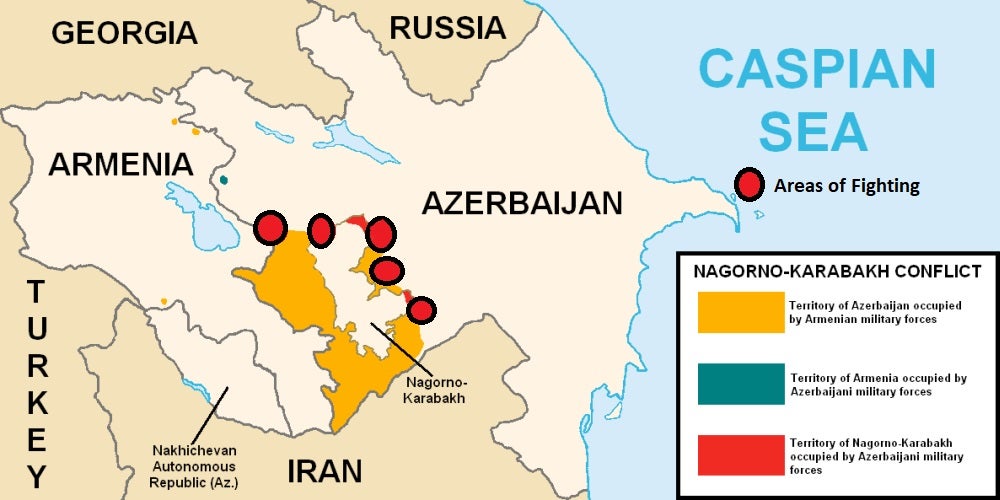 The attack, which began around 8 a.m. local time, extended to the Artsakh capital of Stepanakert. In response the government of Armenia ordered a full mobilisation of troops.
The situation is still confused but it seems that the Azerbaijani's sought to seize certain villages and strategic points that have been under Armenian control, a repeat of its offensive in the same areas in 2016, when a four day war saw alleged atrocities committed.
Although some territory may have been taken, footage released by the Armenian Ministry of Defence indicates that Azerbaijan armoured forces suffered heavily against the Armenian defenses.
Below is some of the released footage:
Additionally there are reports of civilian areas being hit by Azerbaijan weapons fire and casualties.
Though the Armenians state that they have halted the attack, and inflicted heavy losses on Azerbaijani forces, the latter claim to have inflicted substantial casualties on their opponents and dispute the Armenian claims.
Speaking to local press, the Azerbaijani Defense Ministry said that they had destroyed: "22 enemy tanks and other armored vehicles, 15 OSA anti-aircraft missiles systems, 18 unmanned aerial vehicles (UAVs), 8 artillery pieces and more than 550 people were killed and wounded."
They additionally claimed that three major Armenian ammunition depots were destroyed and had seized a strategic mountain that dominates transport links between Yerevan, the capital of Armenia, and Artsakh.
Footage of Azerbaijani strikes against Armenian air defence systems certainly indicate that the fighting was far from one sided, with what are believed to be Turkish-made drones coming into play.
The presence of advanced Turkish weapons in use in the conflict, combined with Turkey's increasingly aggressive foreign policy with military deployments in Libya and Syria has led to some regional experts to point the finger at Turkey for encouraging the new flare up:
Although fighting seems to have reduced, it is possible that both sides are simply drawing breathe. On the morning of the 28 September, the Azerbaijan government issued a warning, stating that the Azerbaijani city of Terter was still under fire from Armenian forces and that "…adequate retaliatory measures will be taken against them if needed". Overt Defense will continue to monitor the situation in the region.