IAI Reveals "MultiFlyer" Drone System; A Fleet of Small Helicopter UAVs Designed for Low Risk Surveillance
Israeli defense company IAI has announced a new multi-drone surveillance system that is designed primarily for non-military users. Named "MultiFlyer", the system is intended to assist with tasks such as disaster area management, first responders guidance, large events monitoring, security and police enforcement and agricultural and maritime surveys.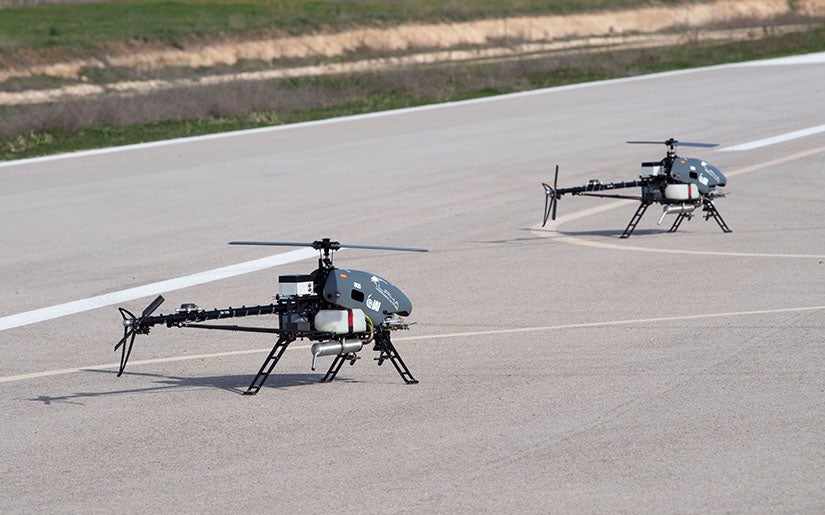 MultiFlyer consists of a UAV squadron of small unmanned helicopters that provides advanced monitoring capabilities for large areas and is based on commercial, off-the-shelf UAVs from Alpha Unmanned Systems integrated with components from IAI and several Israeli startup companies. The command and control system was designed by Simplex and the area scanning technologies are powered by Sightec.
According to IAI, MultiFlyer transforms what would otherwise be several isolated UAV missions into a "cloud of information". The system can be activated from a tablet or smartphone that serves as a single point of control for several synchronized missions including automated takeoff and landing, flight routes and mission management.
The system network connection is secured to allow usage by several simultaneous users. The MultiFlyer system can be used with different types of UAVs and drones as well as carry different types of payloads.
IAI EVP and Manager of the Military Aircraft Division, Moshe Levy, said:
"IAI is a leader of trailblazing technologies with UAV experience spanning 50 years and we are constantly seeking additional areas in which we can invest our R&D capabilities. MultiFlyer is a significant milestone in this respect and we anticipate more developments in this field."
Though officially designed for non-combat use, MultiFlyer is likely to appeal to militaries that are dealing with lower-threat situations such as peace keeping missions or low grade insurgencies/civic unrest.
By using "off-the-shelf" components to reduce acquisition costs, combined with its ability to change mission parameters easily, MultiFlyer will likely be eyed with interest by forces on a budget who don't need more sophisticated (and expensive) tactical reconnaissance systems, such as the Black Hornet 3 or the Grenade Launched Unmanned Aerial System (GLUAS), that are required for high-threat environments.