U.S. Navy's 10th Freedom-class Littoral Combat Ship Enters Service
The United States Navy commissioned USS St. Louis (LCS 19) of the Freedom-class on the 8th August at Mayport Naval Station, without holding a public ceremony. The navy opted for a private event due to public health concerns and restrictions caused by the coronavirus pandemic.
The Lockheed Martin and Fincantieri Marinette Marine built vessel is the tenth ship of the Freedom-class to be commissioned, the 22nd littoral combat ship (LCS) to be delivered to the navy, and the seventh to be named after the city of St. Louis.
The commissioning of the St. Louis comes after the first four littoral combat ships were put in inactive reserve status. This decision came after it was decided modernization efforts would be too expensive. The LCS' have suffered from a range of issues ranging from reliability to issues with their modular mission packages which have led to under performance.
Littoral combat ships such as the St. Louis, are designed to be fast and agile to accomplish their primary purpose of operating in near-shore settings while remaining functional in the open ocean. They're designed to overcome asymmetric "anti-access" threats such as military speed-boats, littoral mines, diesel submarines, and drones.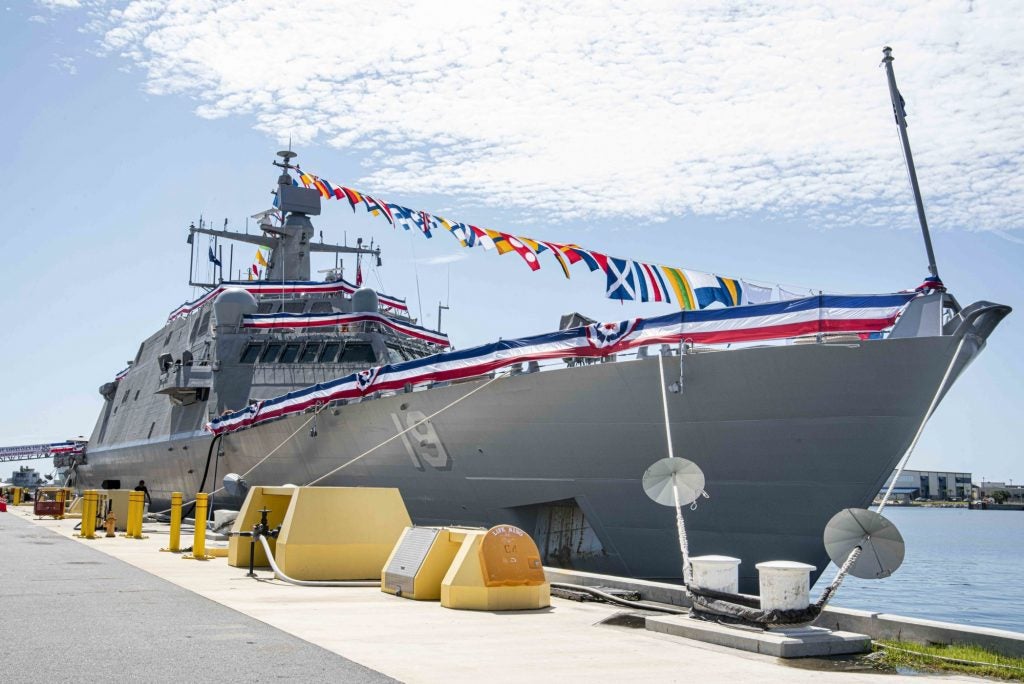 A key design feature of LCS ships that make them effective in this undertaking is their modularity. Each LCS ship can quickly be fitted with what the navy calls a "mission package" for a mission and have these mission packages replaced depending on the nature of the mission. These mission packages deploy manned and unmanned vehicles, sensors, and munitions for anti-mine, anti-submarine, or anti-surface combatant types of missions.
"St. Louis brings speed and agility to the fleet," said Rear Adm. Brad Cooper II, commander of the Naval Surface Force Atlantic. "Congratulations to St. Louis' captain and crew for all of your hard work to reach this milestone. You join a proud surface force that controls the seas and provides the nation with naval combat power when and where needed."
A ceremonial flyover was held at the private event which included two MH-60R helicopters based out of the Naval Air Station Jacksonville. The MH-60R's primary missions include anti-submarine and surface warfare, surveillance, communications relay, combat search and rescue, naval gunfire, and logistics support. It can be paired with LCS ships expanding their military capabilities.