BAE Systems Receive U.S. Army Artillery Guidance System Contract to Counter Potential Near-Peer Threats
BAE Systems has received a $33 million multi-year contract from the U.S. Army to further develop its Long Range Precision Guidance Kit (LR-PGK) for 155mm artillery shells, which is intended to provide long range precision strikes beyond 70km (43.5 miles) by 2023.
The LR-PGK is an upgrade kit for artillery shells which combines enhanced GPS-based navigation with a roll-stabilized guidance unit and antenna array. This integrated technology, paired with a proven, variable-deflection canard control method, allows for advanced in-flight correction capabilities of artillery projectiles. The system is also designed to be highly resistant to jamming.
The program is critical for the Army's 155mm Extended Range Cannon Artillery (ERCA) munitions plan, which is intended to deliver accurate, lethal fire at greater ranges to provide overmatch on near-peer adversaries. The system builds on proven, mature technology, offering greater performance than current guidance kits through increased maneuverability and an incorporated anti-jam capability.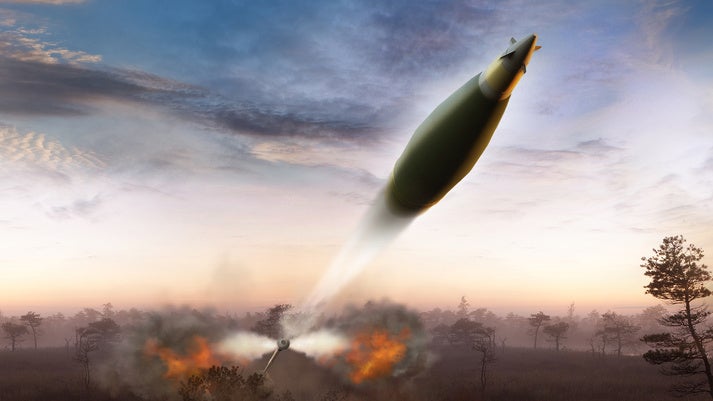 John Watkins, vice president of Precision Strike at BAE Systems, said of the contract:
"We're helping the Army meet its precision strike objectives with this critical long range artillery capability. Our experience in precision guidance, rugged electronics, and artillery platforms has helped us develop a kit that improves mission effectiveness."
Under the new contract, BAE Systems will produce a series of LR-PGK kits for live-fire testing, prototypes of which were already demonstrated successfully at the Yuma Proving Ground in September 2019. Now the company states it is committed to significant investment to "…deliver on the Army's modernization goals by intentionally designing the LR-PGK's modular architecture for low-cost production and upgradeability."
The LR-PGK will be compatible with all of the existing and future artillery shells and firing platforms in U.S. Army service and offers a potential substantial leap in capability to these systems. It is one of several BAE Systems programs that support the Long Range Precision Fires project that is expected to provide the U.S. Army with even more capability in theatre into the future.