Indonesian Landing Ship KRI Teluk Jakarta Sinks
The KRI Teluk Jakarta sank on Tuesday morning in the Java Sea, off the east coast of Kangean Island. The landing ship was carrying out logistical duties at the time of its sinking.

First Admiral Mohammad Zaenal, head of the Indonesian Naval Information Service, confirmed the sinking to Tirto. He stated that the KRI Teluk Jakarta had sprung leaks before sinking in waters 90 meters deep at 9 AM local time. Waves in the area are estimated to have been between 2.5 and 4 meters in height at the time of the Teluk Jakarta's sinking.

No casualties occurred during the sinking, with all 55 crew members rescued by passing civilian shipping. 54 crew members were rescued by the container ship KM Tanto Sejahtera, with the remaining crew member rescued by the passenger ship KM Dobonsolo. Following their rescue, the crew will be transferred to the KRI R.E. Mardinata once the weather in the area improves, after which the frigate will transport the crew to Surabaya.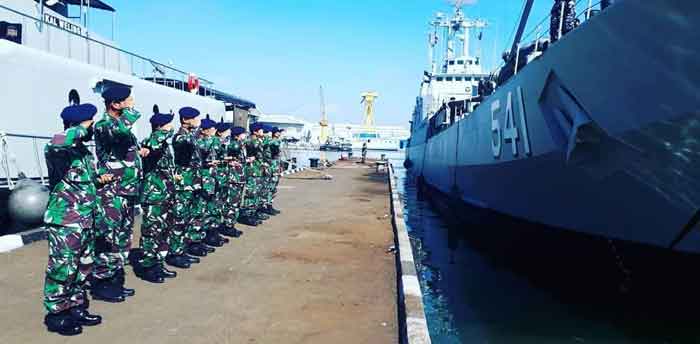 The KRI Teluk Jakarta is part of the Teluk Gilimanuk class of medium landing ships, with ships of the class named after bays of the Indonesian archipelago. The class is composed of Frosch I (the KRI Teluk Jakarta is a Frosch I) and Frosch II class medium landing ships formerly in service with the East German Navy. They were sold to the Indonesian Navy in 1993 following German reunification, with their original armament removed by the Germans to accommodate their replacement after delivery.

Another member of the class, KRI Teluk Lampung, nearly sank in the Bay of Biscay during its delivery in 1994 due to bad weather. In 2013, KRI Teluk Peleng, another member of the class, capsized while in port at Tanjung Priok in Jakarta. The KRI Teluk Peleng was later raised, and the cause of its capsizing was attributed to a collision with a concrete bollard during docking that damaged the starboard side of the hull. Indonesia's Teluk Gilimanuk class of landing ships certainly have a chequered past but thankfully no one was lost during this latest incident.