18 Firms Compete For Polish Shilka Replacement
The Armament Inspectorate of the Polish Ministry of Defence is forging ahead with sourcing a replacement platform for their ageing ZSU-23-4 Shilka/Biała tracked anti-aircraft gun systems. The acquisition forms a major element of the SONA programme to provide mobile air defence and C-RAM (counter-rocket assisted missile) protection for Polish armoured units.
The Polish currently rely upon an upgraded version of the Shilka known as the ZSU-23-4MP Biała which, along with its four 23mm cannon, sports a twin Grom/Piorun surface to air missile pod along with a modernised radar system integrated into the Polish air defense network. The Biala was due to be replaced last decade with the domestically developed twin 35mm gun equipped, tracked PZA Loara, however, the procurement was cancelled in 2009 with only a single vehicle delivered.
A 'technical dialogue' to hammer out requirements, and costs, for a formal request for proposal is scheduled to occur in quarter four this year. The Shilka replacement needs to be integrated into a larger VSHORAD (Very Short Range Air Defense System) array including a still to be identified C-RAM platform which will "… have an ability to act against artillery and mortar rounds, and rockets throughout their trajectory (C-RAM) manned offensive air assets and UAVs…" according to Defence 24.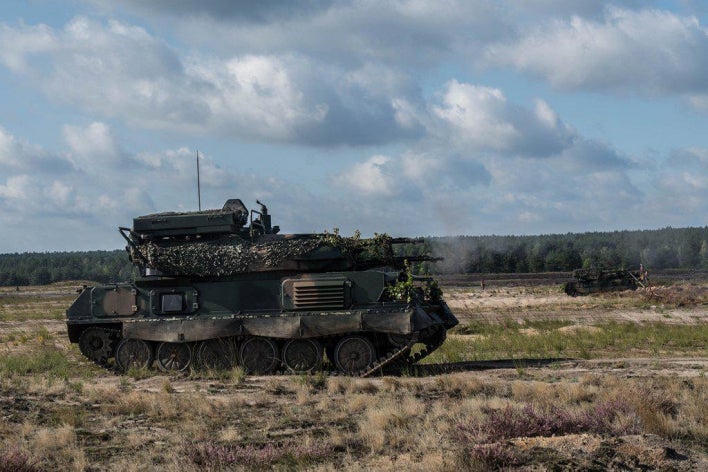 The contenders include a raft of manufacturers: Aselsan; Elbit Land Systems; Israeli Aerospace Industries; Leonardo; Lockheed-Martin; MBDA; Nexter Systems; Northrop Grumman; Rafael Advanced Defense Systems; Raytheon Technologies; Rheinmetall Air Defence; Saab Technologies Poland; Thales; Transbit; Valhalla Turrets; WB Electronics and two consortiums of Polish firms- Polish Armaments Group (Polska Grupa Zbrojeniowa S.A) and CRW Telesystem-Mesko.
Polish forces also currently employ the SPZR Poprad which mounts the short-range Grom/Piorun in a 4-pack launcher. The Grom/Piorun is also employed dismounted in man-portable configuration as the Polish military's standard MANPADS. Longer range engagements are handled by the Narew SHORAD (Short Range Air Defense System) and the Wisla medium-range system.