Royal New Zealand Navy Receives Its Largest Ship to Date
The HMNZS Aotearoa, the largest vessel to ever be operated by the Royal New Zealand Navy (RNZN), departed from South Korea's Hyundai Heavy Industries (HHI)'s headquarters on its maiden voyage to its new home. HHI announced it held a sail-off ceremony for the 26,000-ton logistics support vessel. The vessel was named Aotearoa, the Māori name for New Zealand.
The vessel is 173.2m long and 24.5m wide and is purpose-built to support the RNZN's combat operations, humanitarian relief functions, and provide operational and training support. In addition, it is planned to provide sustainment to New Zealand and coalition sea, land, and air units globally, as well as support United Nations security operation supply lines by delivering ship and aviation fuel, ammunition, and stores to allies.
Nam Sang-hoon, Senior Executive Vice President of HHI, Philip Turner, New Zealand Ambassador to South Korea, and Major General Sung II, Director Generation for South Korea's International Cooperation of Defense Acquisition Program Administration (DAPA) attended the delivery ceremony held at HHI's headquarters in Ulsan, South Korea. Daecheong (AOE-58), a Cheonji-class combat support ship, was deployed to the ceremony by the Republic of Korea Navy (ROKN) as a gesture wishing a safe voyage.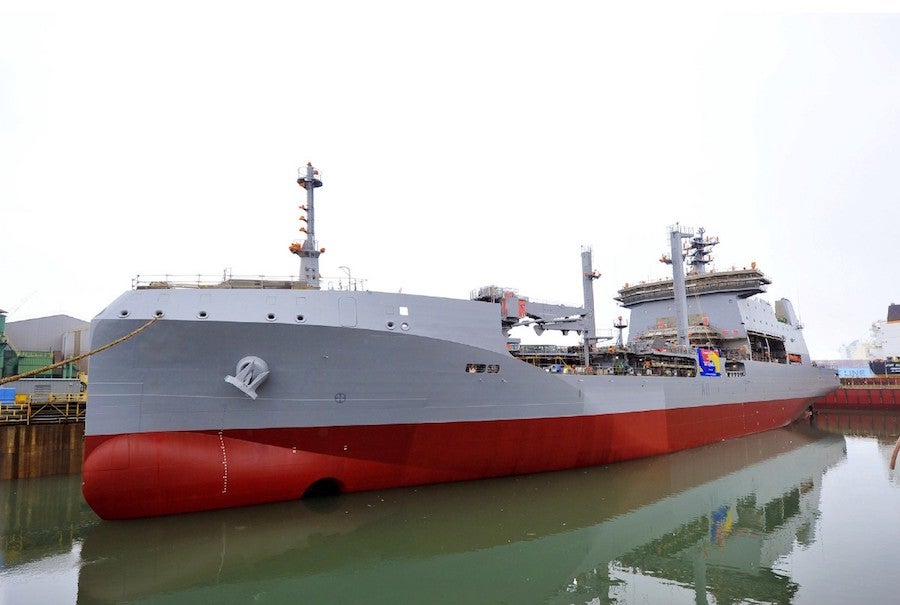 Philip Turner, New Zealand Ambassador to the Republic of Korea, said at the sailing-off ceremony:
"We'd like to thank HHI for its efforts to ensure the successful delivery of the Royal New Zealand Navy's largest-ever ship. The close cooperation between HHI and its subcontractors and the New Zealand Ministry of Defence Project Team on the basis of mutual trust is what made the delivery of the ship possible. We expect the ship which is as versatile as its size will be able to carry out many activities, including disaster relief activities."
The delivery of the Aotearoa is a new milestone for South Korean-New Zealand relations that have been on an upward trend. Last year the ROK's Defense Acquisition Program Administration and the New Zealand Ministry of National Defense signed a "Defense Material Cooperation Arrangement" to expand cooperation in the defense sector between the two countries. South Korea's delivery of a technologically advanced vessel to New Zealand, a nation that sent warships to aid the former in the Korean War, captures the strides it made in the defense field.