Kongsberg MCT-30 Turret Selected for USMC ACV
BAE Systems has selected the Kongsberg MCT-30 remotely operated turret for the Marine Corps' Amphibious Combat Vehicle ACV-30 variant. The ACV is the long-awaited replacement for the AAV (Amphibious Assault Vehicle) series.
The deal will see up to 150 MCT-30 Medium Caliber Turrets delivered with initial test deliveries starting next year. The adoption of the MCT-30 will see some commonality with US Army platforms, namely the M1296 Stryker Dragoon (and the Ripsaw M5 Robotic Combat Vehicle if adopted) although the turret system will be lightened and will feature a different 30mm cannon.
According to the Marine Times a Corps spokesperson noted that "BAE has also informed the Marine Corps that the MCT-30 version for the Marine Corps will be a lighter-weight version of the Stryker system and use the Mk44 gun which is common with US Navy applications instead of the XM813 gun used on Stryker."
The 30mm cannon is intended to be able to target both enemy ground vehicles and unmanned aerial vehicles. The Dragoon MCT-30 has been delivered to Stryker Infantry Combat Brigades in Europe in an effort to provide capability against Russian BMP-3 and BMP-4 infantry fighting vehicles (IFVs).
The ACV MCT-30 will more likely see itself deployed to the Pacific in any future peer conflict, battling a combination of threats from PRC (People's Republic of China) IFVs, special operations forces, UAVs and tactical missiles under the Corps' recently unveiled vision of a modern 'island hopping' campaign to contain the Chinese Navy (as recently reported by Overt Defense).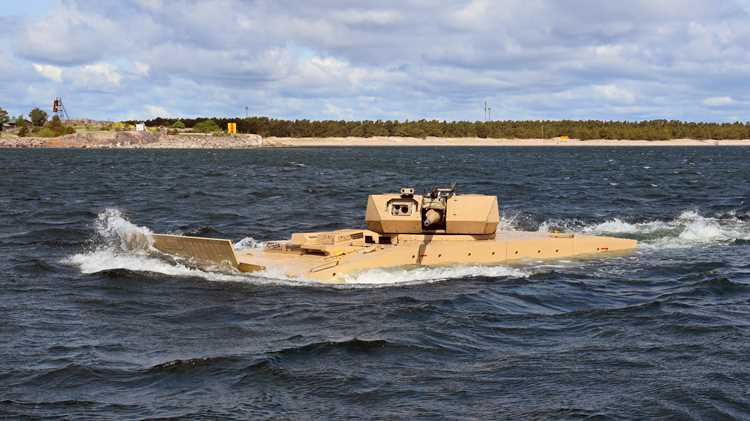 The ACV is currently in Low-Rate Initial Production phase as previously reported by Overt Defense, with an additional 26 vehicles ordered in march this year. The current running total of ACVs ordered by the USMC stands at 116. Total procurement numbers look likely to be around 1,122. The ACV-30 variant will join two further variants; the ACV-C command platform and the ACV-R recovery vehicle.