The US Army has placed testing of its Interim Maneuver Short-Range Air-Defense (IM-SHORAD) at Aberdeen Proving Ground, Maryland, on hold due to the impact of the CVOID-19 virus. The vehicle component of the SHORAD platform is effected until mitigation strategies are developed to ensure the health of mechanics and support staff who service the Stryker based platform.
Developmental testing of the platform was due to end in May, before progressing to operational field testing in the latter half of the year originally scheduled for September, but these timelines are now in doubt. Five prototype vehicles have been delivered by General Dynamics Land Systems of an initial order of nine platforms with the two located at Aberdeen subject to the temporary halt.
The IM-SHORAD features a range of weapon systems including a two-round launcher for the radar seeking AGM-114L Longbow Hellfire, a four-round FIM-92J Stinger launcher equipped with proximity fuses, an XM914 30mm cannon and a coaxial 7.62x51mm medium machine gun for close defense of the vehicle against enemy infantry.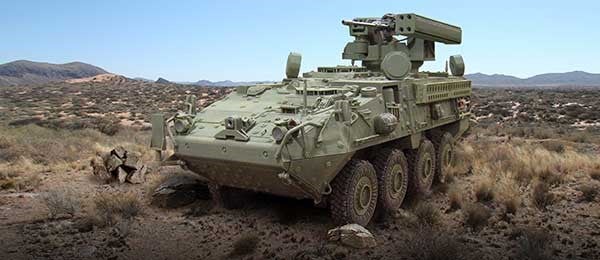 A second battalion of Stryker A1 IM-SHORAD platforms was confirmed by the Pentagon earlier this year in budget appropriations. Currently the only in-service air defense platform is the AN/TWQ-1 Avenger, a HMMWV mounting a Stinger battery and .50 heavy machine gun, numbers of which have been deployed to Europe.
In related air defense news, the US has moved an undisclosed number of both the PAC-3 Patriot air defense missile and the 20mm Centurion C-RAM (Counter Rocket, Artillery, Mortar) CIWS (Close-In Weapon System) into Coalition bases in Iraq following the deaths of US and British service members last month at the hands of Iranian backed Shia militias using 107mm rockets to attack their base. It is understood the Patriots have been emplaced at al-Assad and Erbil. The move generated predictable disquiet from the Iranian government.