Nexter P20 20mm Cannon For German Special Forces
Germany's Federal Office for Equipment, Information Technology and In-Service Support of the Bundeswehr (BAAINBw) awarded French company Nexter a contract for 20mm cannons earlier this month. Seven P20 assemblies featuring pintle mounted 20M621 cannons have been ordered for the German Army's KSK (Kommando Spezialkräfte).
The contract represents the first German Army procurement from Nexter who credited Krauss-Maffei-Wegmann (KMW) as being integral to the German success. The two companies formed the KMW + Nexter Defense Systems (KNDS) joint venture in 2015.
The gas operated, open bolt, 20M621 fires the 20x102mm round and offers "…firepower and useful range far superior to weapons of 12.7 or 14.5 mm caliber" notes Nexter. The 20M621 is a lightweight and low-recoil platform, ideal for mounting on light vehicles. The weapon offers the unique 'Sniper Shot' function which allows a single round to be fired from a closed bolt, increasing accuracy and offering an excellent capability against enemy snipers and RPG teams.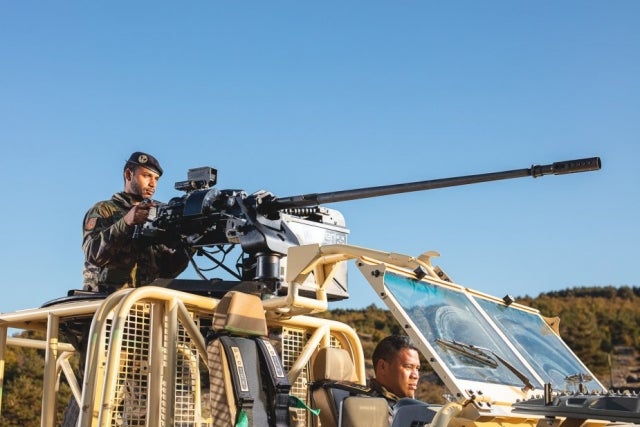 The 20M621 can also be dismounted and fired from a tripod, offering operators greater flexibility, particularly for force protection for remote combat outposts. The downside to the 20x102mm caliber is that no programmable ammunition is currently available verses a number of options for the more widely adopted 30x113mm. It allows lacks the armour penetrative capability of the 30x113mm (the 20x102mm AP-T (Armour Piercing- Tracer) will have difficulty penetrating the frontal armour of the BMP-3 for instance).
The seven P20 assemblies are believed to be a part of a field trial by KSK operators with two tenders to potentially follow; one for a range of 20x102mm ammunition and a further purchase of up to ten additional P20 platforms for KSK during the next two years. The P20s will likely be trialed on KSK's Serval/Wolf AGF light trucks and the Milrem Tracked Hybrid Modular Infantry System (THeMIS) unmanned ground vehicle. Poland's GROM (Jednostka Wojskowa Grom) special operations unit purchased two P20 assemblies late last year.