Russia to Order New Upgraded Su-34 Fighter-Bombers
Russian state-owned news agency TASS reported on the 19 February, that Russia's Ministry of Defense is planning to order several dozen upgraded Sukhoi Su-34 fighter-bombers for the Russian Air Force. The jets, predicted to be ordered this summer, would be a new configuration with combat capabilities expanded under the Sych Experimental Design Work, according to TASS's source.
According to the source the Defense Ministry plans to "sign a contract with the Sukhoi Company this summer for the delivery of several dozen Su-34 planes to the troops with expanded combat capabilities." The source continued, "the aircraft will integrate the latest avionics suite developed under the Sych experimental design work."
The Sych Experimental Design Work project, completed last year, upgrades Su-34s with underslung reconnaissance containers and increases the range of air-launched weapons the Su-34 is able to equip. There are also reportedly plans to upgrade some Su-34 jets which are already operational.
The Su-34 is a multirole fighter-bomber based on the Su-27 air superiority jet. It entered service into the Russian military in 2014, notably being deployed to Syria equipped with anti-aircraft missiles after the downing of a Russian Su-24 by the Turkish air force. Today, the Russian Air Force operates between 110 and 130 Su-34 fighter bombers.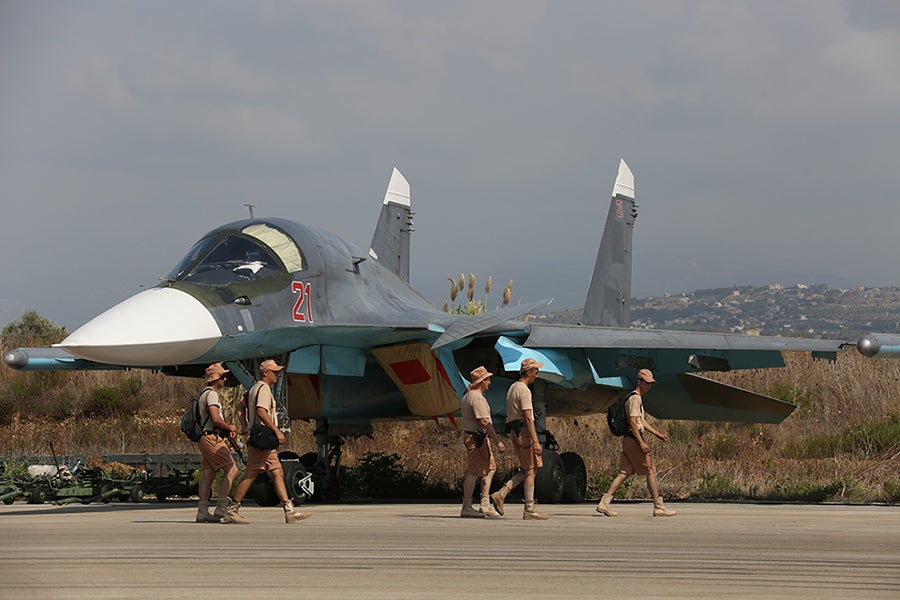 The Russian Ministry of Defense first signed a contract for the delivery of 32 Su-34 planes back in 2008, which has since been completed. Novosibirsk Aviation Enterprise, a branch of the Sukhoi Aircraft Company, is currently fulfilling a second contract for 92 additional jets signed in 2012.
The Su-34 boasts an operating range of 4,000 km and a top speed of 1,900 km/h.The plane has an 8 tonne combat payload and can be equipped with both air-to-surface and air-to-air missiles.
Two new variants of the Su-34 are reportedly being developed for more specialized roles. One for electronic warfare, equipped with an L700 Tarantul ECM pod that would provide electronic cover for a group of aircraft, and one for intelligence, surveillance, and reconnaissance.