DroneShield Shortlisted for US Army's Expeditionary Technology Search
Earlier this month, Australian firm DroneShield announced they have moved to the second phase of the US Army's Expeditionary Technology Search or xTechSearch, an effort to fund small company innovation. The Army are particularly interested in DroneShield's advanced work in applying artificial intelligence (AI) and machine learning (ML) to counter UAV (unmanned aerial vehicle) technology.
DroneShield noted; "xTechSearch is sponsored by U.S. Army's Assistant Secretary of the Army for Acquisition, Logistics, and Technology. It enables the selected private sector companies to collaborate with the Army to tackle the most critical Army modernisation challenges. DroneShield LLC has been selected on the basis of Artificial Intelligence/Machine learning algorithms within its drone detection products, including RfPatrolTM, RfZeroTM, RfOneTM, DroneSentinelTM and DroneSentryTM."
CEO Oleg Vornik explained further; "The US Department of Defense has substantially the largest defence budget globally. Collaboration activities such as xTechSearch enable opportunities to be embedded into their ecosystem, with potential significant acquisitions following, as the US DoD seeks effective counter-drone solutions. This selection demonstrates the cutting edge of DroneShield's technologies on a global scale."
In related news, DroneShield last year won the $700,000 AUD Australian Department of Defence tender for a man-portable C-UAV system with their RfPatrol which we have previously covered here at Overt Defense. Its products, namely RfPatrol, DroneNode and DroneGun Tactical were also successfully employed in November last year at the Opening Ceremony of the 30th Southeast Asian Games held in Philippine Arena, Bulacan.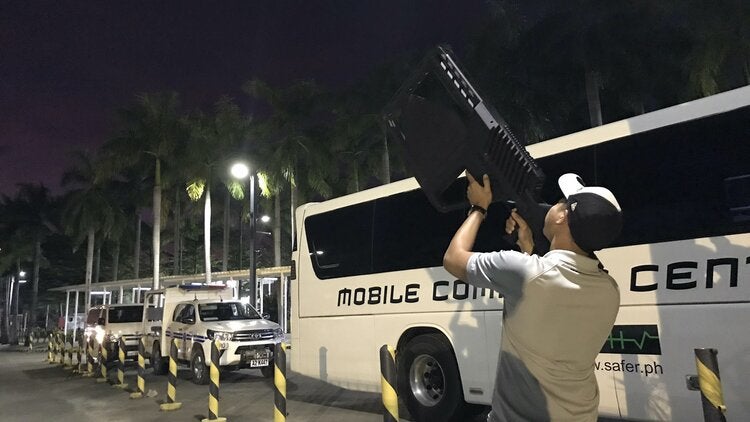 The Philippine Presidential Security Group (PSG) deployed the RfPatrol to detect four UAVs that had appeared along the flight path of the incoming Presidential helicopter. DroneNode, a man-pack UAV jammer and the DroneGun Tactical were used to safely intercept and disable the UAVs. Three further suspect UAVs were later detected and disabled using DroneShield systems.
The DroneGun Tactical allows suspect UAVs to be targeted out to a range of two kilometers, jamming the UAV and forcing it into 'stand-by' mode which leads to the device either landing or returning to its controller.