Lockheed Martin Surpasses 2019 F-35 Delivery Goals
Lockheed Martin announced on 30 December, that it had delivered its 134th F-35 for the year, exceeding the original delivery goal of 131 aircraft. The 134th F-35 is an F-35B for the United States Marine Corps.

Deliveries of F-35s in 2019 included 81 aircraft for the United States, 30 for the F-35 program's international partner nations and 23 for Foreign Military Sales customers. According to Lockheed Martin, 47% more aircraft were produced in 2019 compared to 2018. Lockheed Martin aims to deliver 141 F-35s in 2020.

In a press statement, Greg Ulmer, Lockheed Martin vice president and general manager of the F-35 program commented on the exceeding of the goal:

"This achievement is a testament to the readiness of the full F-35 enterprise to ramp to full-rate production and we continue to focus on improving on-time deliveries across the entire weapons system.

We have met our annual delivery targets three years in a row and continue to increase production rates, improve efficiencies and reduce costs. The F-35 is the most capable fighter jet in the world, and we're now delivering the 5th Generation weapon system at a cost equal to or lower than a less capable 4th Generation legacy aircraft."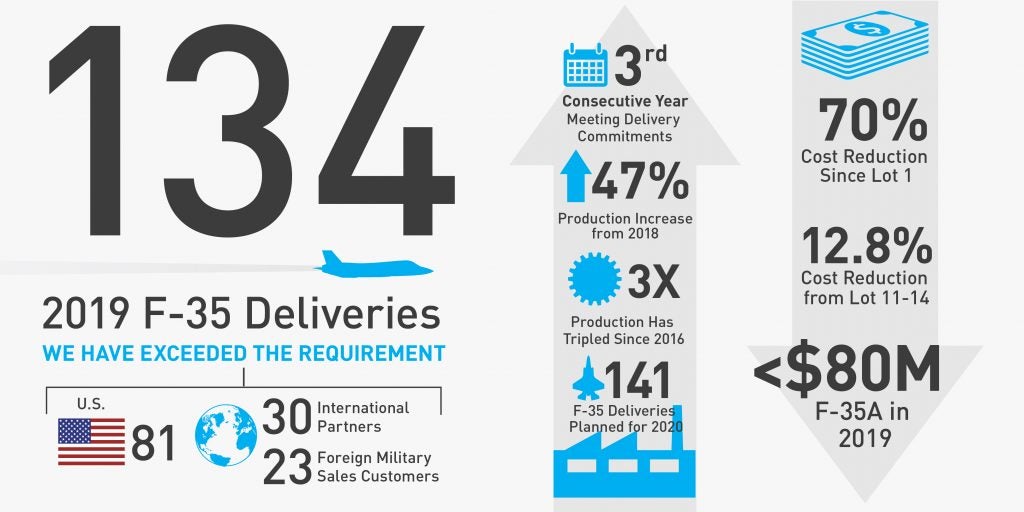 According to Lockheed Martin, the unit cost of an F-35A is now $77.9 million, hitting the goal of a unit cost of below $80 million a year early. Lockheed Martin claims that lessons learned throughout the production process will allow for aircraft construction and sustainment costs to be further reduced in the years to come.

2019 has been an eventful year for the F-35 program, with the expulsion of Turkey from the program, as well as its first fatal crash. Several F-35 operators also declared initial operating capability for their F-35s, with the Royal Air Force declaring land-based F-35B IOC in January and the US Navy declaring F-35C IOC in February. The Japan Air Self-Defence Force, the Royal Norwegian Air Force and the Republic of Korea Air Force declared F-35A IOCs in April, November and December respectively.

While the Autonomic Logistics Information System (ALIS) continues to be a problem for the F-35's integration into operational units, new tactics continue to be developed to leverage the aircraft's unique capabilities. As the aircraft continues to mature with more users, the aircraft's capabilities will continue to evolve to meet each user's needs and unique tactics.