Mongolia Receives MiG-29UB Trainers
On November 26, the Mongolian Air Force received two MiG-29UB (NATO reporting name Fulcrum-B) trainer aircraft from Russia. Their arrival coincided with the 95th anniversary of the declaration of the Mongolian People's Republic. The acceptance ceremony was held at the Air Force facility at the Chinggis Khaan International Airport near Ulaanbaatar.

Brigadier General Enkhbayar Ochir, commander of the Mongolian Air Force Command, spoke at the acceptance ceremony. He stated that the arrival of the MiG-29UBs marked the "opening of a new page for Mongolian aviation", and would allow the Mongolian Air Force to successfully patrol Mongolian airspace.

The two MiG-29UBs were donated free of charge by Russia, and were previously in service with the Russian Air Force. Russian military aid to Mongolia had restarted following an official visit by the Russian president, Vladimir Putin, to Ulaanbaatar in September. During his visit, the Russian and Mongolian governments renewed a 2003 agreement on the delivery of free military-technical aid to Mongolia.

The Mongolian Air Force had previously operated MiG-17 and MiG-21 fighter aircraft, but was forced to retire them due to a lack of resources and spare parts following the Mongolian Revolution of 1990 and the collapse of the Soviet Union, which was the main supplier of the Mongolian Armed Forces' equipment. The Mongolian government had previously announced plans to procure MiG-29s in 2011, but the plans were never realized.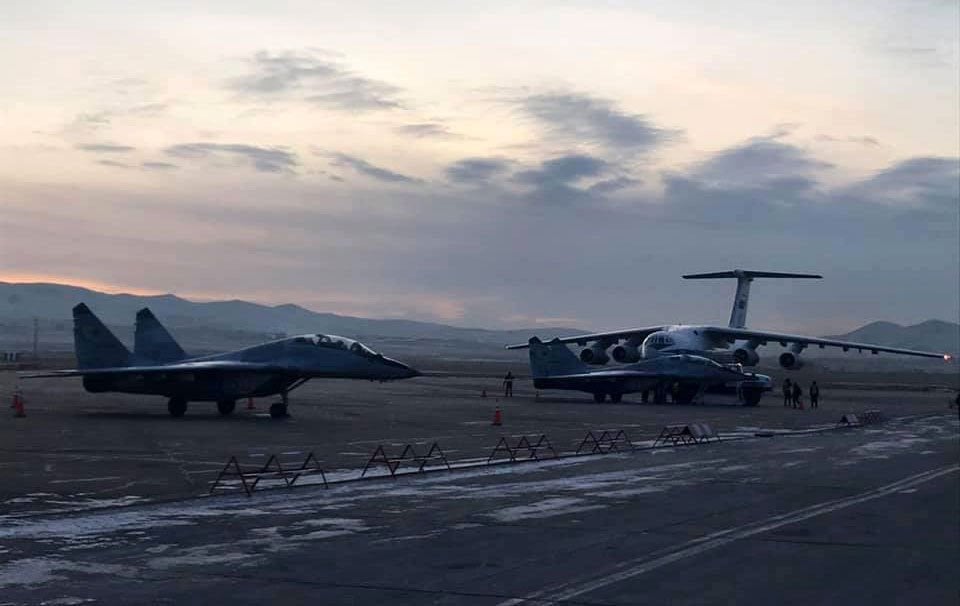 The MiG-29UB (Uchebno-Boevoi, or combat trainer) is a two seat trainer based on the MiG-29A (Flanker-A) fighter. The MiG-29UB lacks the radar of the MiG-29A, instead having a simulator module to train pilots with. It retains the infra-red search and track system of the MiG-29A, as well as the ability to employ infra-red guided missiles like the R-73 (AA-11 Archer).

While the lack of radar limits the utility of the MiG-29UBs in airspace policing duties, the trainers will be of great use in training pilots and ground crews on the MiG-29. This training will be valuable, should the Mongolian Air Force receive more MiG-29s.