First NATO Alliance Ground Surveillance (AGS) Program Flight a Success
The NATO Alliance Ground Surveillance (AGS) program's first RQ-4D high-altitude remotely-piloted (HARP) aircraft landed in Sigonella, Italy on the 21st November. This marks an official operational milestone for the AGS program since its inception.
The unmanned surveillance drone took off from Palmdale Air Base in California on the morning of the 20th November. It reached its destination at Naval Air Station Sigonella in Italy, the AGS Main Operating Base, without any reported difficulties.
NATO Alliance Ground Surveillance Management (NAGSMA) General Manager, Brigadier General Volker Samanns, AGS Force Commander Brigadier General Phillip Steward, among other officials, attended the publicized landing event.
The AGS system was developed so far through a multinational effort to procure several advanced technologies. 15 countries including Bulgaria, Czech Republic, Denmark, Estonia, Germany, Italy, Latvia, Lithuania, Luxembourg, Norway, Poland, Romania, Slovakia, Slovenia, and the United States are working together for the establishment of the ambitious Intelligence Surveillance and Reconnaissance (IRS) system. The AGS will be collectively owned by all NATO Allies who will all have access to the data it gathers.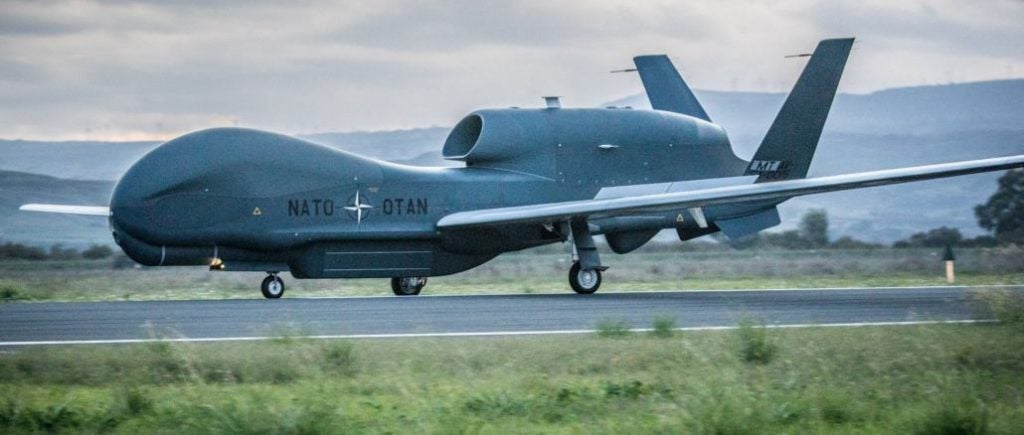 NATO's collaborative AGS project aims to provide its members with the capability to monitor activities on the ground at long range, in any weather condition, 24 hours a day. To achieve this in the program's air segment, it will utilize five of NATO's RQ-4D HARP aircraft, which are based on the U.S. Air Force's Northrop Grumman Block 40 Global Hawk, equipped with the Advanced Multi-platform Radar Technology Insertion Programme (MP-RTIP) air-to-ground surveillance radar sensors. To relay the data, the drones will be fitted with a set of line-of-sight and beyond-line-of-sight, long-range, wide-band data links.
On the ground, NATO will operate several dedicated mission support facilities, the Main Operation Base in Italy, along with additional mobile and transportable configurations. These stations are essential to providing data-link connectivity, data processing, exploitation capabilities and interfaces of interoperability.
All five of the aircraft are still undergoing development test flights at varying stages. Once all five arrive at the Main Operating Base in Sigonella, the system will undergo a compliance verification phase then be handed over to the NATO AGS Force. NATO expects operational capability to be reached in the first half of 2020.