Nigerian Armed Forces Purchased 28 Local Ezugwu Armored Vehicles
The Nigerian Army ordered 28 of the locally manufactured Ezugwu armored vehicles from Defense Industries Corporation of Nigeria (DICON), a state-owned corporation operated by the Nigerian Armed Forces.
A representative for the Chief of Army Staff, Lieutenant General Takur Buratai and the Director General of DICON Major General Victor Ezugwu signed the agreement on the 12th of November at the Army's headquarters in Abuja.
The Nigerian Armed Forces dub the vehicle the Ezugwu, named after DICON's own Director General. It is a mine-resistant ambush-protected vehicle (MRAP). The designation mimics the term commonly used to describe light tactical vehicles procured by the United States Army as part of the MRAP program, although it is unclear whether the Nigerian armored personnel carrier was designed in adherence to the US program's requirements.
"We are gathered here today to actualise one of the lofty dreams of the army in reducing the challenges of having to rely on everything from outside Nigeria in terms of lethal equipment," said the absent Lt Gen Buratai in a statement read on his behalf.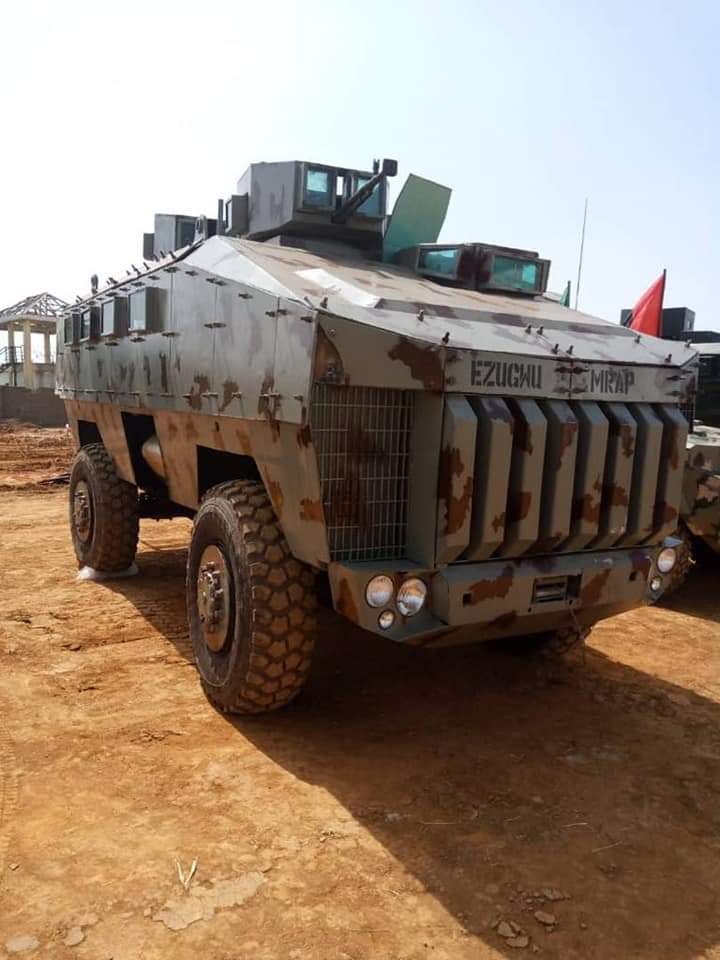 The unconventionally designed Ezugwu it fitted with two different weapons turrets to achieve 360 degrees traversal. In addition, the vehicle is equipped with a 360-degree telescopic PTZ camera. "The primary armament includes a 12.7 mm Anti-Aircraft Gun and a 7.62 mm Light Machine Gun. It is good for counter-terrorism, maintenance of stability and also a perfect vehicle for urban warfare." said Captain Abdulrasheed Ahmed, Coordinator of Nigerian Army Operations Media, in a press release.
According to the African Military Blog, the Nigerian army claimed in a response to Request for Information, that the Ezugw is capable of resisting bullets ranging from 7.62mm to 12.7mm at short distances. In addition, it can resist Improvised Explosive Devices and mines with explosive power up to 12kgs of TNT.
The 4×4 vehicle is powered by a Chinese 615WD Diesel engine located at the front of the hull and is fitted with what was described as an independent suspension system.