KAI KF-X Program Begins Prototype Construction
On September 26, the Korean Defense Acquisition Program Administration (DAPA) announced that the Korea Aerospace Industries Korean Fighter-Experimental (KF-X) had successfully passed its critical design review, which was held between the 24 and 26 September. Korea Aerospace Industries will now begin assembly of the first prototype KF-X. A full scale model of the KF-X will be on display at the Seoul International Aerospace & Defense Exhibition (ADEX) 2019 later this month.

In the press statement, DAPA stated that a review committee composed of Republic of Korea Air Force representatives, Korean government representatives and civilian experts had evaluated around 390 technical data parameters of the design. The evaluation results were that "the military's demands are suitably reflected in the design".

The Joongang Daily reports that according to Korea Aerospace Industries' head business manager for the KF-X project, Ryu Kwang-soo, around 9,300 of the approximately 12,000 detailed blueprints needed for the KF-X project have been completed to date.

The development of the KF-X began in January 2016, and its preliminary design was finalised in June 2018. Korea Aerospace Industries began manufacturing of the first prototype's first bulkhead in February this year.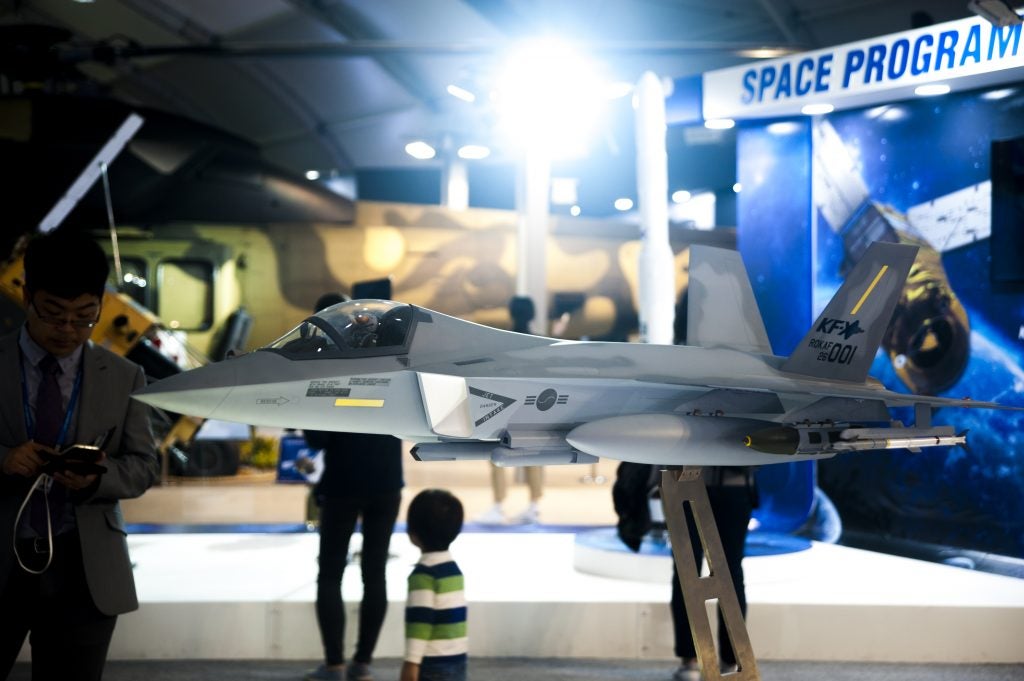 The prototype production stage currently plans for six prototype airframes to be built. The prototypes will then be trialed over four years, with development expected to end in 2026. Serial production will then take place between 2026 and 2032, with the Republic of Korea Air Force ordering 120 aircraft to replace its fleets of F-4E Phantom II and F-5E Tiger II fighters. Total production numbers are expected to exceed 350 aircraft, including export orders.

The KF-X is considered to be a 4.5 generation fighter aircraft, as while it is designed to have a low radar cross section and features advanced sensors, it will not have an internal weapons bay for stealthy weapons carriage until the "Block II" model of the KF-X enters production. Similarly, it is powered by two locally produced General Electric F414-GE-400 engines, which are currently used by the US Navy's F/A-18E/F Super Hornet multirole aircraft and EA-18G Growler electronic warfare aircraft.

Lockheed Martin is a technical partner on the KF-X project. Indonesia is another project partner, having previously agreed to purchase 48 KF-X aircraft (referred to in Indonesian service as the IF-X, or Indonesian Fighter-Experimental), but is currently renegotiating its involvement in the program. However, the Indonesian government remains committed to its previous agreement to pay for 20-percent of the KF-X's total development costs.