Taiwan's National Advanced Trainer Makes Public Debut
On September 24, the Aerospace Industrial Development Corporation (AIDC) of Taiwan unveiled its T-5 Brave Eagle advanced jet trainer to the public in a ceremony presided over by President Tsai-Ing Wen. The ceremony was held at an AIDC facility in Taichung. President Tsai personally inspected the bright blue, red and white airplane, sitting in the front seat of the two-seater trainer.

In her speech at the ceremony, President Tsai described the completion of the first T-5 airframe as a "historic day" for the Republic of China Air Force, as well as a milestone for the Taiwanese aviation industry. She reiterated her belief in the National Advanced Trainer program as a means to further advance the Taiwanese aviation industry, stating that the program has created 1,200 new jobs since its start in 2017, and is expected to create 800 more jobs by 2021. She added that the NT$68.6 billion ($2.2 billion) project has had more than half of its orders go to local manufacturers.

The T-5 Brave Eagle is intended to replace the AIDC AT-3 Self Reliance advanced trainers and AIDC license-produced F-5E/F Tiger II lead-in flight trainers of the Republic of China Air Force. It is hoped that the T-5 will be able to replace both aging types and simplify the pilot training process of the Air Force.

According to a Facebook post by the Ministry of National Defense of the Republic of China, despite the T-5's external resemblance to the F-CK-1 Indigenous Defense Fighter, also built by AIDC, over 80 percent of the airframe is new. Composite materials are extensively used throughout the airframe to reduce weight. The airfoil has been changed to reduce the trainer's landing speed and improve low speed stability as well.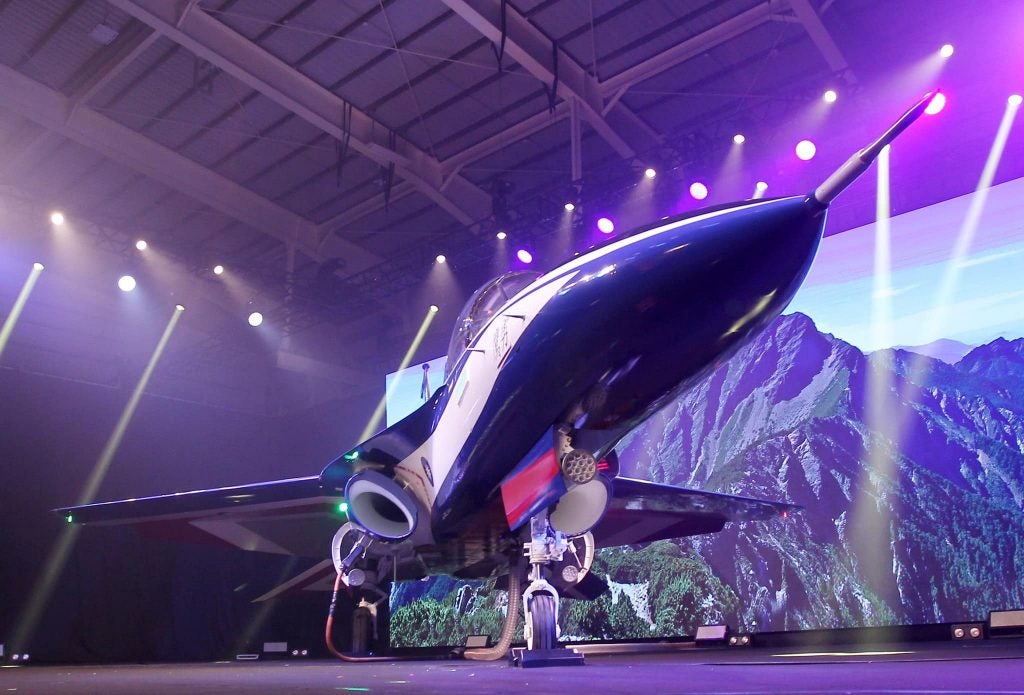 The first flight of the T-5 is expected to take place in June 2020, according to an AIDC representative at the ceremony. The Republic of China Air Force has ordered 66 T-5s to date. According to Kyodo, deliveries are to begin in 2023, with the final delivery to be made no later than 2028.

The Brave Eagle, formerly known as the Blue Magpie, is one of the flagship programs of President Tsai's policy of pursuing indigenous development of military hardware. Other indigenous programs include the development of submarines and the upgrading of F-16s to the F-16V Block 70 standard.