UGV and UAV Deployed Distraction Devices
New developments in counter-terrorism technology have seen light and sound distraction devices, commonly referred to as flashbangs, integrated into unmanned ground (UGV) and aerial vehicles (UAV). The ability to remotely detonate distraction devices offers significant advantages, allowing special operations forces (SOF) to coordinate strikes on otherwise inaccessible locations and reduce risk to operators.
In the United Kingdom, Typhon Group have developed the DS100, a digital distraction device mated with a range of commercial or military/law enforcement UAVs. The DS100 allows distraction devices to be flown into a terrorist stronghold and detonated at a time of the user's choosing. The device does not interfere with optics or sensors mounted on the UAV giving the capability of remotely clearing a room visually or detonating the DS100 if terrorists are seen. It likewise would provide significant options to act as a decoy to draw attention to the UAV whilst a breaching operation was conducted.
The system also allows multiple detonations to be initiated from a single controller; "The DS100 can be configured for either a single event or to initial a pre-programmed salvo of events from the controlling system when commanded." Indeed all Typhon products are designed with such capabilities in mind offering; "Five round bursts – likened to an AK47 on semi-automatic; Single shots – five events with random timings; Shock & awe – all five events going off together; Individual operational requirements."
Typhon platforms negate the risks associated with traditional pyrotechnic distraction device designs by safely controlling fragmentation effects and reducing the smoke and flash, constructing a far safer design that relies on its acoustic effect to temporarily incapacitate enemy.
On the other side of the pond, Liberty Dynamic recently announced a joint venture with ReconRobotics. The collaboration will see the Throwbot 2 UGV equipped with what is termed an Enhanced Diversionary Device (EDD). The EDD was developed with similar aims to the Typhon Group design, offering a digital fuse which reduce the fragmentation and fire risk of traditional flashbang designs. It is also user-programmable, allowing the operator to set the timing for the detonation to coincide with breaching operations.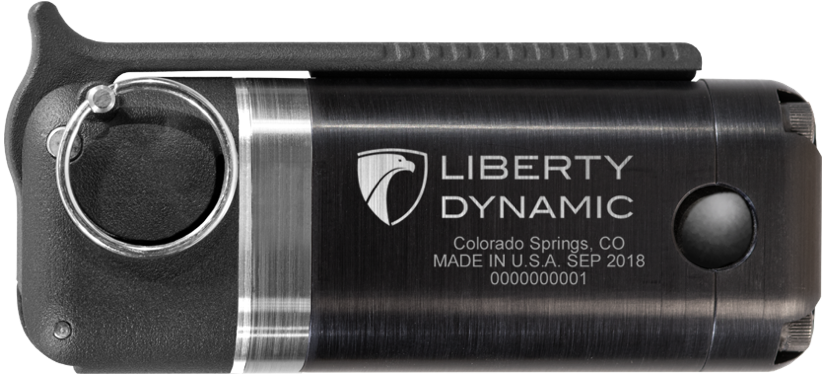 Liberty Dynamic have also adapted their Smart Fuse Enhanced Diversion Device to enable its use with UAVs with the company explaining; "The compact delivery system does not drop the device from the sUAS [smart unmanned aerial system]. Rather, the energetic event is propagated in a directional cone from the undercarriage."
Like the Typhon design, the delivery system does not require a specialist UAV platform and instead can be adapted to most existing UAV designs. Both the French GIGN and RAID, along with the Dutch UIM (Unit Interventie Mariniers, also known as M Squadron) have been experimenting with similar concepts of mating distraction devices to the ThrowBot.