Canadian Army to receive General Dynamics LAV Armoured Combat Support Vehicles
The Canadian Department of National Defense has announced the agreement of a CA$3 billion deal to procure up to 360 General Dynamics Land Systems – Canada LAV (Light Armoured Vehicle) 6.0 based platforms to replace their aging fleet of LAV II Bison and M113 vehicles to "deliver a protected support vehicle to sustain the Canadian Army light and heavy armoured fighting vehicle fleets on domestic and expeditionary operations."
Harjit Sajjan, the Minister of National Defense, stated; "The LAV is the backbone of the Army's combat fleet, and supports our women and men in uniform on a range of operations from domestic disaster relief such as Operation LENTUS to overseas peace support missions. I am pleased to be moving forward with the strengthening of our fleet of armoured combat support vehicles as committed to in our defence policy, Strong, Secure, Engaged, while at the same time supporting Canadian jobs and innovation through our partnership with GDLS-C."
As many as eight variants will eventually be delivered in the sole source Armoured Combat Support Vehicle (ACSV) procurement. These are expected to include command post, ambulance, engineering, electronic warfare, air space coordination centre vehicles, and maintenance and recovery variants. The Bison and M113 combat support variants it will replace have been in service for several decades, including multiple deployments to Afghanistan and Mali, and have themselves been upgraded several times during their life-cycle.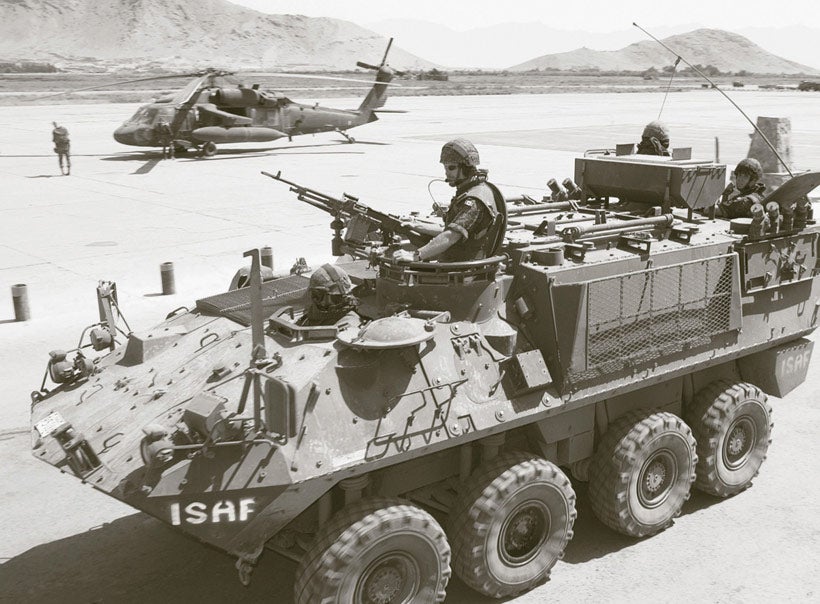 The LAV 6.0 standard was developed directly from experience in Afghanistan. Some 159 Canadian LAV platforms were damaged in-theatre with 13 written off by IEDs (improvised explosive devices) and RPG (rocket propelled grenade) strikes. The 6.0 features a V-shaped hull to help counter IEDs and mines, scalable armour packages, improved suspension and an upgraded engine.
In related news, controversy still mars the 2014 $11 billion deal with Saudi Arabia for Canadian built LAV 700s in light of claims that the platforms have been used in Yemen. Canadian export regulations require that there is "no reasonable risk" that weapons exports are to be employed against civilians. Canadian LAVs are not the only Canadian equipment to surface in Yemen. PGW sniper rifles have also appeared in recent years in the hands of Houthi insurgents, likely captured from Yemeni forces backed and supplied by Saudi Arabia.