FN Herstal and Milrem Robotics Deploy Unmanned Weaponized Vehicle at Estonian Military Exercise
Belgium's FN Herstal and Estonia's Milrem Robotics deployed the THeMIS unmanned ground vehicle (UGV) equipped with deFNder Medium Remote Weapon Station in exercise Spring Storm 2019.
Spring Storm is Estonia's largest annual military exercise and was held from April 29 through May 17. The FN-Milrem UGV was also previously deployed at Spring Storm 2018, and has seen continual evolution since then.
The UGV is equipped with a .50 caliber heavy machine gun and was being operated by the Kuperjanov Infantry Battalion in both offensive and defensive operations in both rural and urban environments.
"We are proud to maintain our partnership with Milrem Robotics by deploying our latest developments in realistic field conditions", said Igor Klapka, Vice President Systems for FN Herstal. "For the first time, we are showcasing new ways to control the Remote Weapon Station: the operator being mobile with the troops and commanding the weapon thanks to a portable controller and observing via a screen or through display goggles. As always, and more than ever, the human stays in-the-loop."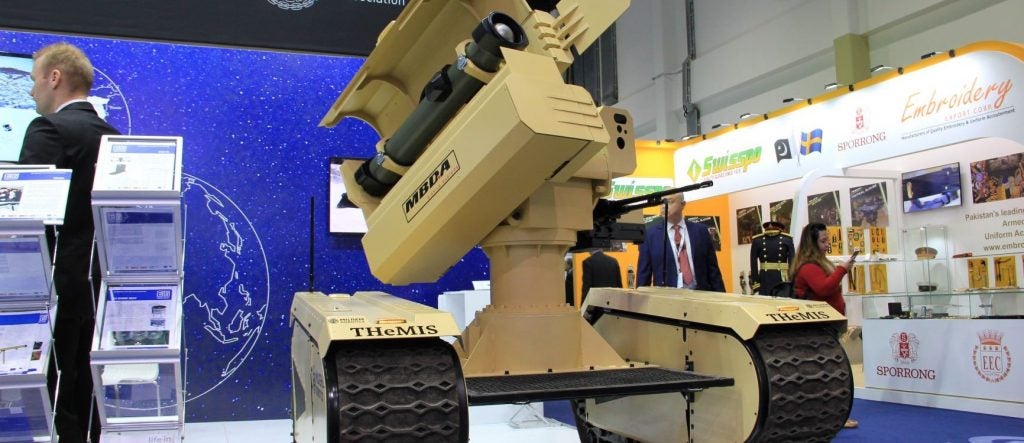 "The deployment of the THeMIS UGV at Spring Storm greatly enhanced our combat effectiveness by adding mobility, increasing the effectiveness of combat service support and reducing soldier fatigue. Furthermore, using the UGV as a force multiplier with FN Herstal's weapon system increased the effectiveness of battleground firepower," stated lieutenant Lauri Tõnisson from Kuperjanov infantry battalion.
Aside from integration with FN Herstal's deFNder, THeMIS has also been successfully mated with the ADDER weapon station from Singapore's ST Kinetics and PROTECTOR from Norway's Kongsberg.

Most notably however, Milrem and MBDA unveiled the world's first anti-tank UGV, a combination of MBDA's Integrated MMP Precision Attack Combat Turret (IMPACT) with THeMIS.
Additionally the UGV can be configured as a transport mule, explosive ordnance detection and disposal vehicle, and UAV carrier and launch pad.
Two transport UGVs were also exported to the Netherlands last month as part of the Dutch Army's Concept Development and Experimentation Project. THeMIS has previously been deployed with the Estonian military to Mali, where its UAV platform and transport vehicle are supporting Estonian soldiers.